Sports
Semi Ojeleye: Journey From College To League, Career Stats; He's Worthy!
Amidst the cut-throat competition that prevails in every industry, sports isn't an exception. Moreover, the competitiveness that hails in the sports industry is even more intense, as there always are young and skilled player waiting for their turn to showcase their talent replacing others.
Therefore, it's essential for the players to prove one's worth to ensure the place in whichever team they play for, and Semi Ojeleye an American basketball player for the NBA's Boston Celtics is making his presence felt for the Celtics with his budding career stats.
His journey from playing college basketball to being a key player for the Boston Celtics is worth having a look. So, without further ado let's get it going.
Semi Ojeleye's Career In Nutshell:
Semi also nicknamed as 'Incredible Hulk' by his team-mates is pacing through his career in an impressive way. Semi, who played college basketball at both 'Duke University' and 'Southern Methodist University' got nabbed by the Boston Celtics with the 37th overall pick in the 2017's second round NBA draft. 
Semi Ojeleye signed a 4-year contract with the Boston Celtics worth $ 6,041,604, including $2,193,857 guaranteed, and an annual average salary of $1,510,401. In 2017-18, Semi will earn a base salary of $1,291,892, while carrying a dead cap value of $2,193,857.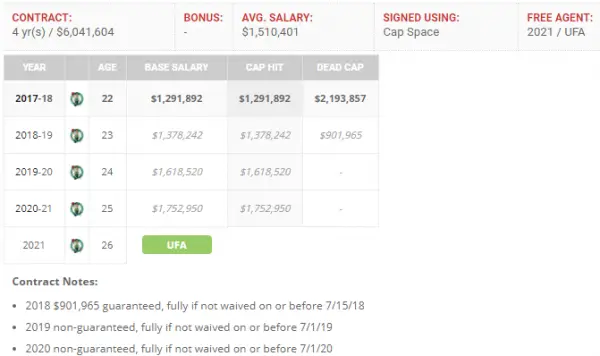 Semi Ojeleye's contract and salary related details (Spotrac.com)
Out of 42 games played for Boston Celtics, Semi's stats show the field goal percentage of (.305), with (72) 3-point field goals attempted and total turnovers of (13).

Ojeleye's 'NBA Regular Season Stats' (basketball.realgm.com)
But despite having a decent track record on the court, with an impressive individual play and positional versatility, the Boston Celtics have fared significantly worse on defense in his minutes. Also, with Gordon Hayward and Marcus Morris' injuries, that has set a drawback in Celtic's overall performance, Boston is asking too much of Semi. However, there is a significant room for improvement in Ojeleye's gameplay. Hopefully, Semi, with the potential he has, will deliver his best in the future games.
Glance At Semi Ojeleye's Personal Life:
The 23 years old Semi who stands at 6' 7'' in height and 235lbs in weight was born on December 5, 1994, in Overland Park, Kansas. Ojeleye's parents, father Ernest - a doctor, and mother Joy- a nurse hails from Nigeria, and his parents have one more son, Victor, who is Semi's older brother. The tight schedules of a player often restrict them from allowing to have family time. Also, Semi missed his family in the 2017's Thanksgiving and dedicated a post to them on Instagram.
Moreover, apart from his family and friends, Semi doesn't seem to miss anybody else, as he seemingly is single and isn't dating a girlfriend. Well, he is all focused on his career as of now, and maybe he cannot afford to shift his attention to initiating a relationship with a girlfriend. 
However, what his future holds is uncertain, and Ojeleye might surprise his fans introducing them to his love life in the days to come.