Sports
SportsNation's Co-Host Marcellus Wiley's Married Life With His Wife And Daughter, Baby Alert?
Being a celebrity is hard. They try so hard to maintain their privacy but somehow, it gets violated. A bad thing for the celebrities but it's always a good thing for the fans. And it's a lucky day for Marcellus Wiley's fans who's been waiting so long for any news about the former NFL player.
His Married Life, Wife, and Daughter:
Sadly for all the female followers who might have a tiny bit of crush at Marcellus, he is happily taken. He is married to his long-time girlfriend wife Annemarie Wiley.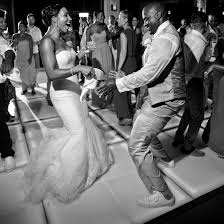 Caption: Marcellus Wiley and newly wedded wife Annemarie Wiley ripping the dance floor in their wedding night
Source: whosay.com
Along with a beautiful wife (who might be a nurse according to her Facebook profile), he is a father to two children, daughter Morocca Alise Wiley, born on 1999 and son Marcellus Wiley Jr. born in 2015. Together they are one small, complete and happy family.
Judging from his Instagram posts, he seems like a really loves his children and his wife a lot. He posts many pictures of him and his newly born son as well as his loving wife and daughter.
Professional Career:
The family guy before having a family lived a life of an athlete. Wiley is a retired NFL athlete who played for four different teams, Buffalo Bills, San Diego Chargers, Dallas Cowboys and Jacksonville Jaguars.
He played as a tailback, defensive end, and kick returner while in college and started his career as a situational pass rusher. He spent ten years of his life playing professional football and was also voted to the Pro Bowl in 2001.
After retiring from NFL he found his way on television. He became a substitute co-host for Mike and Mike in the Morning and SprotsNation on ESPN. He also co-hosted Winners Bracket from 2010-2012. He became a full-time co-host of SportsNation in January 2013.
He was once involved in the NFL drug scandal when he admitted having taken the drugs and painkillers because it was could help him stay in the game.
Caption: Marcellus talking about the drug use in NFL with CNN's Anderson Cooper
Source: cnn.com
His Salary and Net Worth:
With ten years in NFL and more post-NFL years, Marcellus has been able to set a name for himself in the sports world. First as an NFL player and now as a commentator, he has quite an impressive bank account. His yearly salary is around 350k and his net worth is around $5 million.