Sports
Todd Frazier's Contract Was Limited To 2017! But His Career Stats Got Him A Trade Before Year-end
Chicago White Sox opted out its third baseman, Todd Frazier in a recent multiplayer trade with The New York Yankees this July. The trade indeed occurred at the mid of Todd's contract with the White Sox which was only limited to this year.
Well, how about knowing all the trade details of the Yankees' current third baseman, Todd in a broader way? So, let's set the ball rolling.
A Trade For Todd Frazier That Came Before The Year-End:
The Yankees accomplished a multiplayer trade with the White Sox giving away its reliever Tyler Clippard, left-handed pitcher Ian Clarkin, outfielders Blake Rutherford and Tito Polo on the Tuesday night of July 18, 2017.
In the replacement, the Yankees acquired their former closer, David Robertson; a New Jersey native, two-time National League All-Star Todd, and a former Yankees minor-leaguer, Tommy Kahnle.
There were also few trade rumors regarding Todd before the multiplayer trade according to which he was supposed to be acquired by the Boston Red Sox. An MLB columnist, Robert (Bob) Nightengale had also taken the rumors to Twitter and gushed that Red Sox is closer to acquiring Todd.
The #Redsox moving closer to acquiring #Whitesox 3B Todd Frazier. Be interesting if Boston can get David Robertson as setup man in package

— Bob Nightengale (@BNightengale) July 16, 2017
Before the trade, Todd had previously signed a one year/$12 million contract with the Chicago White Sox on January 13, 2017. As per the contract, he would have earned a base salary of $12,000,000 by the end of this year, but it later got adjusted to only $4,983,624 undergoing the trade.
Well, talking about the net worth of this American baseball player, he accumulates an immense seven million dollars in his account.
Besides the sound economic condition, Todd also beholds a staggering career stats, a stats of commendable seven years.

Caption: Todd's career stats as per Baseball Reference.
Stat Credit: baseball-reference.com
Beginning the MLB from the year 2011 with Cincinnati Reds, he has played for three teams till now. During the first five years with the Reds, he successfully collected 108 home runs recording 2281 at-bats with a batting average of .257 in 633 matches.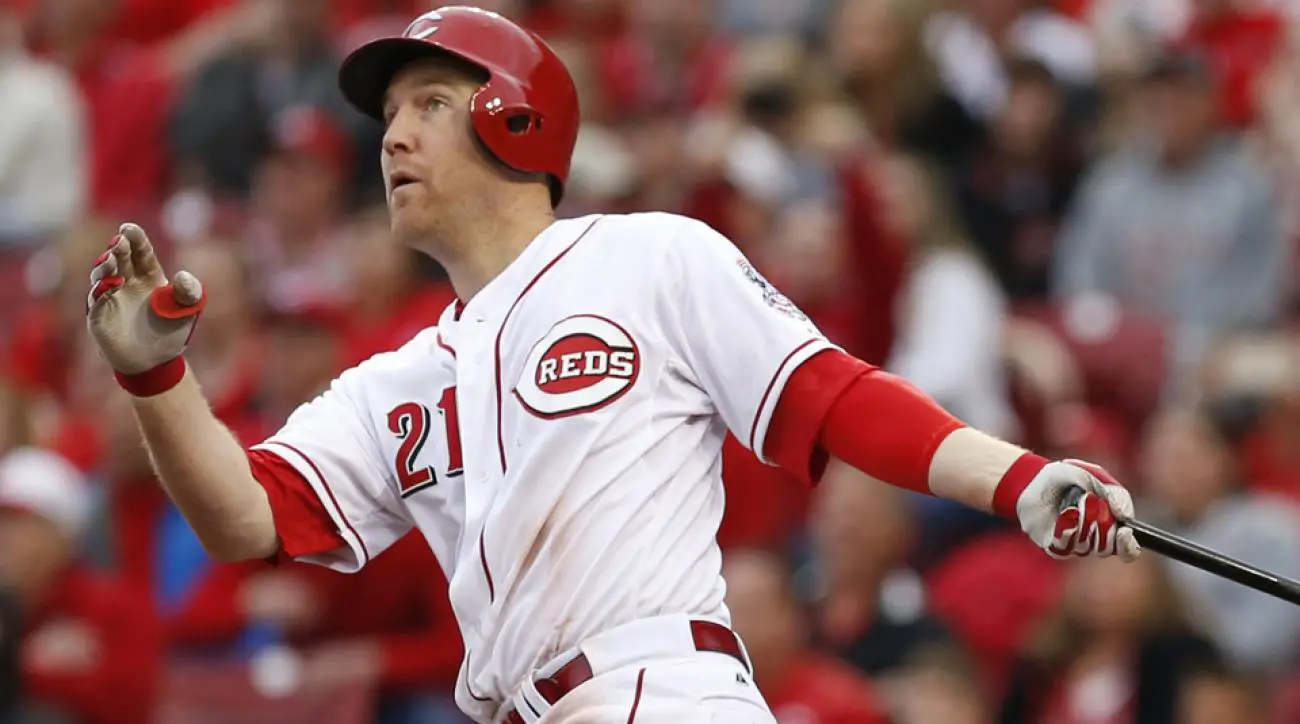 Caption: Todd's batting action during his tenure with the Reds.
Photo Credit: si.com
He then played for the White Sox for next two years and concluded his tenure with the team recording 56 home runs with a batting average of .220 playing 239 games.
He currently stands with ten home runs with 164 at-bats and a batting average of .226 playing 55 matches for the Yankees. As per the fantasy baseball, the player has received 2.2 ratings for this season till now.
Moreover, this year's ranking reveals that he is at 24th position with a owned percentage of 56.7.
As per the recent news, Todd has been doing pretty same as the Yankees have expected from him. Also, he seems to be re-signing with the team in future as well! Additionally, he has also upgraded himself as a defensive and offensive player over the hodgepodge of the first baseman.