Sports
Tony Little, Overcoming Adversity After Fatal Accident: Motivating Others With Fitness Model Wife
How can anyone not know the charming 'America's Personal Trainer' with that signature blonde ponytail? You guessed it right. It's Tony Little about whom we are discussing today, and we will be talking about not only his good days but his worse days too.
It took him a lot more than hard work to achieve what he has right now. He never revealed his dreadful story of struggle explicitly so stay with us to know it all.
It all happened in 1983. By that time, Tony was already a renowned Junior National Bodybuilding Champion and was all set to grab a bigger title of the Mr. America Bodybuilding Championship. While he was preparing for it, a cataclysmic event took place in his life when he experienced an accident.
He was just six months away from his competition when he got blind-sided by a school bus, and the outcome of the crash was nearly fatal, but Tony survived the wreck. The accident, however, left him with several lacerations all over his body and face, along with cracked vertebrae and a dislocated knee. It was not all as he also suffered from two herniated discs and an unpleasant soreness throughout his body.
Despite all the damage his body got, he still competed in the event and finished surprisingly in fifth the place. If the accident hadn't happened, Tony would have won for sure but still, it was a proud thing for him to finish fifth.
However, the accident started to take its toll on him. Tony started to feel his once most cherished goals soulless. All he had was some painkillers and a dim and dying image of himself. On top of all the tragedy, he gained 60 pounds of extra weight.
In February 1985, Tony decided to build himself again after he began to feel his inner self-fading with the self-pity on his miserable life.. He started it all by being physically and emotionally strong. He came up with a motivational non-impact resistance exercise program that had minimal pressure over the joints. His determination started to pay off slowly, and he thought of moving to television where he could have a one-on-one approach. That was how it all begun; the man who was shattered from the inside, teaching the whole world and motivating everybody to stay healthy.
Married life of Tony Little with Wife: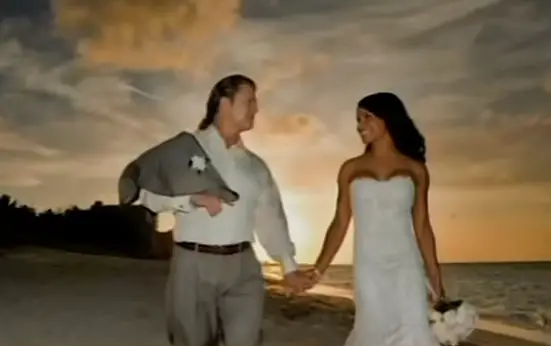 Caption: Tony Little with wife Melissa Hall on their wedding day in 2009.
Later, in 2009, Tony Little got married to a fellow fitness model Melissa Hall. He had first met her on the set of the Home Shopping Network. Tony already had two children; Tara and Trent from his previous marriage before marrying Melissa. However, everyone was happy when Melissa got pregnant, but then a nightmare occurred in their lives when their twin sons were born 3 months earlier the due date.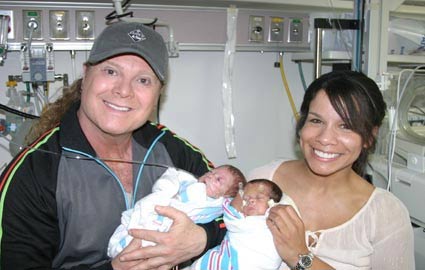 Caption: Tony Little and Melissa Hall welcoming their twin sons in November 2009.
Source: dilcdn.com
Shortly after the kids were born, they both had to go through several surgeries and were finally taken home 3 months later. At last, the whole family is fine and living their life happily, and Tony is continuing his business and is enjoying a massive net worth of $200 million dollars.
Caption: Tony Little and his wife Melissa Hall talk about how they met and the struggle with the premature birth of their twin sons with Today in 2011.
Tony Little's Short Bio:
Tony Little was born on September 16, 1956, in Fremont, Ohio and currently ages 59 years old. Tony is a certified personal trainer and a majority of the population know his as 'Americas Personal Trainer.' He currently has about 14 Platinum video awards, 9 Gold Video Awards, Record-Breaking infomercial throughout eighty-one countries.