Sports
Undefeated Career of Martial Artist Liam McGeary: Dating with an Actress, Po Johnson. Married?
Stepping into a ring, fighting all sort of sturdy men in the sport and coming out on top for 11 successive bouts, definitely seems the toughest job to pull off. Well! Liam Mcgeary, an English professional mixed martial artist, barely had a problem accomplishing this feat as he did it with an utmost ease.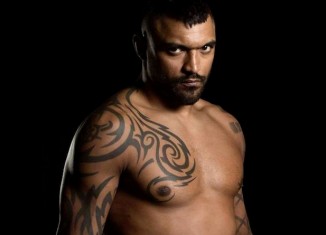 Caption: McGeary flaunting his body in a pose
Source: MMA odd breaker
The 33-years-old was born on 4 October 1982, to a former boxer and English Army in King's Lynn, England. Owing to financial problems, the current Bellator Light Heavyweight Champion was compelled to work at construction sites since he was 15 years old. It was only when he punched out his father's teeth while sparring that he realized he is good at it.
After training the martial since 2009 specializing in Brazilian jiu-jitsu, he got into amateur mixed martial art and also kickboxing, where he knocked out Kieron Vance in the first round of only official kickboxing match. In 2010, he turned pro and won two successive matches via Submission and Knockout to get into the radar of Bellator MMA.
Making his Bellator debut in 2013, he would go on to win the first six bouts in the very first rounds, with the first two fights against Anton Talamantes and Beau Tribolet lasting only 78 and 27 seconds respectively. He had to toil a little for his Bellator Light Heavyweight Championship title against Emanuel Newton in 2015. He unsuccessfully attempted 11 submission attempts, the highest in Bellator history, before winning it via unanimous decision.
His fight against legendary Tito Ortiz on 19 September 2015 to retain his title is cited my many as his biggest champion. At 4:41 minutes into the first round, McGeary wrapped his long legs around Tito's neck forcing an inverted triangle choke for the submission.
When asked by SciFighting about his ambitions, he replied, "My ultimate goal is to become world champion, win every competition I enter and be number 1; reaching it I'm either going to knock everyone out or submit them. I don't like leaving it to someone else to tell me if I have won or not."
 Among his total wins of 11, five comes via knockout and other five by submission.
"I'm going to go undefeated in Bellator," The number 9 ranked heavyweight was quoted with his determination by Jonathan Shrager. He also warned the hottest asset of Ultimate Fighting Championship, Jon Jones, who has identically impressive record of 22 wins in 23 matches, "And make Jon Jones wonder how he'd fare Vs me."
Also as 2015's Breakout fighter of the year, he will be looking to continue his "undefeated streak".
Relationship status:
The world is definitely wondering who this handsome hunk is dating?
As reports have it, "the undefeated maestro" is currently dating his girlfriend Po Johnson, who is a renowned TV personality, actress, and singer. She is known for portraying herself in American reality television series namely La La's Full Court Life and La La's Full Court Life.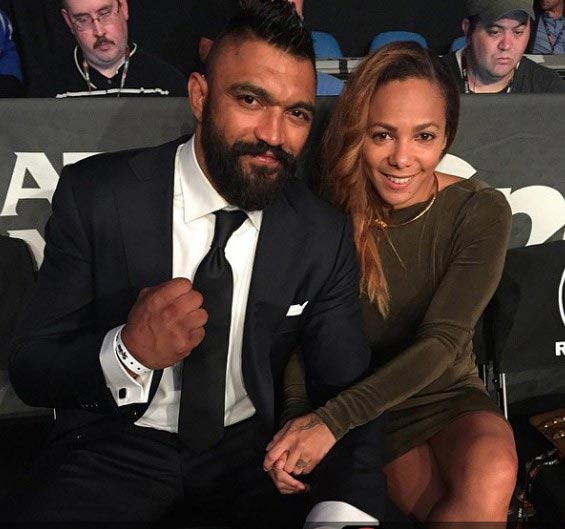 Caption: Po Johnson graces alongside McGeary who poses with fist
Source: Akamaihd.com
The relation, however, is controversial because Po has always identified herself as a lesbian until now. In an interview with AfterEllen, she even answered the attributes she would be seeking on her 'wife', "
McGeary is her first boyfriend in 13 long years and they have been witnessed together since two years.
 In the interview below with ACtheplug, he explains his relation with Po and describes her, "She's smart. She's funny. She's sexy."
They are really adorable together.
If the relation continued to bloom, we may even see them married as a couple soon.