Sports
US National Team's winger Alejandro Bedoya and his physio Girlfriend. Married? Plus, career History and Salary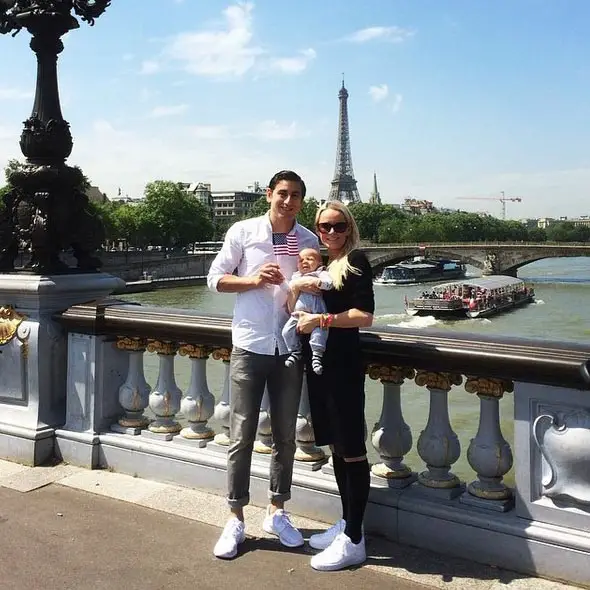 US National Team's winger Alejandro Bedoya and his physio Girlfriend. Married? Plus, career History and Salary
Sports
USMNT soccer player Alejandro Bedoya has always had a close relation with his loved ones. He likes to be around his family and his beautiful girlfriend, Beatrice Holland. The couple enjoys each other's company and like spend time with each other.
Beatrice and Alejandro train together. She helps him with training regiments and also helps him maintain his fitness. Being a physiotherapist, she is more than capable in doing so. In an article for  Sports Illustrated, Beatrice talks about how she has helped Alejandro train. Their training sessions together are also fun to watch, like this video that Alejandro shared on his Twitter.
Alejandro is not married to his long-term girlfriend, Beatrice Hilland, but the couple has been dating for a long time now. He met her while he was playing for Swedish side Orebro SK. Beatrice is from Norway and a professional athletics trainer and the physiotherapist for the Swedish national team. The couple welcomed their first child, Santino Steinar Bedoya, into the world in March 2015. Here is a recent photo of their small family. 
Personal Life
Alejandro Bedoya was born in Englewood, New Jersey on April 29, 1987. He moved to South Florida as a child and was raised there by his mother Julieta Bedoya and his father, Adriano Bedoya. He is the eldest of 3 siblings. His brother's name is Santiago Bedoya, and his sister's name is Marcela Bedoya. 
Being of Columbian decent, soccer was in Bedoya's blood, with both his father and grandfather (Fabio Bedoya) playing the sport professionally in Columbia. So it came as no surprise when Alejandro decided to a soccer player as well.
Alejandro writes in an article in theplayerstrbune.com that he grew up during the rise of hip-hop. In school, a lot of his friend would wear NFL and NBA jerseys, and he would end up wearing his Thierry Henry or Zinedine Zidane Jerseys. At the age of 15, he went to the United Kingdom as part of an All-Star team of American kids. During this trip, he witnessed his first soccer match in Europe and the atmosphere inside a stadium made him realize that he wanted to play soccer in Europe.
Alejandro is also a graduate of Boston College. He got a degree in marketing from the Carroll School of Management in May 2009. He loves to travel and enrich his life by experiencing different cultures and traveling to different places. He can speak Swedish and French along with his mother tongue, English.
Alejandro is also a soccer fanatic. His girlfriend Beatrice has even gone as far as calling him and his brother 'addicted to football.' These tweets from his girlfriend show his love for the game and his constant association with it.
What you do if there is no soccer on tv? Play FIFA15 of course. The Bedoya brothers takes the term: " Addicted to soccer" to another level. — Beatrice Hilland (@BeaHilland) April 13, 2015
@AleBedoya17 Well Mr Bedoya, it's different watching 200 games or a couple. As always I go for quality, you for quantity ???? — Beatrice Hilland (@BeaHilland) April 4, 2015
Professional Career History
Alejandro was always keen on traveling. This was instilled at an early age by his parents. When he was 15-years-old, Alejandro was selected to be part of an All-star team of American kids to play against the youth teams of Burnley F.C., Manchester United, Sheffield United, and Tottenham Hotspur.
Before getting into college, many coaches did not believe that Bedoya could become a professional soccer player. The coaches did not believe that Bedoya had enough height, strength or pace to play professionally. But Bedoya proved everybody wrong. He worked hard and on his junior year at Boston College he played in an ACC tournament, and he happened to catch the eyes of Swedish scouts from Orebro Sportklubb, a team in Sweden's highest football league Allsvenskan.
Alejandro signed his first contract in late 2008 and joined the club in January 2009. He worked hard and earned his way into the starting lineup. He played 72 times for the Swedish Club and scored 9 goals for them before moving to Scottish giants Rangers FC in 2011.
Alejandro was to join Rangers in January 2012, after the completion of the Allsvenskan season. However, on  August 17, 2012, Orebro SK and Rangers FC agreed on an undisclosed amount for Bedoya allowing him to join the Scottish club immediately. He played only 13 games for the Glasgow club scoring once.
Rangers FC entered administration after the 2011-2012 season. Bedoya signed a short contract until the end of the Allsvenskan season with league champions Helsingborg IF. This gave him the opportunity to play in UEFA Champions League and UEFA Europa League. Helsingborg was drawn against Glasgow club Celtic in the Champions League Qualifier but lost 4-0 on aggregate. Bedoya started in both games and continued to play in Europe in the UEFA Europa League. He managed to score 2 goals in 6 games in the group stages and saw Helsingborg finish 3rd in their group. Bedoya stayed at Helsingborg for six more months scoring 10 times in 32 appearances for the Swedish side.
In August 2013, Bedoya signed a three-year contract with French Ligue 1 side Nantes. Nantes had just earned promotion to Ligue 1 and Bedoya was keen to impress. He made his Nantes debut against champions PSG and scored his first goal for the club against AC Ajaccio.On 2015, to emphasize his importance to the club, Nantes extended Bedoya's contract at the club until the end of the 2018-2019 season. He has played 96 games for the French side and scored 14 goals for them. Over the past 3 years, he has managed to establish himself in the team and also become a fan favorite. And the appreciation goes both ways as demonstrated by this tweet.  
In January 2016, there were rumors that Alejandro Bedoya had agreed to finally joining the MLS. This would have been a big inclusion to the MLS but, apparently, Nantes where he is contracted to play till 2019, did not approve for this move to happen. It was reported that Alejandro would have earned US $1.2 million per year, which would have been a major boost from his salary of about €500,000 in France.
You can find his entire career statistics here.
International Career
Alejandro Bedoya was not a part any of the youth setup in the American national team. He only started his national career as part of the US U-23 national team that was preparing to go to the 2008 Beijing Olympics but was not in the squad that traveled to China.
It was not until December 2009 that Bedoya got his first call-up to train with the US Men's National Team (USMNT). He played his first International game in a USMNT jersey on January 23, 2010, against Honduras. However, he was not included in the 23-man team for the 2010 FIFA World Cup.
Bedoya got his first International start in a friendly match against Brazil in August 2010. His improvement in his domestic league saw him gain a place in the 23-man team for the 2011 CONCACAF Gold Cup. The US managed to finish 2nd in the tournament losing 4-2 to Mexico in the final. However, 2 years later, Bedoya was able to win the CONCACAF Gold Cup with the USMNT.
By the start of the 2014 World Cup, Bedoya had become a regular in the USMNT. He played in all 4 of the US's matches at the tournament including the eliminating match, where they lost 2-1 to Belgium in extra time.
In 2016, Bedoya was part of the USMNT that got to the semi-finals, where they lost to Argentina. Bedoya started every match in the tournament except against Argentina. He was suspended for that match for picking up two yellow cards in the tournament.
Alejandro Bedoya has managed to play 51 games for the US national team and has scored two goals for them. Over the years he has also won the hearts of the American fans including the Governor of Florida, Rick Scott.
I'm not sure when it happened, but sometime in the last year, @AleBedoya17 became my favorite #USMNT player. Great pass. — Jeff Markman | AFC (@JM_Arsenal) July 14, 2015
Here are some pictures of the Bedoya family from Alejandro's Instagram.
Alejandro with his girlfriend, Beatrice, and their son, Santino, on Haloween:
Alejandro with his girlfriend, Beatrice, and their son, Santino, at World of Coca-Cola
Alejandro with his girlfriend and grade school friends
The Entire Bedoya Family
Alejandro and Beatrice with his Brother and Sisters