Sports
What Is Ralph Sampson Height? And What Caused The Man With Incredible Stats Advocate For Cancer?
Ralph Sampson had an exceptional year in 1983 for he was the first selection in the 1983 NBA draft. This retired player is also an NBA Rookie of the year for the season 1983-84 and the NBA All-Star Game MVP (1985) at the same time.
Besides all his achievements, he even coached several basketball teams both as an assistant and a chief, Phoenix Suns being the last squad. Moreover, he is now a part of the Basketball Hall of Fame and most importantly, a warrior fighting against a dangerous disease called cancer.
It's certainly for a good cause that Ralph is helping the people fight against cancer, but what must have caused him to take such a leap to join the battle? Well, this has an emotional story attached with the life of Ralph, and we'll assist you in knowing all the facts.
Ralph's Battle Against Cancer:
Ralph Samson, who is Ralph Lee Samson Jr. by birth, is the son of Ralph Samson Sr. The relation of Ralph's family with cancer is quite old, as Ralph's grandmother was the first to have this disease.
She fought with the disease about 31 years ago from now, and things turned more serious when his father fell ill with the prostate and lung cancer as well. He then moved back to home in Harrisonburg for his father's treatment about which he told with Cavalier Insider as:
"I became really entrenched in his treatment. My aunt passed away two weeks ago with colon and liver cancer, and that became traumatic. Now, I'm fighting against cancer even a little bit harder."
Yes, he has a list of his family members who had cancer, including him. He, hence, wanted to spread the education regarding cancer and its early detection and joined the fight along with Debbie Ryan, a former University of Virginia women's basketball coach, Phil Wendel, founder and CEO of ACAC and University of Virginia Cancer Center to raise money for the support.
In April 2016, he joined Ryan and Phil in a fundraising event and presented a $50,000 check to University of Virginia Cancer Center Administrator, Jody Reyes.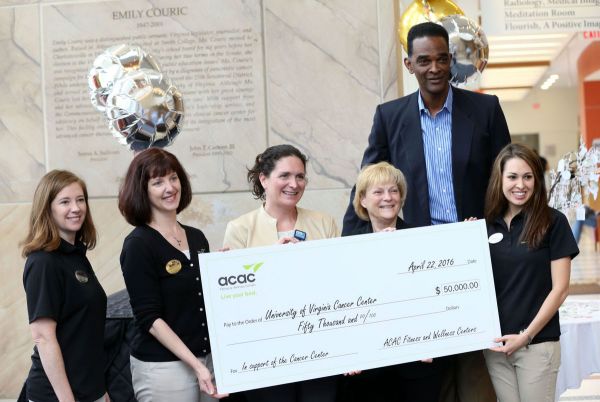 Caption: Ralph Sampson joining his friends to hand over a grand check.
Photo Credit: dailyprogress.com
Ralph has also created a website to honor his father's battle against cancer and his children also actively support him and is involved in his fight.
Ralph's Family And Career:
Ralph Sampson and his wife Late Aleize Sampson (1986-2003) make a sweet couple, and the couple even shares four children; two sons: Ralph Lee Samson III (elder) and Robert Alan Sampson and two daughters: Rachel Lee Sampson (elder) and Anna Aleize Sampson.
Both the sons are basketball players, while the elder daughter works at ESPN and younger assists her father.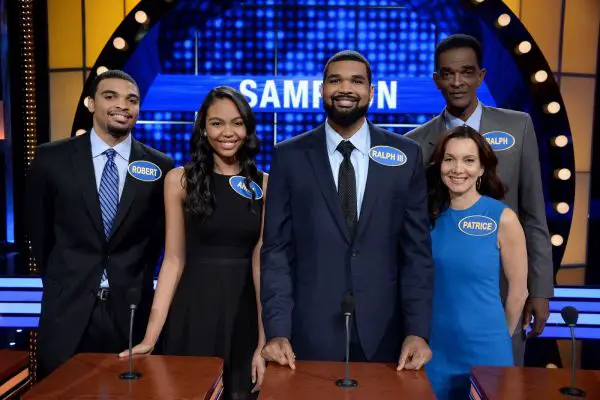 Caption: Ralph's family (from left): Robert Alan Sampson, Anna Aleize Sampson, Ralph Samson III, and Ralph Samson, excluding Aleize Sampson (wife) and Rachel Samson (elder daughter).
Photo Credit: news.virginia.edu
Ralph Samson, a former American basketball player and coach, who has an immense height of 7 feet and 4 inches was the most heavily recruited college and basketball player.
He won three Naismith Awards as the National Player of the Year and Wooden Awards as a college player. He, later, began his professional career with Houston Rockets in 1983 and averaged 21.0 points and 11.1 rebounds to claim NBA Rookie of the Year Award.
He continued with the same team until 1987 and then was traded to Golden State Warriors and similarly to other teams during his career.
With the time passing, he also started having knee and back troubles which ultimately affected his average, and the declining performance resulted in his retirement in 1995. His overall career stats look like:
Caption: Ralph's career stats according to Basketball Reference.
He later began fulfilling his fondness for basketball coaching the teams like James Madison, Richmond Rhythm and Phoenix Suns from 1992 and continued up to 2013.
Stay with us for the emerging updates on Ralph Sampson!