Sports
While Praising Frank Lampard John Terry Revealed Coach's Tactics For Players With Injury
Call him 'Mr. Chelsea' or 'Captain, leader, legend,' there is no denying the fact that he is one of the most decorated and legendary English midfielders in the history.
36 years and still growing strong, John Terry has been playing football in the top flight while his counterparts have started retiring from football.
Caption: Best moments, goals and tackles of John Terry!
Emotional Tribute to Lamps!
One of the best midfielders of the generation, Frank Lampard recently retired from his playing career and his counterpart John Terry spoke about Lampard's retirement. There is no hidden secret that both legends of Chelsea are close both on and off the field.
Chelsea's captain John Terry has paid heartfelt and emotional tribute to his best friend Frank Lampard, who recently retired from the professional playing career in football on Thursday, calling him Chelsea's greatest ever player to play the game.
Lampard also was known as 'Super Frank' by his fans played alongside Terry throughout his illustrious 13-year career at Stamford Bridge, becoming Chelsea's all-time leading goalscorer with 211 goals in total 648 appearances as the pair of Englishmen won every major club honors in football.
Speaking to Soccer AM channel in December, Terry has labeled Frank Lampard as the best player he has ever played with, and after Lampard called his time off on his playing career at the age of 38, Terry has posted an emotional tribute on the former Blues midfielder. In an interview with Soccer AM Channel's Tubes, Terry said:
"I'm sure with his knowledge whatever he chooses to do he'll be a real success. He's got an awful lot to give with his experiences, whether it's as a coach or as a pundit. He's said it as well that he'll have an association with our football club and with the youngsters.
Moreover, he added:
He has a great relationship with [youth-team boss] Jody Morris, and he'll be doing a little bit of work with them. So for him to be example to look up to for our youngsters, someone who has been in their position as a young boy and gone on to achieve what he's achieved, it is going to be great for our kids at the academy."
Frank Lampard joined Chelsea from West Ham in 2001 and, alongside Terry, he was part of a golden generation of Chelsea that enjoyed one of the most successful periods in the club's history before his departure in 2014.
Jose Mourinho's injury tactics!
The Chelsea skipper John Terry worked under 'The Special One' Mourinho on two different occasions at Stamford Bridge before the manager was sacked in 2016 and he swapped London for Manchester last summer.
Mourinho has recently hit out at the fitness of some of his Manchester United players and has questioned the likes of defenders Chris Smalling and Luke Shaw in particular.
John Terry explained on BT Sport that Mourinho had a very strict policy when it came to training mishaps and injury. Terry said on BT Sport:
'If you picked up a knock and missed a day's training, he'd come in and he wouldn't speak to you. He would walk straight past you on the treatment table. But you're sitting there as captain of the football club, you come in kind of looking for the high five from the gaffer.
Moreover, he added:
You don't get it, he blanks you and he says to the physio, while you're there so he knows what he's doing, 'How long?' And the physio would say, 'couple of days' and he'd just walk out.'
Scandals and new contact!
Earlier in 2010, John Terry was involved in a scandal after it was revealed that Terry had cheated on his wife Toni with a team-mate's girlfriend.
Reports of the scandal broke in January of 2010 of his affair with French underwear model Vanessa Perroncel who is his wife's best friend as well as the partner of fellow England defender Wayne Bridge.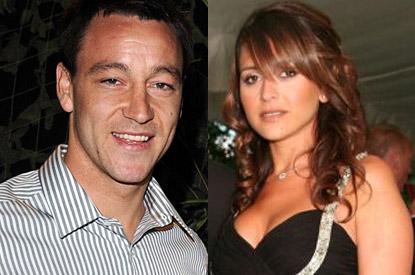 Caption: John Terry(left) and Vanessa Perroncel (Right).
Photo credit: standard.co.uk
Moreover, it was revealed that French model Vanessa Perroncel, partner of Terry's fellow England defender Wayne Bridge, had an abortion within few months of their affair.
With the arrival of new Coach, Antonio Conte, a new contract was awarded to John Terry on 18th May 2016 ending speculations that he might be away from the bridge. Terry said of his new contract to Chelsea's official site:
'I am delighted to sign a new contract with the club. Everyone knows I'm Chelsea through and through. I am looking forward to next season under the new manager, and hopefully, we can make it a successful one. Also, a special mention to the fans for their continued support. You're the best in the world.'
Although Terry has not been in starting the lineup of Chelsea's three men defense, he is one of the pivotal figures both on and off the pitch. It will be interesting to see if Mr. Chelsea will be awarded another contract as Chelsea are the strong favorite to win Premier League this season.