Sports
Why did Philadelphia Flyer want To Trade Sam Gagner? Reasons Behind Arizona Coyotes Loving For Sam Gagner
A Super Series MVP (2007) and World Championships Silver Medal (2008) winner, Sam Gagner has some twists and turns in his career at this point. Where would Sam Gagner end up? The Franchise, Philadelphia Flyer has expressed its decision to put him for a Trade. Well, the future is yet to be decided, we still have time to wait and watch what he will do with his career.
Let's put some limelight on the same topic now.
Why the Flyers' want to trade Sam?
After a disappointing season with the Philadelphia Flyer, Sam Gagner might have to think long and hard about his future. The Flyers have already decided to go for a trade with Sam Gagner as he failed to gain the trust of the Franchise as well as the head coach Dave Hakstol. Sam only scored three goals and recorded five assists in 30 games. This performance was underwhelming at its best.
Sam's Career History:
Sam, initially played for the Edmonton Oilers. He was drafted by the Oilers in the first round, sixth overall in the 2007 NHL Entry Draft. After the draft, he was then signed by the Oilers to a 3 year contract on the 1st of October, 2007. He played for the Oilers until the 2013-14 season.
On 29th of June, 2014, Gagner, in exchange for Teddy Purcell, was acquired by the Tampa Bay Lightning but spent an hour with them before he was formally signed by the Arizona Coyotes. He was experimented by the coach Dave Tippett, by playing him on the right wing, far out of Sam's original central position. He proved out to be good in that position as well.
Gagner, on June 27, 2015, was traded to the Philadelphia Flyers. The trade came with a conditional draft that saw a return for Nicklas Grossmann and Chris Pronger.
Sam's Future, A big Question!
Sam was traded by the Arizona Coyotes to the Philadelphia Flyers. A center position player, Sam was a hot prospect when he played earlier for the Edmonton Oilers, but was unable to perform consistently for the Coyotes and the Flyers.
The Coyotes, being furious regarding Sam Gagner, were determined to, if unable to find a trade partner, buy out his clause. Coyotes were on the hunt for centremen and had concluded that Sam was not a fit for the position.
Luckily, the Flyer happened to trade Sam from the Coyotes. But the deal did not go as planned for the Flyers. Sam had a very disappointing term for them, so the Flyers are also in a dilemma on whether or not to keep Sam Gagner.
Worldwide famous, "THE GAGNER" shootout move:
So we still have to wait and watch, where the SAM GAGNER TRADE saga heads too!
Let's have a look at some of the tweets regarding Sam Gagner trade:
Oilers trade Sam Gagner to Tampa Bay for Teddy Purcell.

— Darren Dreger (@DarrenDreger) June 30, 2014
Oilers trade Sam Gagner to Tampa for Ted Purcell.

— Pierre LeBrun (@Real_ESPNLeBrun) June 30, 2014
TRADE:

To #Coyotes
SJS 2016 4th RD pick (120)
DET 2017 3rd RD pick

To #Sharks
Maxim Letunov
ARI 2017 6th RD pick

— CapFriendly (@CapFriendly) June 20, 2016
Sam Gagner, who heads to the #flyers from Arizona, is due to earn $5-million next season.

— Chris Johnston (@reporterchris) June 27, 2015
Sam's Family Life
Sam is the son of former NHL player, Dave Gagner. Dave played for 15 seasons in the NHL. Dave spent his game time with New York, Minnesota, Florida, Vancouver, Dallas, Calgary, and Toronto.
Since Dave moved from places to places in his career, Sam got the opportunity to grow up in various cities in the nation. Sam's sister, Jessica Gagner, is also a hockey player. She plays for the Dartmouth Big Green women's ice hockey program.
Sam's Girlfriend and Wife
Let's meet the stunning and sexy beauty Rachel Linke Gagner.
Caption: Rachel Linke Gagner
Source: www.chatelaine.com
She graduated from the University of Alberta on June 7 that officially handed her a title of Doctor.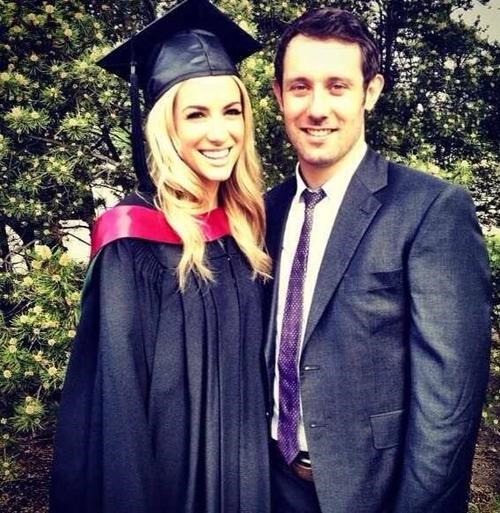 Caption: Rachel with Sam on her graduation
Source: tumblr.com
According to Rachel's facebook post, we can see that they are not only dating but already married. The duo was married on the 12th of July, 2014. They also have a son, Cooper William Gagner.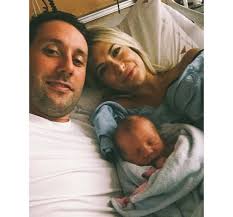 Caption: Sam and Rachel with their son
Source : liverampup.com
Well, the future is not certain for Sam. He has to prove a lot to stay with the Flyers in the NHL. I just want to wish Sammy boy a good luck and hope that he would be back with a bang in the following years. GOOD LUCK SAM GAGNER!!