Sports
World Record Holder Genzebe Dibaba: Athlete Siblings' Success From Intense Training
Genzebe is a champion! Tirunesh is a champion! And Ejegayehu is a champion. In fact, all of them are champions. All three of them have competed in the biggest platform, Olympics, with the latter two already having clinched medals.
Genzebe, too, seems to be on the route to bag one as she is busy shattering records at the moment.
Caption: Genzebe and her older sister Tirunesh in training, 2012.
Source: addisfortune.com
Records? Just a number for Genzebe!
Genzebe is a world record holder in 1500 m for both indoor and outdoor in women's 3.50.07 held in Monaco in 2015.
"With the training, I'd been doing in Barcelona, I knew I was able to break the world record, but you never can be sure," Dibaba said after her record-breaking feature.
She was the World Indoor Champion for the 1500 m in 2012. Genzebe is the reigning World Indoor Champion and World Indoor Record Holder in the 3000 m, which she made in 2014. The record is yet to be broken too. the
She has represented her country Ethiopia at the Summer Olympics 2012 in London and has competed two times at the World Championships in Athletics (2009 and 2011). At 2015 World Championships in Beijing, China, she became World Champion in 1500m. She also claimed the bronze medal in the 5000 m event of the same edition.
She was named Laureus Sportswoman of the Year in 2014. Genzebe was also named IAAF World Athlete of the Year in 2015.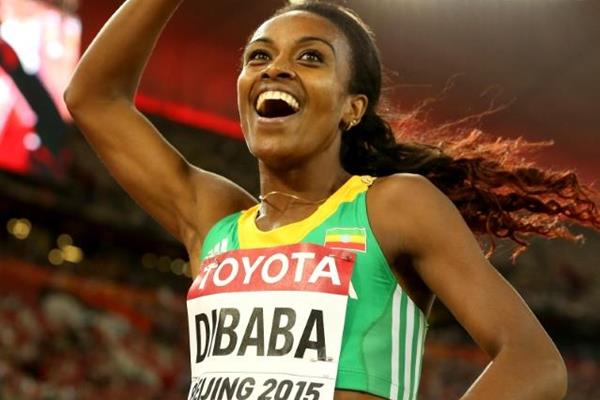 Caption: Genzebe Dibaba wins the 1500m at the IAAF World Championships, Beijing 2015.
Source: Iaaf.org
She is the current world record holder for the 1500 m (both indoor and outdoor), the indoor 3000 m, the indoor 5000 m, the indoor mile, and the indoor two miles. Quite a record that!
About preferring indoors:
"Usually, it is not difficult to change from indoors to outdoors," she said. "I find outdoors easier than indoors but I am more interested in indoor athletics. I prefer it because it is hotter indoors and I like the shorter laps."
"But last year I felt my back when I was training," she added. "That was a problem and why my season was not as good outdoors as it was indoors."
Intense training behind Success:
'Rome was not built in a day,' likewise, Genzebe and her siblings didn't become a champion in a day. There was rigorous training behind it. Genzebe has also made the commitment to become a champion like her sister, Tirunesh. Although Genzebe has a world record to her name, she doesn't have Olympic medal. Olympic medal is what every athlete dreams of!
"Tirunesh gives me a lot of advice, and I always take her advice because she has been on the top for so many years," Genzebe said in 2015. "Sometimes I call her before my race. She is my idol," She added.
Tirunesh, on another hand, is training for longer distances-10,000m and the marathon. Both sisters sometimes run together up in the highlands of Sendafa, which is just outside Addis. Both run at an altitude of 8,000 feet where the air is clean. Apart from the occasional herd of donkeys, goats or cattle, the roads are usually traffic-free.
Credit for Genzebe's success also goes to James Aden, her coach who is also the national coach of Qatar. Genzebe has rated Aden high and says there's difference in training in gym and hill.
"Jama's training is very hard, and sometimes it's difficult to finish," Genzebe says. "The biggest difference is the hill training and gym. His track sessions are high-quality. But Jama is not just a coach; he is like a father to me. He always tells me that I can run fast and makes me believe in myself."
However, sadly for James, he has recently been involved in a "drug-doping controversy".
Ethiopian Athletics Clarifies Ties With James Aden, Coach of Genzebe Dibaba, After His Arrest Over Doping https://t.co/egN8JGIUQj

— Africa Updates (@africaupdates) July 4, 2016
Caption: Genzebe Dibaba and her world record run, 2016
Another record on books!
World 1500m champion Genzebe Dibaba has added another record to her growing list of record-breaking achievements by smashing the world 2000m record at the Miting Internacional de Catalunya in the Spanish city of Sabadell on 7th February 2017.
The three-time indoor champion of the world overtook the pacemaker just before the half-way mark, she reached in time of 2:42.65, and continued to extend her lead over her younger sister Anna Dibaba and Morocco's Siham Hilali.
Genzebe Dibaba clocks 5:23.75 for 2000m in Sabadell. A world indoor best and faster than the outdoor world record.

— Jon Mulkeen (@Statman_Jon) February 7, 2017
She stopped at 5:23.75, taking almost seven seconds off the world indoor best set by Gabriela Szabo back in 1998. It is true indeed that 2000m isn't an official world record event indoors, Dibaba's performance can be classed as an outright world record, but it is faster than Sonia O'Sullivan's outdoor mark of time 5:25.36.
The stats is amazing as it averages 64.75 seconds per lap and would put her through 1600 meters in 4:19 or so.
Moreover, Dibaba also owns the fastest ever recorded times indoor records for the 1500m, mile, 2000m, 3000m, two miles as well as 5000m.
Genzebe's Short Bio:
Genzebe Dibaba Keneni (born 8 February 1991) is an Ethiopian distance runner. She is the sister of three-time Olympic champion Tirunesh Dibaba and Olympic silver medallist Ejegayehu Dibaba. Genzebe is a world record holder in 1500 m for both indoor and outdoor in 3.50.07 that took place in Monaco in 2015.
Genzebe competed in Stockholm's Globen Galan meeting in February 2016. She completed the indoor mile in 4 minutes and 13.31 seconds to break Doina Melanie's 26-year-old world record of 4:17.14, which she had set in 1990.
Genzebe's exact net worth has not been revealed yet.