Sports
Zach Randolph Retired From Grizzlies! Agrees To Two-Year Contract and Massive Salary With Sacremento Kings
Z-Bo has turned over to the Sacramento Kings as the Memphis Grizzlies fails to make a competitive offer to the No.50 player!
Zach Randolph ended his excellent eight-year career with the Memphis Grizzlies on July 4 after an agreement with the Sacramento Kings for two years with a deal worth $24 million.
Randolph received the Grizzlies' declaration through an open letter, approved by the general manager Chris Wallace and president of business operations Jason Wexler with their signatures penned in it.
The letter was a more like a thank you letter to Randolph, who was even the former captain of the team. The letter read like:
The eight years Zach spent in the mud, in Memphis, are special. They are filled with franchise-defining basketball success, but they are so clearly about more than that. Every Memphian felt it and all of us believe it.
The letter largely mentioned the contributions of the player and his importance in the team.
Zach helped establish what it means to play for the Grizzlies on the court and in the community, and in doing so helped forge an identity for our City.
Well, this was not all, Randolph's had more things to get elated, and it was a personal letter from the Grizzlies owner Robert Pera, where he intended to retire Randolph's number this summer.
"While there will be a time and place to recognize your lasting impact in Memphis, starting today, number 50 will never be worn by any other member of the Memphis Grizzlies."
An official Twitter account of The Memphis Grizzlies also conveyed the message of thanks as well as the honor, that socialized a little late after days.
Randolph, who started playing college basketball for Michigan State and began his professional basketball with Portland Trail Blazers, has recently retired and is in contract with a new team with a handsome salary of $12,000,000.
Well, he has an excellent career stats as a captain or otherwise, and here, we will have a look at his regular season averages before he joined the Kings.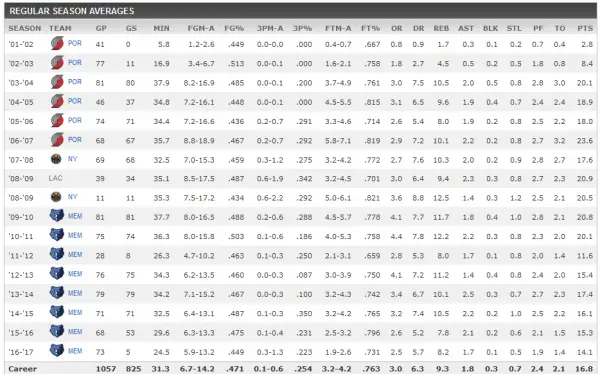 Caption: Season Averages of Zach Randolph as per data of ESPN.
Photo Credit: espn.com
Family Life Of Zach Randolph:
The star power-forward of the NBA, Zach Randolph has been in a marital relationship with Faune Drake since 2014. The couple shares five kids altogether, two daughters: MacKenley and MaZiya Randolph and three sons: Zacharia, Zaqary, and Zachary Randolph Jr.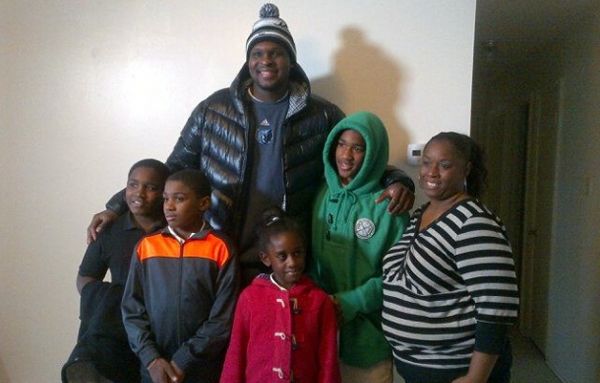 Caption: Rach Randolph with his family where one of his daughters is out of the frame.
Photo Credit: nba.com
Apart from pictures, the player doesn't reveal much about his family but regularly keeps his followers updated with his Instagram posts. One of his posts came a year ago with his three sons.
Additionally, in the same year and the same month, he shared an Instagram image wishing his daughter, MacKenely, a very happy birthday.
However, the love life of Zach wasn't simple as he was caught in several controversies before he tied the knot with his wife.
Zach had been dating his former girlfriend, Noel Bianca, who is a former Taz Angel and also a model. They had been in a four-year long relationship which ended up as Zach was involved in a marital relationship with Faune. The relationship with her turned worse as she tried to defame his name.
A side chick named Trish also created an IG page and claimed she had a break baby with the athlete in 2015 which was indeed an alleged matter.
This incident undoubtedly affected the emotion of Zach's wife and a further emotional torture stroke her in 2016, when a woman accused Zach of strangling her at an L.A. hotel.
The strange woman, who called herself a model, reported LAPD in the case of choking her and causing bruises to her neck.
With no robust evidence to prove that Zach was guilty, he and his family life remain stable. The family is a happy one, and they often make their appearance together at several spots.
The family now lives together in a house in East Memphis which Zach bought in April 2013 for $3.15 million. The home extends to an area of 11,157 square foot with five bedrooms in it.
Moreover, Zach is a player who is fond of cars, a Chevy lover, to be more precise. He has a nifty collection of cars from those model where they are all from 70's and are Impala. Well, he has 1975, 1973 and 1972 Convertible Chevrolet Impala Customs.