Entertainment
After Coming Out As Gay, Duncan James Revealed Getting Support From Daughter
Coming out is not always easy, and the consequences are not always positive. Many cases exist where a person gets abandoned by his family and friends after revealing his sexuality as gay. However, there are some people lucky enough to have very supportive friends and family who accept them for who they are.
In this context, we will be talking about Duncan James, one of the former members of boy band "Blue" who is openly bisexual. James has revealed that both his mother and daughter are very supportive and proud for who he is.
Duncan's Daughter Accepted His Sexuality:
Duncan James, who revealed his sexuality in 2009 revealed his daughter's acceptance in an interview with Ok! Magazine. He stated,
"She's totally cool about me and my sexuality. I think nowadays, living in a world that is so much more accepting of the LGBT community, especially in England, it's great that kids are educated and know that it's normal."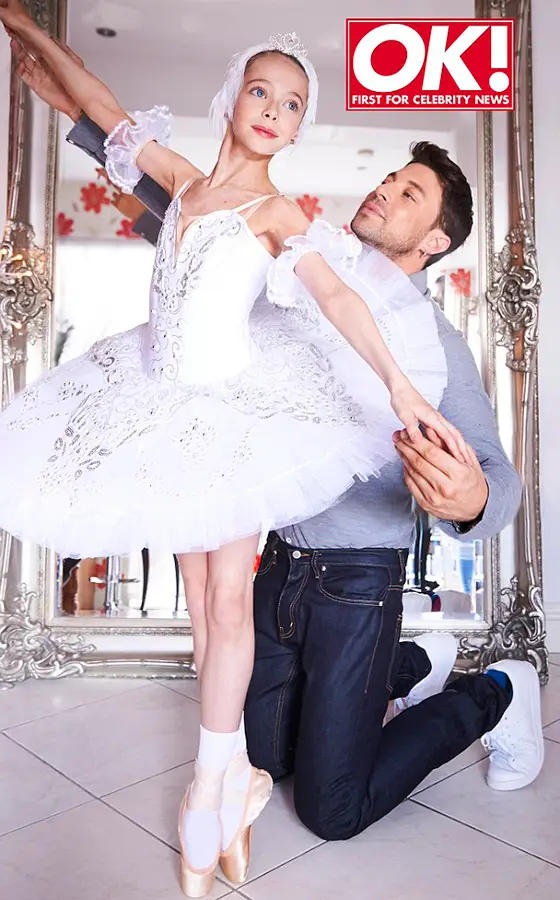 Caption: Duncan James and daughter Tianie Finn posing for their photo shoot.
Photo credit: Ok! Magazine
Tiane was born on 2005 when he was in a relationship with Claire Grainger. She recently attends the prestigious Royal Ballet School where she enjoys her first term.
Duncan admitted he is a proud papa and is blessed to have a daughter like Tianie. He said-
"I couldn't be more proud. Over 2,000 girls auditioned and there were only 12 places and she got one."
Caption: Duncan James talks about his relationship with his daughter Tianie.
No doubt, Duncan and his daughter share a wonderful relationship. They seem to be friends rather than father and daughter. Though Duncan and Claire aren't together, three of them live more like a family.
Coming Out as a Gay:
Duncan James revealed his bisexuality back in 2009 with News of the World when he stated,
"I'm bisexual. I've been in loving relationships with men as well as women – and I'm not ashamed. Even though I fancy men, I still fancy WOMEN too."
In the Carnival hosted by Interlaw Diveristy Forum, he shared his coming out story,
"Coming out, I think you'll all agree, is one of the hardest things you can do as a gay person. For me it was extremely hard not just to do it to my friends and family, but I had to do it to the world and a fan base who all believed that I was straight and a womanizer."
"I was reading stories in the paper that I was dating people like Geri Halliwell and all sorts of people, and of course that wasn't true. And inside of me I had a secret, and that secret was that I was gay."
In the story, he also revealed he took his mother to Los Angeles on a vacation where he had plans to confess about his sexuality. Describing the situation when he spoke to his mother about his sexuality, he said-
"I remember knocking on her bedroom door in the hotel that we were staying in, and I told her shaking, crying, an absolute mess, that I like guys, and that I was gay, and I didn't quite know what to get from here – I was really nervous, I didn't know whether she was going to reject me, what she was gonna say."
"She just put her arms around me, and gave me a hug and told me that she loved me, and the next day she said does that mean I'm not going to have any grandchildren."
Furthermore, he revealed his mother was surprised when he revealed he got his partner pregnant after coming out as gay.
Plans of Getting Married? Boyfriend?
Well, there are confusions regarding his love life. Many people are wondering whether he will parent his daughter with his wife or husband. To the people out there who are stuck on this question, Duncan has plans of getting married but only when he will find a perfect guy for him. In an interview with New magazine in 2013, he revealed that he still loves his ex-girlfriend Claire Grainger and would love to have another baby boy with her but will marry a guy as he has developed an interest in men.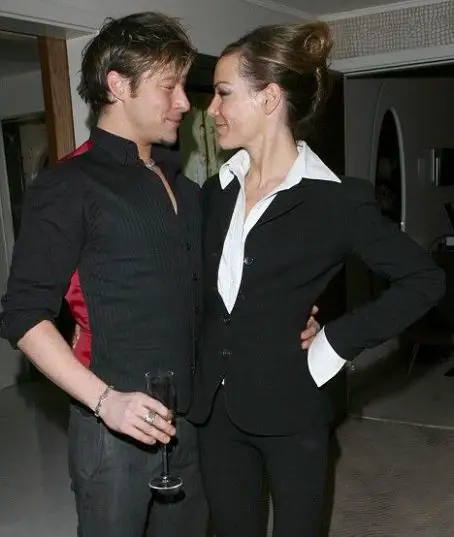 Caption: Duncan James and his ex-girlfriend Claire Grainger.
Photo credit: whosdatewho.com
In the interview, Duncan exclaimed,
"We were hypothetically talking about it. I'd love a little boy. It's something that I've thought about and I've said to Claire, 'Do you want to keep it the same?"
"Claire's my family. She's the mother of my child and I absolutely adore her. If I go back and do it all over again, I would choose Claire every time."
"I've been looking more towards dudes than girls. I guess that's because I've come out and accepted my sexuality."
"I'm more comfortable about having a proper relationship with a man now, so if I met a guy that I fell in love with then I would definitely think about marriage."
Thirty-year-old Duncan James has been active in his career since 2000. He has gained immense popularity and is receiving incredible earnings from his profession. Duncan is known for his appearance in boy band "Blue" (2000-2005), Grease: the School Musical (2009), Don't Stop Believing (2010), Spy (2012), Pointless Celebrities (2016) and Hollyoaks (2016-present). Duncan was supposed to have accumulated an excellent net worth but unfortunately went bankrupt in 2013.