Entertainment
An Intimate Wedding Where Lin-Manuel Miranda Surprisingly Showed Affection To Beloved Wife
Most of the people want their high school love to end up in marriage, and we have a story to share on that very topic. A story in which young age lover still going strong sharing a blissful marriage life. We are talking about Lin-Manuel Miranda and his wife, Vanessa Nadal. Let's find out more about it in our story today.
A perfect surprise on a very special day!
The American actor Lin-Manuel Miranda married the love of his wife on September 5, 2010, in Staatsburg, N.Y., at the Belvedere Mansion. The lavish wedding is very famous for the surprise which Miranda planned for his wife.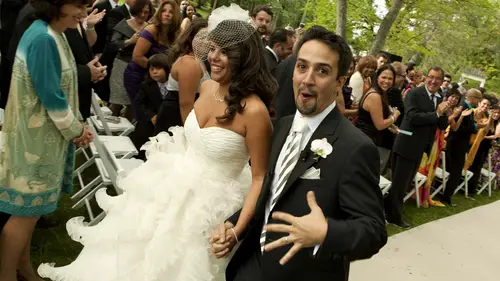 Caption: The love of five years found their destiny; Miranda got married to Nadal (2010).
Photo Credit: nytimes.com
The surprise started with Vanessa's father raising a toast and asking Miranda to convey his few words to Vanessa. Then suddenly Miranda and his father in law began with the musical 'To Life' of Fiddler on the Roof. Then slowly the floor was joined by the bride's and groom's best men and best woman.
Caption: A grand Broadway show on the very special day posted on September 8, 2010.
Soon, the dance floor got covered up by the family of then newly wedded couple. They all performed with mics in their hands and performed the choreographed dance routine which was worth saying a perfect Broadway show. And also a complete surprise which couldn't have made Vanessa happier on her big day.
That is something which is unexpected yet expected by many brides.
The Chemistry of The Lovebirds:
The pair got to know each other from high school, Hunter College High School in NYC's Upper East Side neighborhood. Miranda was two batch senior to Nadal. Though Miranda knew Nadal, he admitted that he could never work out in his courage to talk to her. He gushed in an interview with The Times in 2010, where he said;
"She was gorgeous, and I'm famously bad at talking to women I find attractive. I have a total lack of game."
The two somewhat happened to get a similar taste in games which helped them to move forward in relation. Miranda recalled the moment,
"I very cooly said, 'All right, you're going to come over to my house tonight, and we're going to play Grand Theft Auto and watch the Jay Z movie and listen to Marc Anthony,"
Puerto Rican-American star started dating scientist and attorney Vanessa Nadal since 2015. And after five years of dating, they got married. The couple welcomed their first child, Sebastian, on November 10, 2014, which added new happiness in the family.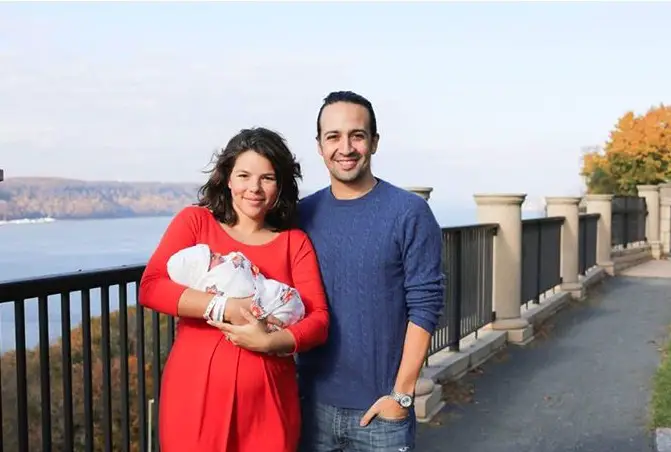 Caption: Miranda and Nadal posed with their newly born son on 2014.
Photo Credit: forwardgeek.com
Miranda during his talk with People revealed that his two years son, Sebastian knows two language English and Spanish and is on his way to learn the third. Miranda said;
"It's adorable to see him sense who he's talking to and translate. He'll be like, 'Leche?' No, Milk?' and that's kind of incredible. He's like a sponge and he's got a smattering of German, too. My mother-in-law is Austrian, so he's got one language up on me."
The creator of groundbreaking musicals like 'Hamilton' and 'In the Heights' has won four Tony Awards because of his 'In the Heights.' In 2016, Tony Award got honored with the award for Best Original Score. For that, he read out emotional speech which became famous quotes of all time.
All the work of Miranda as composer, actor, lyricist and rapper has made a versatile personality. And his versatility has paid him in a better way with an impressive
net worth
of $10 million.