Entertainment
'The Rich Eisen Show' Host's Amazing Salary and Net Worth: Put Home in Sale For $3.295 million
Sports being an interest of a significant part of the population include a business of billions. Maybe this is the reason why sports journalists have some of the most incredible worth in economy like Rich Eisen. Learn about his amazing salary and net worth. What is this talk about him selling his house?
His Salary and Net Worth:
Like mentioned earlier, Rich being a known TV personality in sports journalist has an estimated staggering net worth of approximately 10 million dollars. His salary can be determined to be somewhere around 1 million dollars.
He has more than 25 years of dedication to his career starting as just a writer for the Staten Island Advance and the Chicago Tribune before serving as a sports anchor for television. He is mostly known for his years on NFL network where he had started working since 2003. He became the host of the show, 'NFL Total Access' until August of 2010. He's also the host of other shows like 'NFL GameDay Morning' and 'NFL GameDay Highlights'. His sports talk TV/radio show, 'The Rich Eisen show established in 2014 is also very popular. With all these famous shows, he definitely deserves the ransom.
Caption: An episode of 'The Rich Eisen Show.'
His Family: Wife and Children?
He lives in a luxurious Beverly Hills house with his wife, Suzy Shuster and his two sons. His wife is also a fellow journalist; an Emmy award winning sportscaster associated with both NBC and ABC. Their two kids have been kept away from the media, but they are 8 and 5 years of age.
Caption: Rich Eisen with wife, Suzy Shuster
Caption: Rich Eisen's sons.
House Description: Put for Sale
The couple has spent a lot of wonderful time in the house since they bought the house in 2003 for 1.9 million dollars. The couple has since then remodeled and restructured the house to make it better in many ways, especially making it kids friendly. The newly transformed parents have also tried to make it as adequate for small children as possible. Now, they have put their beloved home in the market for a price of 3.295 million dollars.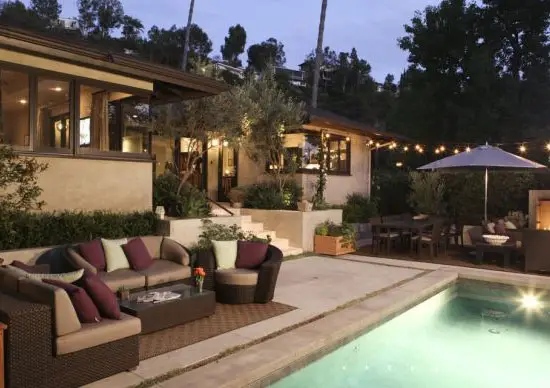 Caption: An outside view of Rich Eisen's house
Source: wsj.net
The 31,000 square feet property, originally built in the 50s has 4 bedrooms and 3.5 bathrooms. The interior is made up of dark wood that is complemented well by the large skylights. The house includes a formal living room that includes a fireplace and is merged with the dining room. The living room overlooks a rectangle shaped swimming pool surrounded by olive trees and bamboo through a wall of glass doors. The house also features an eat-in kitchen, a media room, and an office.
Caption: A home description of Rich Eisen's Beverly Hills home.
Source: wsj.com
The house gives a warm vibe filled with the family's presence. It was filled with sports, African culture and children related items. While both Rich and Suzy are a sports journalist, Suzy additionally is fond of collecting African artifacts and the couple has made a lot of changes in the house to make it kid friendly.
Rich Eisen's Short Bio:
Rich Eisen was born on June 24, 1969, in Brooklyn, New York, USA. He went to the University of Michigan. He graduated with a Bachelor of Arts degree in 1990 and earned a master of science degree in journalism in 1994 from the Medill School of Journalism at Northwestern University. He has been a part of The Odd Couple (TV Series) since 2015.