Entertainment
Is Zack de la Rocha Married? Also The Reason Why He Left RATM
One of the most controversial yet very successful bands in the history is Rage Against The Machine a.k.a. RATM or Rage in simple words. And the man to front the band that always addressed the social and political issues was the iconic Zack de la Rocha.
But as we all know, he is no longer a member of the now defunct RATM, but why did he depart the band in the first place? What was the reason behind RATM splitting? If you are wondering about the same, you've hit the right place.
The Demise of Rage Against The Machine: WHY?
Rage is a band that is most known for giving you an adrenaline rush and making you jump up and down and feel the pump. Their band addressed the social issues and crisis in most of their songs which touched the people's nerves, making them the band they were able to become.
But during 2000, rumors flew that Rage was about to split and are done for good. However, on September 12, 2000, Rage played one of two shows inside an electric Grand Olympic Auditorium in front of a sold out and hostile crowd in LA, which were to be recorded for a live album.
The band just smashed it, and those rumors were almost termed fake by the fans who were in attendance and witnessed it via any possible method.
But weeks after the show, Zack de la Rocha shellshocked the world and dropped a bombshell when he announced that he and the band were parting ways.
Zack announced,
"I feel that it is now necessary to leave Rage, because our decision making process has completely failed. It is no longer meeting the aspirations of all four of us collectively, as a band, and from my perspective has undermined our artistic and political ideal.
He then continued,
"I am extremely proud of our work,"

"Both as activists and musicians, as well as indebted and grateful to every person who has expressed solidarity and shared this incredible experience with us."
So there you have it, the fact that the band faced some failures in reaching consensus led to the frontman leaving the band and moving ahead in his life.
Moreover, the iconic Tom Morello, the band's guitarist stated in an interview,
"Rage Against The Machine has been a tremendously volatile rock rollercoaster for nine whole years,"

"It actually comes as something as a surprise that the original line-up has remained intact all this time. It's important to emphasise that Rage Against The Machine have not broken up. Zack has left the band. Tim, Brad and myself will continue to make groundbreaking music.
Morello added,
"Zack called me the morning that the press release was issued,"

"One thing that might not be clearly understood is that we were in a period where he was planning to take 18 months to two years off. He wasn't planning on writing another Rage song or playing another Rage show until 2003.

So, as far as it did come as a surprise, in our daily schedule it didn't have a huge impact on the rest of us. I was disappointed that, come 2003, we wouldn't be booking a world tour, but Tim, Brad and I were planning to continue to work together and make new music. Those plans will continue."
He also divulged,
"we parted company on good terms and we wish him well,"

"There's been some confusion over this record, since it coincides with Zack's departure. It's a studio album, with Zack as the vocalist. For Timmy, Brad and myself, we're really proud of this record and want everyone to know about it."
Morello's statement clarified that Zack left Rage, but Rage was not done making music and the words, as guitarist Tom Morello, bassist Tim Commerford, and drummer Brad Wilk then recruited the now deceased Chris Cornell(who recently killed himself) to form another successful band "Audioslave."
Zack also launched his own project "Nightwatchman" and carried his musical spirit all the way.
RATM then reunited back in 2007 to play around 50 shows in 4 years which included 'Battle of Britain' show in Finsbury Park in London. Zack de la Rocha said,
"I think our relationship now is better than it's ever been."
Caption: Rage Against The Machine play Killing In The Name (Live At Finsbury Park) Published on August 17, 2015.
Good to know that the shocking split did not result in them having negative thoughts towards one another!
Is Zack de la Rocha Married And Has A Wife In His Life?
Zack de la Rocha has a girlfriend named Carolina Sarmiento. The couple has not made their relationship open in front of anyone and thus, no official date of them beginning to see each other has been revealed. However, there are reports that the two are engaged to one another, but the two involved party has not confirmed the news.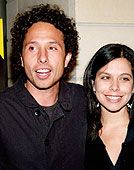 Caption: Zach de la Rocha and his girlfriend, Carolina Sarmiento.
Photo Credit: whosdatedwho.com
Zack has not spoken about having a wife or parenting his children, and thus, one might assume that he is yet to get married and become a father. So let us hope that the electrifying man comes forth and reveals anything about his love life!
The man who has fronted such successful bands in RATM, One Day As Lion and Inside Out is sure to have earned a lot of money in his career. The success of his musical projects and his hard work and dedication has reaped him right rewards and has done his finances a world of good. As a result, he boasts a net worth of $50 million.