Entertainment
Actress LisaRaye McCoy Planning to Getting Married Again? What About Her Husband and Daughter's Issues
It seems like Actress LisaRaye McCoy is ready to mingle and already down to have a family. She already has one with a daughter but her married life could not fulfill as it went to be an unsuccessful one. Just like the married life of Kimberly Guilfoyle who married twice but both marriages did not work out for her. Let's see what's up with the actress/business woman.
LisaRaye McCoy was at first married to Tony Martin in 1992. Tony Martin's profession and other personal aspects are not classified. However, the couple got divorced after two years on 1994. After about twelve long years, she married Michael Misick on April of 2006. Michael at that time was elected as the Premier of the Turks and Caicos Islands.
The wedding was, however, a lavish one which was attended by 300 guests followed by a lengthy, three weeks honeymoon which includes destinations like Jerusalem, Bali, and Dubai.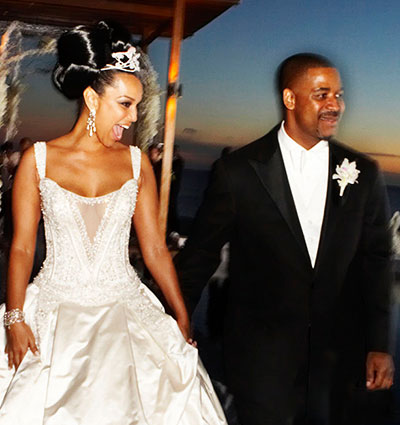 Caption: LisaRaye McCoy with former husband Michael Misick at their wedding in 2006.
Source: essence.com
No matter how lavish the wedding was, it only lasted for about two years after Michael released a statement that the husband and wife were separating and getting a divorce. Followed by the broken marriage, in 2009, Misick resigned from his position after authorities found clear signs of corruption which led him to flee from Turks and Caicos but was eventually arrested in Brazil and was taken back to stand trial. The same year she was in a relationship with Gary Payton, an American Basketballer.
In 2011, LisaRaye revealed in an interview with VH1.com that she was not actually in love with her ex-husband Michael Misick and explained that it was more about the business that pleasure. She further explained that her marriage with Michael was so that she could expand her brand to Turks and Caicos.
Caption: LisaRaye talking about her divorce in an interview with VH1 in 2011
Source: theybf.com
LisaRaye also unveiled some of the alleged martial affairs her then husband had while they were married. She also explained that she did not have any problem with fornication but backs from it because of her faith's rules and the spiritual journey she is on, right now.
Is LisaRaye Planning to Getting Married?
After her divorce with Tony Martin in 1994, she did not get married for 12 years, which is clearly a long time to stay single but LisaRaye was not. During the 12 years gap between her married life, LisaRaye dated about three men one after another. At first, she was rumored to be dating Terry Norris, an American former boxer, in 1997; later it went to Datari Turner, an American Model, Al Sharpton, an American Activist.
The model/fashion designer is currently single but is ready to swap vows with anyone she finds fit to married to and she is determined to do it right this time. She says,
"I think there're expectations of people feeling like 'oh my God, she was a First Lady, she was married to a president, what could we have to offer her,' and that's true cause I don't want nobody wasting my time. I just want to find a good friend, a foundation of a friendship and be able to marry this time and do it right."
Exclusive: Lisa Raye Is Looking For A Man!
Source: hiphollywood.com
The grownup daughter:
Now, you may be wondering where LisaRaye's daughter came from. Well, her daughter Kai Morae was born from her previous relationship with a man named Kenji Pace who is anonymous to the media. If you thought LisaRaye's daughter was still a child, then you could not be any wrong. LisaRaye's daughter Kai Morae is a 26 years old plus size model and is already on her way to make LisaRaye a grandmother.
Kai Morae is expecting a baby daughter with her beau, Joe, as she announced her pregnancy with a big belly bump being kissed by her boyfriend on September 10 through her Instagram post. She later posted a video on Instagram thanking all those who came together for her family, and to reveal her daughter's name, Bella Rae Jeune.
LisaRaye will be a grandmother for the first time and all thanks to her lovely daughter with whom she appeared in TV series 'The Real McCoy.' LisaRaye also held a private baby shower for Kia which was attended by loads of their family and friends.
LisaRaye McCoy can recently be seen in 'Love Under New Management: The Miki Howard Story.' However, she currently has two projects in post-production namely "No More Mr. Nice Guy" and "Nat Turner: Story of A Prophet." Both projects are due for 2017. In her whole career, she has been an actress, model, businesswoman and fashion designer which has successfully helped her to generate a net worth of $10 million dollars.