Entertainment
Unsuccessful Married Life of Kimberly Guilfoyle: Know About Her Ex-Husbands And Reason For Divorce
Do you remember one of the beautiful co-hosts of "The Five"? Yes, we know there are 3 beautiful women in that show but we are talking about Kimberly Guilfoyle. She is beautiful, right? So we bet you want to know about her. Let's move forward then. Kimberly Guilfoyle is an American cable news personality and as we said earlier, she is also one of the co-hosts of the famous show called "The Five".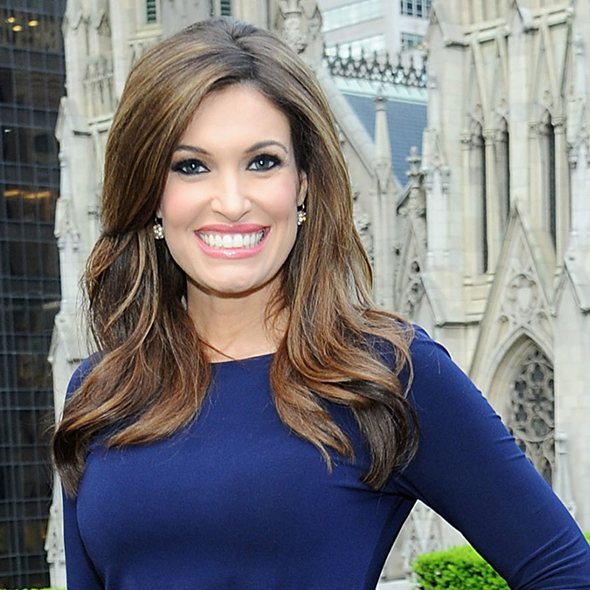 Quick Information
Son/s

Ronan Anthony Villency

Instagram

instagram.com/kimberlyguilfoyle

Twitter

twitter.com/kimguilfoyle

Facebook

facebook.com/KimberlyGuilfoyle

Body Measurements

37-25-37 Inches

Height/ How Tall? 5 Feet 2 Inches (1.57 Meters)
College

University of California, University of San Francisco School of Law

High School

Mercy High School

Ex-Husband

Eric Villency(2006-2009), Gavin Newsom(2001-2006),

Boyfriend

Donald Trump Jr.(2018-present)

Divorce/Split

Yes (Twice)

Relationship Status

Dating

Date of Birth 1969/03/09
Brother/s

Anthony Guilfoyle

Mother

Mercedes Guilfoyle

Father

Anthony Guilfoyle

Ethnicity/Race

Mixed

Zodiac Sign

Eric Villency

Nick Name

Kimba & KG

Birth Name

Kimberly Ann Guilfoyle

Profession

Television Personality

Birth Place

San Francisco, CA

Nationality

American
Do you remember one of the lovely co-hosts of "The Five"? Yes, we know there are two other beautiful women in that show(namely Monica Crowley and Dana Perino), but we are talking about Kimberly Guilfoyle.
She is beautiful, right? So we bet you want to know about her. Let's move forward then.
Kimberly Guilfoyle is an American cable news personality, and as we said earlier, she is also one of the co-hosts of the famous show called "The Five."
Now, any more information about her personal life will certainly bore you out, right? So let's have a sneak-a-peak inside the personal life of Kimberly Guilfoyle's life.
Kimberly was married to Gavin Newsom who is an American politician. He was elected the 42nd mayor of San Francisco in 2003 and was the city's youngest in a hundred years. With a vote percent of 72 percent, Newsom was re-elected in 2007 He is the 49th and current Lieutenant Governor of California as he got elected in 2010 and re-elected in 2014. The couple got married in the year of 2001.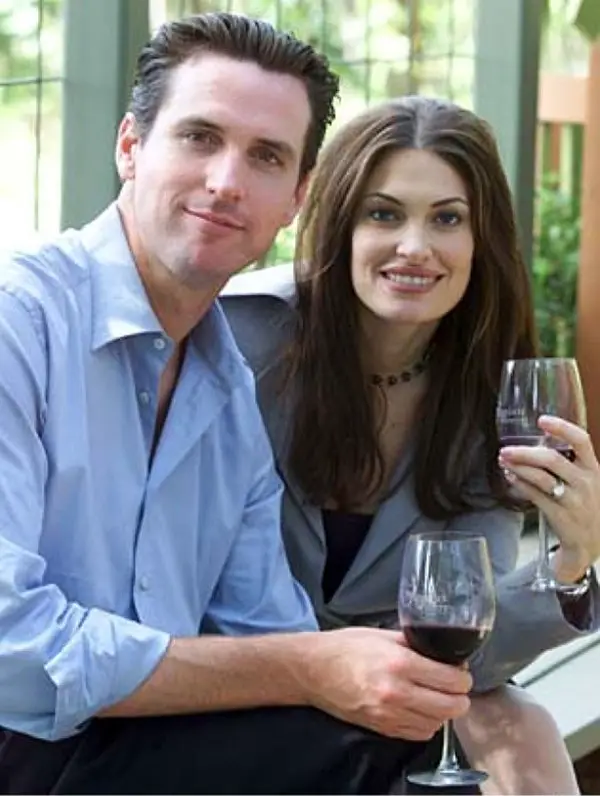 Caption: Gavin Newsom(left) and Kimberly Guilfoyle Newsom (right) pose for a picture at the PlumpJack winery in Oakville, California.
Source: sfgate.com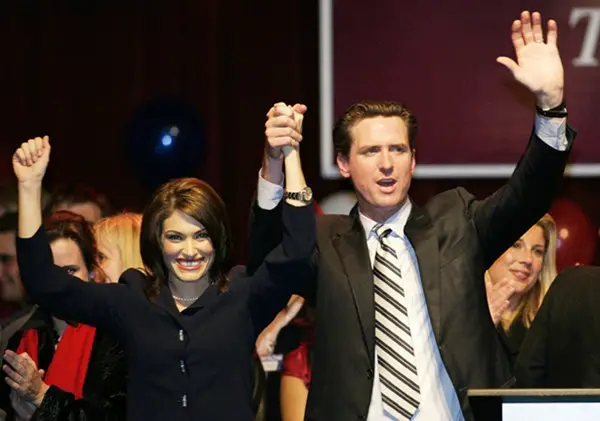 Caption: Mayor-Elect Gavin Newsom and Kimberly Guilfoyle Newsom at a victory party after Newsom's opponent Matt Gonzalez, conceded in San Francisco, December 9, 2003.
Source: sfgate.com
After she had gotten married to Gavin Newsom, she took his last name and was addressed as Kimberly Guilfoyle Newsom. However, after about four years of marriage life, Kimberly herself filed a divorce in January 2005, and informed bi-coastal marriage was the reason behind the divorce.  The divorce was finalized on February 28 of 2006.
Later in the same year, Kimberly married Eric Villency who is currently the CEO of Villency Design Group
On May 27, 2006, Kimberly and Eric exchanged their vows on the island of Barbados. On October 4, 2006, the couple were blessed with a baby boy and named him Ronan Anthony. After some years of marriage life, they had some issues. Later, Kimberly announced the news about their separation in 2009 and was divorced eventually. This time, the cause of the divorce was not disclosed. We think she decided that personal life should be personal but she did imply that the separation was based solely on tensions surrounding her bi-coastal lifestyle.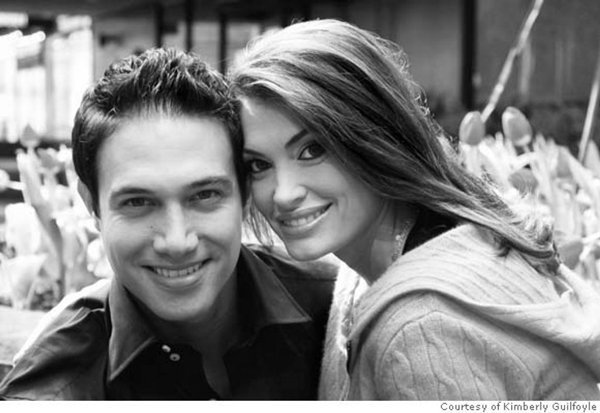 Caption: A sepia image of Kimberly posing with Eric Villency.
Source: hdnux.com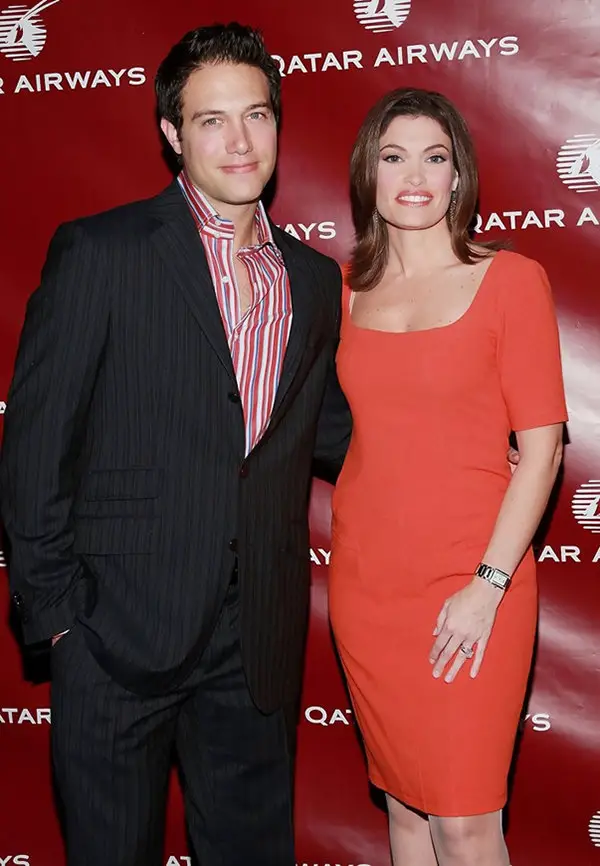 Source: zimbio.com
Kimberly is currently happily living with her son Ronan; here are some of the pictures of the beautiful mother and her handsome son.
There were some rumors that Kimberly is dating someone, but nothing has been confirmed yet as Kimberly hasn't spoken about it officially. We'll let you know if we find out anything about her future husband or boyfriend.
Kimberly Guilfoyle is a proud author of a book called "Making the Case: How to Be Your Best Advocate."
Kimberly Guilfoyle, Future Press Secretary
News has been uncovered that Guilfoyle is making the jump to Donald Trump's administration office ( just like her co-worker Monica Crowley) to be the future Press Secretary of Donald Trump's office. Politico revealed that Kimberly was in talks for getting said position and was spotted at Trump Tower in early December 2016, where she had lunch with top staffers in the transition team. According to sources, part of Trump's inner circle believes Kimberly, who is half-Puerto Rican is a better option for the position instead of the current prime candidate Republican National Committee and Trump transition spokesman Sean Spicer.
Apparently, Kimberly has contacts in Trump's inner circle. Having a friendly relationship with Trump's daughter Ivanka and son-in-law Jared Kushner, as well as Trump's chief strategist Steve Bannon, his former deputy campaign manager, David Bossie, and his finance team adviser Anthony Scaramucci, she has quite a backing. It is guaranteed that her skills will be well appreciated in such a position if she were to be rewarded with it.
Coworkers and fans are excited about the soon-to-come news on Kimberly's future and have expressed their opinions on Twitter recently.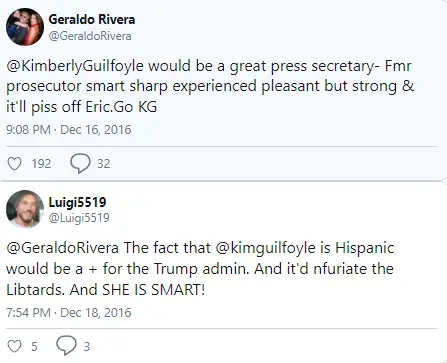 Short Bio: Kimberly Guilfoyle
Kimberly Ann Guilfoyle is a Half Puerto Rican - Half Irish-American citizen who was born in San Francisco, California. A well-educated scholar of multiple talents, she graduated Magna Cum Laude from the University of California, received her J.D. from the University of San Francisco School of Law and even studied at Trinity College, Dublin, Ireland where she published papers on international children's rights and European Economic Community law.
Guilfoyle has worked as an intern at the San Francisco district attorney's office as well as modeled for Victoria's Secret. Later on, she worked as Assistant District Attorney at San Fransico District Attorney office from 2000 to 2004. She joined Fox News in 2006 as a host of the weekend show ' The Lineup' and was eventually cast as a co-anchor in Fox News hit shows ' The Five' and 'Outnumbered' which accounts for a majority of her career till now.