Entertainment
Actress of Mixed Ethnicity Shari Headley: What Does She Think About Divorce With Husband and Their Son?
Ethnic background is common in every field as they are the result of love across boundaries and overcoming language barriers and having a family together. Having said that ethnicity does not define the nature and lifestyle of a person as many of the mixed ethnicity people are successful in their respective field. Shari Headley comes from parents who have different cultures and yet is successful in her profession.
Shari Headley and many other celebrities had overcome their mixed ethnicity fear and had achieved a tremendous amount of success and recognize all around the world. Shari is a black American and has gained a lot of appreciation for her acting and roles in films. Lot of people have assumed that Shari hasn't changed over year, and the reason is she works from the inside out on an interview she gave to fierceforblackwomen.com on 2014 she said;
"It's important to let your beauty shine, she added you have to start with your inner beauty that includes "being happy for other" surrounding yourself with positive people and not letting drama queen ruin your life, "If you're an ugly person inside, I don't want to have anything to do with you".
Here is the post made by her fan saying that she has not changed and is always beautiful.
Shari too say's she has a good balance of life, and on that same interview she said;
"I have a pretty good balance," she cares for her 88-year-old mother and reared her son as a single mom. "I'm so proud of my son." Now with his mom's positive outlook and giving personality.
In this video, she has shared her feelings on health and wellness issues.
Caption: Shari was sharing her thoughts on childhood wellness and health on 2014.
What Does She Think About Divorce with Husband and their Son?
Some people are just lucky when it comes to a relationship, and some are unlucky as they get heart broken by someone who they once loved, and Shari has occurred with the same situation in her life as her married life did not last for longer period. Both Sari and her former husband Christopher Martin called it off after their divorce in the year 1995.
They have started to date and then soon got married in the year 1993.Having a short married life for only two years, they both have a son Skyler Martin who was born on 1994. Both have maintained a low profile about their divorce, and the reason for their divorce is assumed to be an "extramarital affair, " but both the ex-couple have remained quite on this issue.
The divorce has certainly affected her but being a strong woman Shari never showed up her emotions rather on an interview she gave to fierceforblackwomen.com on 2014 she said;
"I'm very blessed that the union produced my beautiful son, That's all I can really say. I'm happy with that. I haven't seen or heard from him in a very long time."
she also admits that;
"It is what it is, I made the choice to get divorced."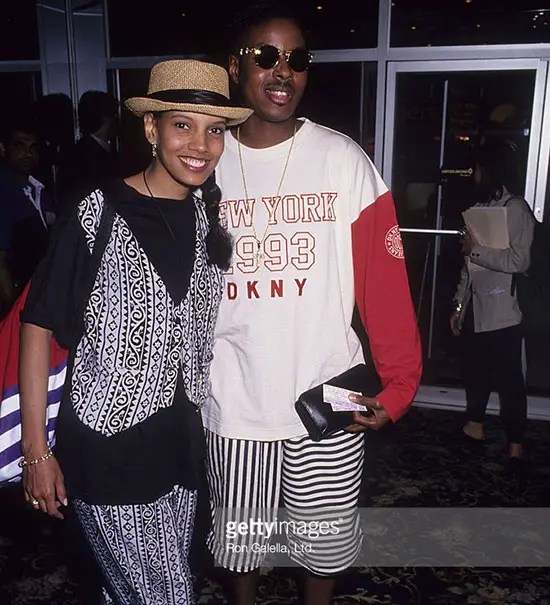 Caption: Shari Headley and ex-husband singer Christopher Martin attend the 'Posse' New York City Premiere on May 10, 1993.
Source: gettyimage.com
Although she is single now, she is still searching for a lover. She reportedly talked about being on the lookout for a man as well as explaining how she was always shy and just had issues approaching men. The actress stated that she's on the lookout for someone who is 'thoughtful, family-oriented and considerate" and at the same time talked about her personal qualms saying that the man isn't one of those people "who clip their nails in public or have dirt under their fingernails."
Line up men!
Her Net Worth:
The estimated net worth of Shari is $2 million dollar as of now. Shari is a talented actress and has acted in a lot of films, TV shows, and various other events. Shari whopping's amount of fortune originates from her acting career.
Shari Headley Peerless At the Age of 52:
Quite surprisingly the 'Coming to America' address will turn 53 in July 2017. One can't tell her age at all with just a glance, can they? However, the actress has more than just beauty and charisma; she also holds quite a respectable personality. In her spare time, Headley puts a lot of time into humanitarian efforts. The actress is reported to have been working with anti-bullying organization 'Saving Our Daughters' and has reportedly spoken against women violence and bullying as a whole.
Her other half and dear friend Vanessa Bell has also recently launched her new campaign. This is My Sexy Sixty which aims at empowering women to embrace their beauty at all ages of life. The two actresses also recently got together on Steve Harvey's show dressed as their characters from their hit classic, Coming to America and they looked just as great as they did 30 years ago.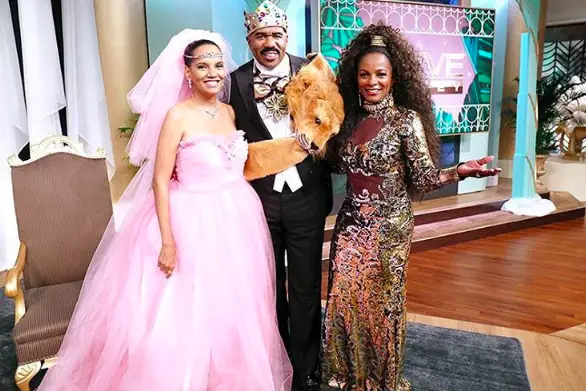 Caption: Shari Headley with Vanessa Bell and Steve Harvey, dressed as their respective characters from 'Coming to America.'
Photo Credit: Bossip.com
Shari Headley's Short Bio:
Shari Headley was born on July 15, 1964, in Queen, New York shares a mixed ethnicity as her mother is from Brooklyn, New York, and father is from Spain, Trinidad. Shari had a middle-class family background and is a black American.
It was 1985 when she began her acting career before she began her acting career she has acted as a model, and she remained a model for few more years before she completely became an actress.
She is well known for movies is have acted which includes Coming to America(1988), Johnson Family Vacation(2004) and The Preacher's Wife(1996).Most of Shari fame had come from her first movie "Coming to America" after that she gave a back to back movies.