Entertainment
Marjorie Bridges-Woods: Get Acquainted to Her Husband, Past Divorce Issues, And Children!
Real life is no fairytale; there is one in a million chances that you will find 'The One' on the first try. And this is why break-ups or split happen, and this is why the marriage ends up in divorces. For Steve Harvey and his wife Marjorie too, they had to go through some terrible relationship to find each other.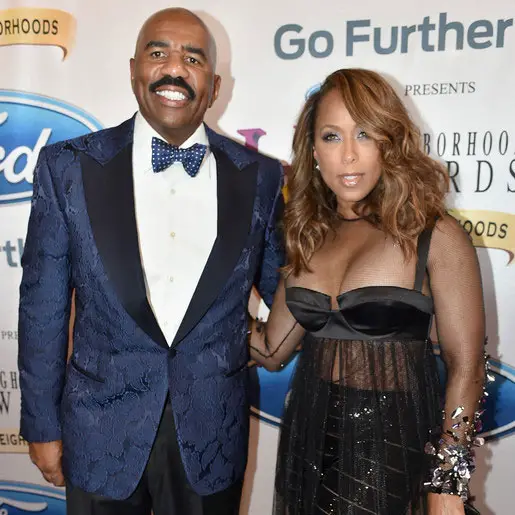 Quick Information
Relationship Status

Married

Real Name

Marjorie Elaine Harvey

Instagram

instagram.com/marjorie_harvey

Height/ How Tall? 5 Feet 5 Inches (1.7 Meters)
Education

University of Memphis

Net Worth

Not Disclosed

Ex-Husband

Jimmy Townsend, Darnell Woods

Divorce/Split

Yes (Twice)

Husband/Spouse

Steve Harvey(m.2007),

Date of Birth Oct 10, 1964
Daughter/s

Lori Harvey, Morgan Harvey

Son/s

Jason Harvey

Mother

Doris Bridges

Ethnicity/Race

African-American

Zodiac Sign

Libra

Profession

Socialites

Birth Place

United States of America

Nationality

American
Real life is no fairytale, and the same goes for Marjorie Bridges-Woods's married life. Married to famous American comedian and television host, Steve Harvey, Marjorie went through different ups and downs in her married life. 
Let us learn more about Marjorie's husband and kids and her married life's experience!
Marjorie Bridges-Woods' Married Life: Husband, and Divorce!
Who isn't familiar with Steve Harvey? You might have remembered the time when he made a funny and embarrassing mistake in the most prominent modeling event 'Miss Universe 2015'. He is also the busiest man on TV hosting three different hit shows, so how did such an unlikely couple meet? 
They first came in contact with each other when Steve first saw Marjorie, while she was walking into the 'Memphis Comedy Club. Steve recalls the moment as "love at first sight." Steve went on stage of Memphis Comedy Club and announced the same night,
"I don't know who you are, but I'm going to marry you."
Later, after a few weeks from the first meeting, Marjorie discovered the moment of clarity about the relationship. Recalling the moment, Marjorie talked to ESSENCE in January 2014 saying, 
"I knew he was The One shortly after I started dated him...but then he just left. Disappeared." 
Both Marjorie and Steve dated briefly while Harvey was struggling. Steve was with his second wife, Mary Lee at the time while Marjorie was with one of her previous husbands. Though dating for a short time, the duo split up later.
More On Her:- Steve Harvey's Wife Marjorie Elaine Harvey Age 54 Net Worth & Kids | Bio
They reconnected in 2005, shortly after Steve's divorce and picked up right where they couldn't 15 years ago. So, the two got married two years later on 25th June 2007.
The duo dated for years as revealed by Marjorie in 2010 interview with ESSENCE, 
"We were friends. We dated years ago and I think it was the long distance more than anything with Steve and I [that made us go] our separate ways. Nothing happened. He didn't break my heart. I didn't break his heart. It just was a long distance relationship and someone would have had to make a decision back then. No one made a move. But it didn't mean we didn't care, it's just sometimes life gets in the way. Obviously, it wasn't the perfect timing or it would have happened."
Steve's longtime bodyguard was the one to push Steve to rekindle his romance with Marjorie. Steve explained the information in an interview with PEOPLE in 2016 by stating, 
"He told me, 'Look, the only time I've ever seen you happy was when you were with that woman Marjorie. Now before you go and do something stupid and marry another woman, I'm calling her.'"
Marjorie married Steve Harvey on 25 June 2007 and became Steve's third wife. 
Sharing the glimpse of duo's love, Marjorie shared an Instagram image of the pair on 24 July 2016 during the Neighbourhood Awards. 
Marjorie has three children; Morgan, Jason, and Lori from her previous marriages.
See Also:- Who Is Jordyn Woods & What Is Her Net Worth? Wiki - Age, Parents, Family
Likewise, Steve has four children from his previous marriage; Wynton born in 1997 from his relationship with Mary Lee, who is a former makeup artist and; twins Karli and Brandi born on 1982 and Broderick Jr. born in 1997 from his past relationship with Marcia Harvey.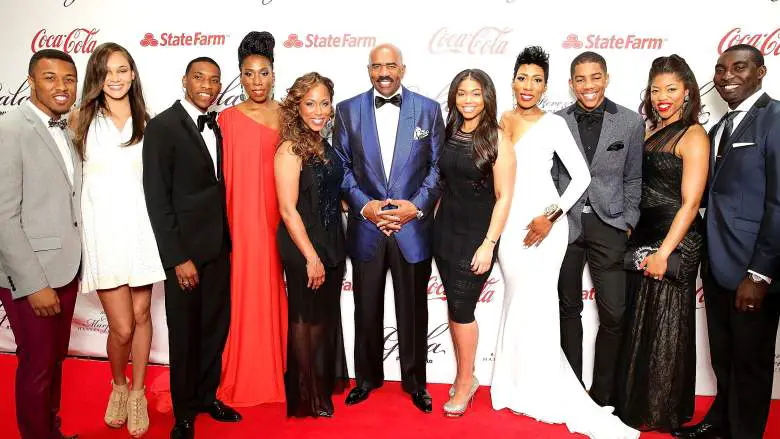 Marjorie Harvey and her husband, Steve Harvey in the middle, with their children: Jason Harvey, Amanda Harvey, Broderick Harvey Jr, Brandi Harvey (on right), Lori Harvey, Karli Harvey, Wynton Harvey, Morgan Hawthorne and Kareem Hawthorne (on left) attend the 2014 Steve & Marjorie Harvey Foundation Gala at the Hilton Chicago on 3 May 2014 in Chicago, Illinois.
However, both Marjorie and Steve have no children of their own, but shares four grandchildren; two from Jason, one from Morgan, and one from Karli. Steve Harvey shares the strong bond with all of his seven children which was also displayed on the show, Steve Harvey. His children gave him the surprise on his birthday which was published on YouTube on 16 January 2015. 
Here is a picture of Marjorie with her children who are all grown up.
Up until now Steve and Marjorie had a happy family life, but now there have been rumors of their split. 'Mediatakeout' has even reported in January, the first probable sign of the couple's divorce. Marjorie while attending the Paris Fashion Week told the paparazzi to refer to her as Marjorie "Bridges-Woods." Let's hope that the couple does not split.
On 24 June 2017, the duo celebrated their 10th marriage anniversary and shared an Instagram image. 
Marjorie Bridges-Woods' Past Husband and Children
Marjorie was previously married to two Memphis drug dealers before Steve Harvey as per the sources. According to the source, there was a report about Marjorie's past husbands which reads, 
"She was twice married to two notorious Memphis drug dealers. After her first husband was sentenced to life in prison she divorced him and married one of the infamous Woods brothers, Darnell Woods, who was indicted on drug charges.Some say Steve's relationship with this chick started way before he divorced his wife Mary, but who really knows? At least Margie upgraded from running around with drug dealers to running around with a dude who likes to dress like a pimp. Good for you Margie"
Marjorie's first husband was arrested and charged with life imprisonment. After the arrest, she divorced him. 
Later, she married the infamous drug dealer, Darnell Woods, who was one of the notorious Woods brothers. Both of Marjorie's drug dealing husbands were cousins.
Marjorie Bridges-Woods' Divorce Issues
As if, divorce isn't hard to deal with as it is, it becomes harder when you have a vengeful ex behind you.
Related:- Marcia Harvey Faced Divorce After Husband Steve Harvey; What Caused The Married Life To Fall Apart?
For Steve and Marjorie, their relationship was shown in a dirty manner by Steve's ex Mary Lee when she accused Steve of evicting her from her home and forcibly taking their son, Wynton on the court.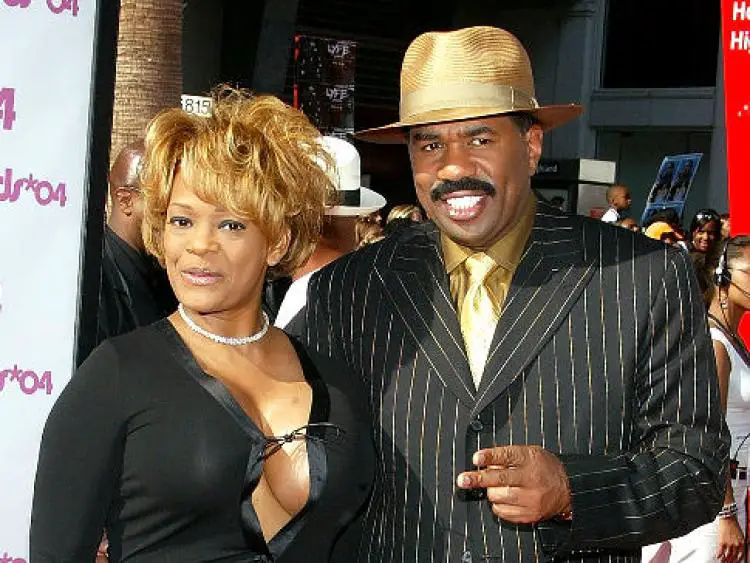 Steve Harvey with ex-wife, Mary Lee in 2004 (nydailynews.com)
She also went on to post a YouTube video where she allegedly claimed that Steve was having an affair with Marjorie before their divorce. Later the judge declared that all of her allegations were false and also by posting the video she had broken the gag agreement, and there had been no evidence of Steve's infidelity as well.
Steve Harvey Skips Trump Inauguration for Marjorie!
When it was revealed that Steve Harvey had a private meeting with President Trump, the black community did not take this action well and considered it as an act of betrayal to the black race by Harvey. Harvey later responded to these accusations on an Instagram post which can be viewed below.
Steve Harvey was then, set to attend Trump's inauguration but had to cancel later because Marjorie said 'No.' He later clarified stating, 
"I'll be turning 60 on Tuesday and my wife is taking me far away, So, I won't be at anybody's inauguration because my wife said no."
Maybe it was just because of Harvey's birthday, or it was because of Majorie's whims, nobody knows.
Kids Stirring Controversy; Husband Starts New Venture
Of all her children, Lori is by far the most popular as well as controversial offspring. Once married to a Dutch soccer player named Memphis Depay, Lori recently made the headlines after getting photographed alongside R&B crooner, Trey Songz while still being with rapper Future.
Some of the famous faces to have fallen for her daughter in the industry include musician Meek Mill and Puff Diddy's son, Justin Combs. Surprisingly, neither she nor her husband Steve seem to mind the gossip surrounding her dating life.
There's no denying that the married duo's focus has shifted to raising stream of income over the years as opposed to nurturing their kids. With the establishment of Steve Harvey Deals in February 2019, Marjorie and her husband's dedication to businesses is likely to grow.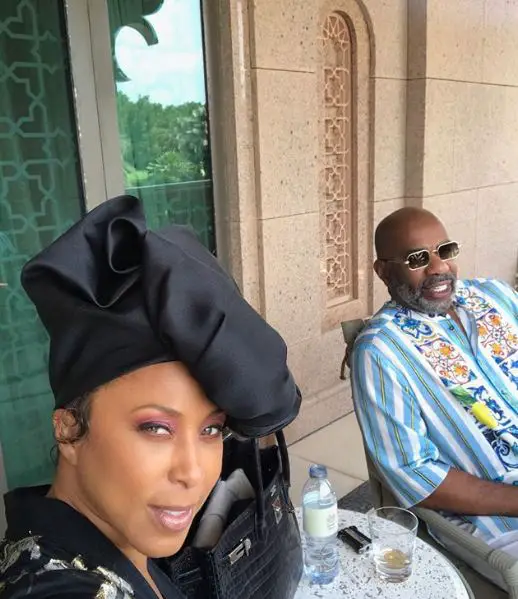 Marjorie Bridges-Woods and her husband, Steve Harvey vacationing in Abu Dhabi in November 2018 (Photo:- Marjorie Brides-Woods' Instagram)
That said, they do make time to recharge and refuel for their next challenge by going on vacation and organizing a family trip on each other's birthday.
Marjorie Bridges-Woods' Short Bio
Marjorie Bridges Harvey was born on 10 October 1964, in the US. Her birth name is Marjorie Bridges, but she got her the last name of Woods from one of her previous marriages. 
Celeb With the Same Last Name:- FOX 5 Mike Woods Fights Cancer, Gay Rumors Swirls - Personal Life Facts
In 2014, she was also a fashion aficionado and creator of the blog, 'The Lady Loves Couture,' which explores Marjorie's exciting fashion excursions and provides tips on beauty and fashion.
Also, Steve's wife is the founder of the Steve and Marjorie Harvey Foundation (SMHF), the foundation focused on upgrading the living standard of children and families all around the world.