Entertainment
Actress Yvonne Strahovski's Dating History: Know her Present and Past Boyfriends Here
Yvonne Strahovski has been a prominent actor in Hollywood. A very talented actor, Yvonne has been landing one big role after the other. What about the rising star's personal life. She has been the love interest of a bunch of men over the years. Learn about her dating history? Who is her current boyfriend and who did she used to date in the past.
Yvonne Strahovski has not been seen with a lot of people over the years. She has had three main relationships over the years. She is presently dating an actor, Tim Loden, right now. Tim Loden has been seen in some projects including the hit series, 'Bloodlines.' The two have been going out since 2009.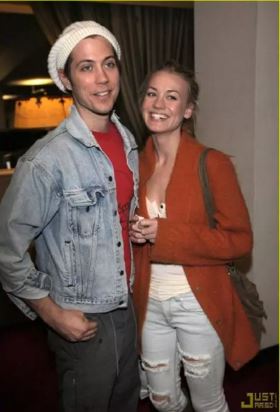 Caption: Yvonne Strahovski and Tim Loden going for Christmas shopping together in Hollywood on Saturday (December 19, 2009)
Source: justjared.com
So, she has been going out for seven years with her boyfriend now or have they? It is quite unclear if they're still together or not. There are a few sites like 'lovebirdsblog' stated that they had split up in 2012. On the other hand, one of their fans has also tweeted a post stating Tim as Yvonne's Ex which obviously indicates that they have broken up.
So there is a chance that Yvonne is still single and looking for a new possible husband to get married to.
Her Past Relationships: Boyfriend? Husband?
She was previously dating Matt Doran, an Australian actor, from 2006 to 2007. He is mostly known for playing 'Mouse' in the movie, 'The Matrix.'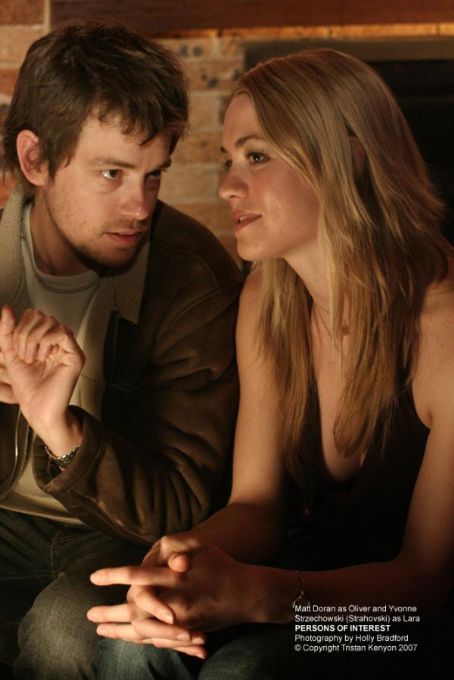 Caption: Yvonne Strahovski and Matt Doran on the sets of 'Persons of Interest.'
Source: bdbphotos.com
Before Matt, she used to date writer Josh Schwartz.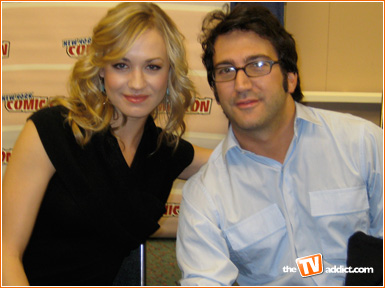 Caption: Yvonne Strahovski and Josh Schwartz
Source: whosdatedwho.net
Rumors About Her Hanging Out:
Zachary and Missy were spotted months later in October 2015 at a baseball game. Zachary was spotted wearing a Dodgers T-shirt in a Dodgers versus Mets game with Yvonne. It must have sparked the rumors about their hanging out as the story received a lot of heat.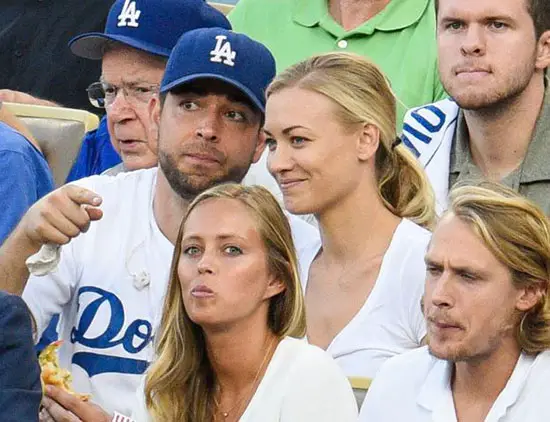 Caption: Zachary Levi and Yvonne Strahovski cheering on the Los Angeles Dodgers as they faced off against the New York Mets in the deciding Major League Baseball playoffs game.
Source: eonline.com
Her On-Screen Relationship:
There is another name that many people link Yvonne to; it is none other than her former co-star, Zachary Levi. Yvonne shared the screen with Zachary in the hit spy action-drama series, 'Chuck' as his love interest. The couple was such good friends off-screen and had so much on-screen chemistry that the rumors were bound to fly.
But the rumors were put to rest after the show ended in 2012, Yvonne being involved with Tim Loden and Zachary being secretly married to 'Rookie Blue' actress, Missy Peregrym in June 2014. However like Yvonne, Zachary's marriage with Missy split by December after just ten months.
Yvonne Strahovski's Short Bio:
Yvonne Strahovski was born on 30 July 1982 in Werrington Downs, New South Wales, Australia originally as Yvonne Jaqueline Strzechowski. She had started acting school when she was 12, and she attended Santa Sabina College for high school. She graduated in Theatre Nepean from the University of Western Sydney.
It was reported on July 29, 2016, that production will be starting on her new thriller, 'He's Out There.' Lately this year, she was also seen in the movies "Manhattan Night" and "All I See Is You."