Entertainment
Ainsley Harriott Wife Rift Fueled By His Gay Sexuality? The Truth Is Here
Celebrity chef Ainsley Harriot became famous after hosting the British cook show Can't Cook, Won't Cook. Ainsley, who is also an actor and a cookbook author, has garnered sufficient net worth from his career.
However, despite the professional success, Ainsley's married life turned to chaos when the chef and his wife decided to end their marriage. The father of two children who remained committed for more than two decades was assumed to have been dumped by his partner after he cheated on her.
But, recent discoveries suggest that there was a different reason for the couple's separation, Ainsley's gay sexuality.
Gay: Reason For Divorce With Wife? Children Details And Net Worth
The Ready Steady Cook star, Ainsley was previously married to costume designer Clare Fellows. Ainsley first saw Clare in a clothes shop and instantly fell for her. The pair eventually started dating and finally tied the knot in 1989.
Ainsley and his wife became parents to their first child, a son named Jimmy; in 1992. Three years later Clare gave birth to her first daughter who was later named Madelaine.
Ainsley along with his wife and children lived in a luxurious mansion worth $1 million in South London, and the family was living a comfortable life. Talking about his married life, Ainsley had said many years ago,
"My wife Clare, she's wonderful. I'm spoiled, but then she gets all those lovely meals cooked for her."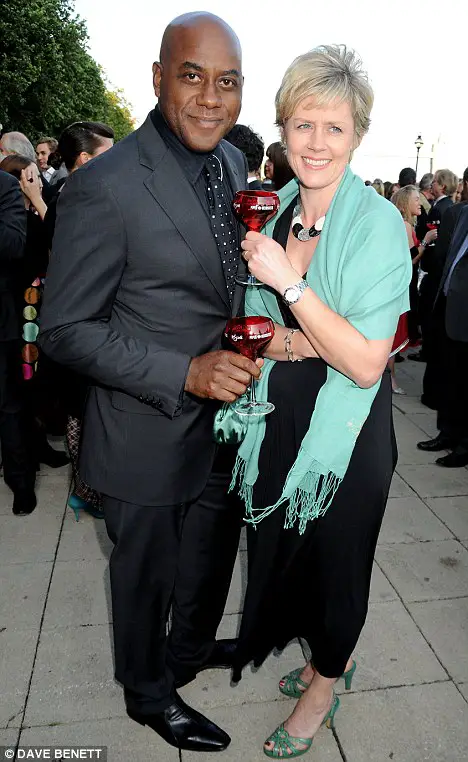 Hainsley along with former-wife Clare Fellows in 2008 (Photo: Dave Benett / DailyMail.co.uk)
However, by 2004, reports surfaced in the Sunday Mirror that the chef was having an illicit affair outside of his marriage. The news certainly brought discord in his married life, but the article didn't mention the name of his mistress.
Dating Mystery Mistress; "Suprised I'm Not Gay"
Ainsley, age 61, even sued the magazine to stop the name of his girlfriend becoming leaked in public and the identity of his mystery mistress was prevented from being disclosed due to a gagging court order.
But in 2012 after remaining married for nearly 23 years, Ainsley and his wife came up with the shocking news that their marriage was over. A representative for the couple mentioned that they had started living separately but were still friendly and on good terms.
The source said,
"Their separation is completely amicable and, as yet, they have no definite plans for the future. They remain close and, together with their family, they ask that their privacy be respected. They will be making no further comment."
Even though his affair was initially deemed as the cause of the separation of Ainsley and his wife, rumors later circulated that the cookbook author was gay in real life. The gay rumors came out as a shock to Ainsley, and he was more surprised that fans didn't believe he was straight.
"People are often surprised that I'm not gay. They think I'm camp as I'm happy, but I was married and have kids. I love women."
He even had to justify his sexuality posting a tweet which has now been deleted. Ainsley and Clare have not yet revealed the reason for their divorce, but many are believing the gay story to be true while some conclude that his wife was still holding the grudge from Ainsley's past affair causing the separation of the former partners.
Ainsley, aged 61, currently resides in Wandsworth, London but has not mentioned if he is living alone or with his children. The TV presenter also holds a substantial net worth of $4 million, so even if he leads a lonely life, Ainsley wouldn't have to worry about financial matters.