Well, in the time when we hear about breakups now and then, American actress Alexa Vega has created a headline in regards to her beautiful family-life with husband. And, the couple welcomed a baby in 2016 which embarked a new beginning of parenthood together.
If you are a fan of the lady and want to get acquainted with her on a personal level and know more about her family; keep reading!
Alexa Vega's Love-Filled Life
Alexa Vega, who belongs to a mixed ethnicity as her father is a Colombian and her mother a British Isles origin, is leading a blissful married life with her loving husband, Carlos PenaVega.
Alexa's Co-star's Engagement:- All About That Ring! Daryl Sabara Gets Engaged To Girlfriend Meghan Trainor
Alexa and Carlos started dating in late 2012 and got engaged when Alex accepted the proposal of Carlos during a romantic road trip back in September of 2013.
After being engaged for five months, the love-birds finally tied the knots in an intimate wedding ceremony held beside a beach in Puerto Vallarta, Mexico on 4th January 2014. Moreover, the newly married Alexa shared her excitement of getting married by tweeting as Mrs. PenaVega which indeed is the combination of both of thier last names.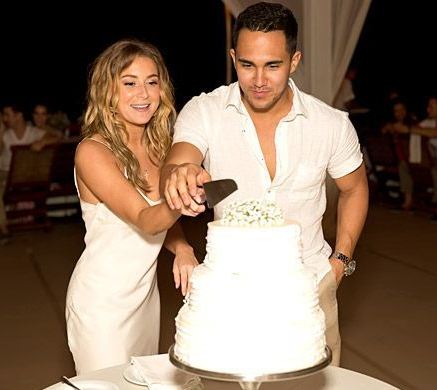 Alexa Vega and newly-wed husband cutting three-tier wedding cake on 4th July 2014 (Photo: divorcedebbie.com)
The relationship and the bond Alexa had with her husband got enriched after welcoming their first child. Carlos had first announced the news of Alexa being pregnant via a tweet posted on 16 Jun 2016 exclaiming that little PenVega is on the way. Further, the couple welcomed thier first born, son Ocean King PenaVega on 7th December 2016.
Talking about her experience as a mother during an interview with the E-News, Alexa revealed that the hardest part of being a mother was that being able to keep up with how much her baby wants to eat. Alexa shared that she is focused on eating nutritious food and getting strong while breastfeeding her child.
The new mother isn't focused on diets, instead, she thinks new mothers shouldn't even think of that word."I think that as new moms we really want to just jump back into it and it's really hard to find the time to do that. Throw anything diet out the window especially if you're breastfeeding. Don't think about diets, don't worry about diets. You need all of those nutrients. And the pounds will come off on their own. I'm focused on getting strong.
Moreover, Alexa said that having a child has made them feel that their marriage has just started. Moreover, the couple cherished their time more than before. The couple can be seen traveling the world with their toddler son and their son doesn't seem to have hindered their traveling passion.
Previously in March 2018, Alexa Instagrammed an adorable picture of herself with her son and husband while flying back to New York City from Maui in just three days. She even wrote that her son and her husband are the best buddies to travel around and is proud of her son, Ocean.
The best travel buddies around ??? (ps. Ocean flew from Maui to NYC and back all in 3 days! He was such a trooper. Proud of my little man!
Set To Welcome Another Baby
Alexa's happiness knew no bounds when she brought her son into the world. After enjoying motherhood to the fullest, she is set to experience being a mother all over again.
On 18th January 2019, she announced that she was expecting her second child with hubby Carlos. Fans were thrilled for the actress' second round at the life-changing journey. They wanted to know if she was having a girl or a boy.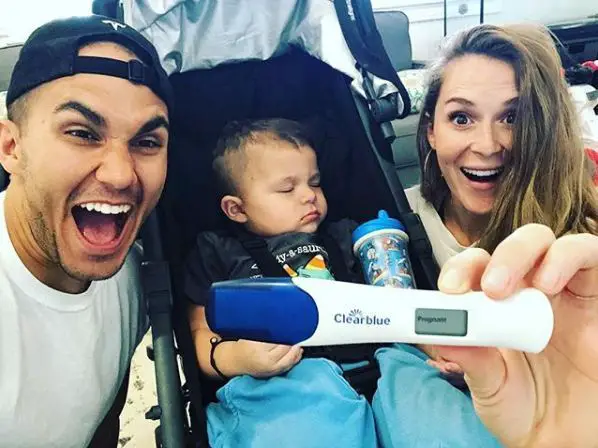 Alexa Vega along with her husband Carlos PenaVega and son Ocean King PenaVega reveal her pregnancy new on 18th January 2019 (Photo: Alexa Vega's Instagram)
Listening to her fans, she revealed her baby's gender via her family YouTube channel LexLovesLos. Hosting a party on 27th March 2019, Alexa's son Ocean King cut the gender reveal cake to discover he was having a baby brother.
Well, the parents have already decided the name of their unborn child. Ocean's little brother will be called Kingston James Pena Vega, KJ for short. To say the Spy kid actress and her husband are excited about their second child will be an understatement.
After all, they went for a three-week babymoon to relax and chill before the birth of their second son.
Well, Alexa indeed has a beautiful family and has already set family goals for many.