Bekah Martinez and her boyfriend have all the reason to get married as they became parents to a lovely baby daughter. The Bachelor star added the newest family member with her partner by giving birth to a girl child via water birth delivery.
With the presence of a baby daughter, Bekah and her boyfriend's romance cannot get any better, unless they tie the wedding knots.
Welcomes Daughter With Boyfriend; Pregnant Details
Bekah Martinez became a mother to her first child: a healthy daughter on 2 February 2019. During the water birth procedure, Bekah was accompanied by her boyfriend, and also baby daddy, Grayston Leonard.
Another New Baby Girl In Our Archieve:- Anthony D'Amico Welcomes Baby Girl With Wife Ashley Petta
The baby weighed nearly seven pounds and 10 ounces at the time of her delivery and was declared a healthy child by the doctor.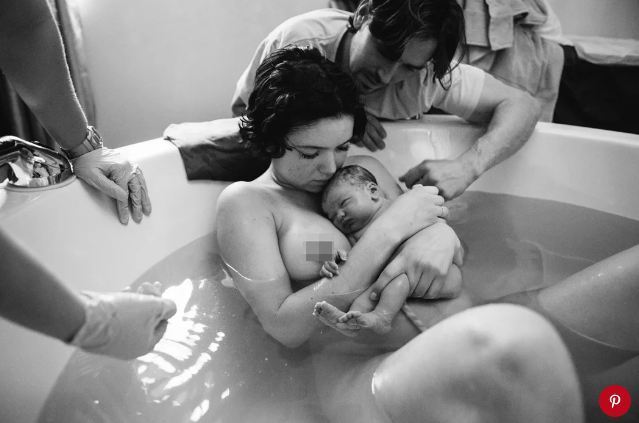 Bekah Martinez and boyfriend Grayston Leonard welcome a baby girl via water birth procedure on 2 February 2019 (Photo: Pinterest.com)
Bekah named her baby girl, Ruth Ray De La Luz Leonard. She explained in one of her posts that Ruth's name is a mixture of Grayston's grandmother's, her father's and Grayston's name. Ruth is already making rounds on her mom's social media. In one of Bekah's breastfeeding photos which captioned the words "No pictures please," the baby girl could be seen covering her face.
Pregnancy Revealed:- Skylar Diggins-Smith Pregnant With First Baby, Who Is Her Husband?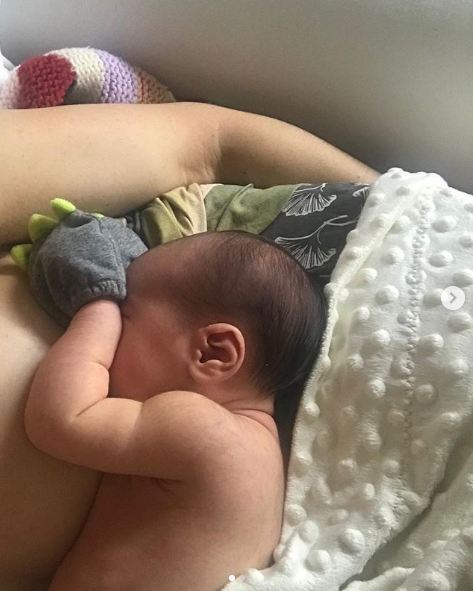 Bekah Martinez breastfeeds her baby daughter on 5 February 2019 (Photo: Grayston Leonard's Instagram)
With the added responsibility of being parents, maybe Bekah and her boyfriend Grayston could get married and provide a secured home to their lovely child.
Bekah and Grayston have been dating since February of 2018. The couple first met at a rock-climbing gym, which is owned and managed by Grayston. The duo soon started dating, and the reality star even rejected the offer to participate in the season five of Bachelor in Paradise as it would mean spending time away from her boyfriend.
More Bachelor Stars:- Desiree Hartsock Welcomes Baby No.2 With Husband, Shares First Photo
Shockingly, Bekah announced her pregnancy on 12 September 2018: revealing that she had become pregnant three months after establishing a relationship with Grayston. Nevertheless, the California native was supported by her parents during her pregnancy and Bekah has been thankful to her family for their love and care.
Bekah has been keeping her followers up to date throughout her journey as a mother.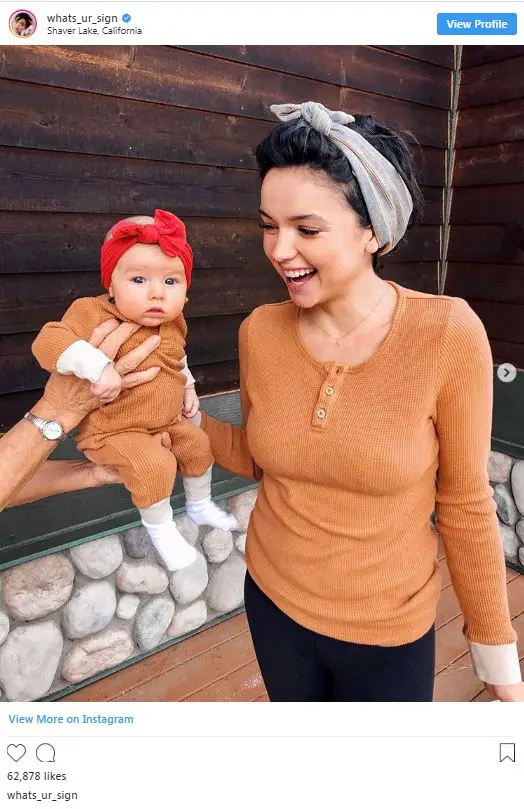 Bekah and Ruth in matching outfits at Shaver Lake, California on 27 March 2019 (Photo: Bekah Martinez's Instagram)
Among all the happiness brought by her baby girl, Bekah recently opened up on a post on her Instagram. She poured her thought onto the post where she revealed a shocking detail; the pregnancy was unplanned.
Getting pregnant with someone whom you have known for only three months, in Bekah's words "is ROUGH". Despite all the hardship and the struggle, Bekah is looking at the brighter side of things, she concluded her post with how happy she is and that she could not think of a better person than Grayston to father her child.
On The Bachelor Star's Age, Height, And College
Bekah, who received her college education from the University of California, rose to fame as a contestant on The Bachelor's season 22. Although the black haired beauty was eliminated in the seventh week of the reality show, she became popular with the viewers and soon created a significant fan base.
Despite her short height of nearly five feet five inches, her beauty was appreciated by the admirers, who had grown a crush on Bekah. The youngest woman to ever appear in The Bachelor, Bekah - age 23 - is a full-time nanny while she is not working as a reality TV personality.