Entertainment
Amanda Balionis, 32, Engaged To Boyfriend? Here's The Fact!
Engagement is one of the supreme events in a person's life, and the CBS sports reporter Amanda Balionis was rumored to be engaged. So, what are the chances of that being true?
But don't worry. Today we present you the facts that will make all your doubts clear.
Is Amanda Balionis Engaged To Boyfriend?
Balionis is one of those who likes to keep things under her hat. However, back in February 2014, Balionis talked about her relationship with her boyfriend while replying the tweet of one of the Twitter users. Though she hinted that she has a boyfriend, she kept his name confidential.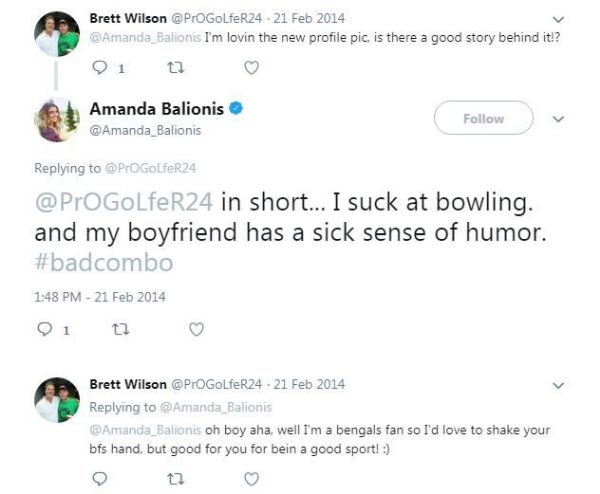 Amanda Balionis' reply to Brett Wilson (Amanda Balionis' Twitter)
A month later, she again talked about her boyfriend on Twitter. Amanda gushed that she was with her boyfriend at Universal Studio but yet hesitated to reveal her boyfriend's name.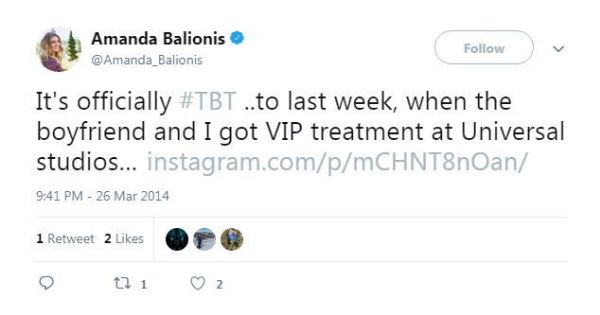 Amanda Balionis talking about an event (Amanda Balionis' Twitter)
Similarly, in February 2015, one of the Twitter users, John Kim popped a question in Balionis' post asking if she is engaged to her boyfriend or not to which she replied NO!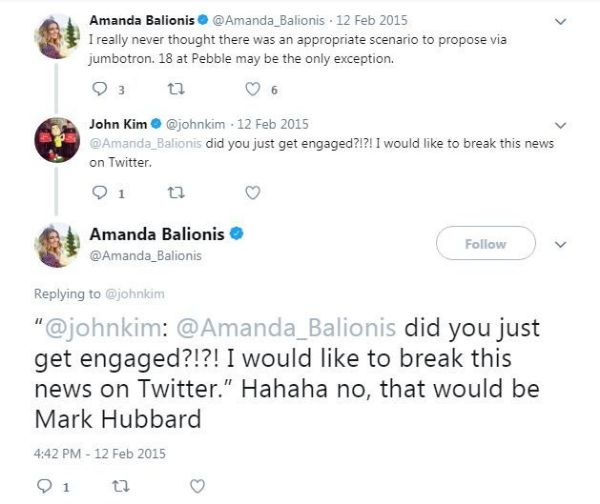 Balionis talks about her engagement (Amanda Balionis' Twitter)
Not just this, Balionis took her rumored engagement to Instagram in February 2015 where she displayed a beautiful ring on her engagement finger but said that she was not engaged.
With Balionis' tweet and Instagram post, it made sure that she was not engaged to her boyfriend. As for now, Balionis' boyfriend's name and their dating life remain confidential.
Amanda Balionis' Life At Glance
Balionis was born in 1987, in Pittsburgh, Pennsylvania. At the age of 10, she moved to Lancaster, Pennsylvania. From the young age, Balionis was obsessed with sports as she came from a golf-obsessed family & started playing volleyball since high school.
Balionis attended Manheim Township High School from 2000-2004 and then went straight to Hofstra University to study Broadcast Journalism, graduating in 2008.
While at university, Balionis was a very active student involving herself in the local WRHU radio station, The Chronicle student newspaper and the Association for Women in Communications.
Since university; Balionis has had an active career, working for the local newspaper and then moving into small TV sport broadcasting jobs. Balionis also had a strong social media presence with around 49.6k followers on Twitter and 41.8k followers on Instagram.
Balionis' journalistic career started while at university, interning for 'CBS 2,' 'ABC News NOW,' 'The New York Islanders' and 'The New York Jets.' All of these internships occurred throughout the university. Well, she worked for the local Lancaster Newspaper from 2008-2009 as a reporter right after graduation. Here, she hosted a weekly online segment as well as producing and editing a range of sporting segments.
After working for the newspaper, Balionis' TV career started to progress very swiftly. She soon started to work as a Freelance Sideline Reporter for 'Verizon Sports' embracing Rutgers Women's soccer & basketball among other high school team sports.
After seven months, she then became a Sideline Reporter for MSG Network covering the High School Game of the Week for four months. And soon after that, she spent ten months serving as a Volleyball Commentator and Featured Reporter for MSG Varsity, covering a spectrum of football and volleyball related segments.
Likewise, in March 2011, she was offered the chance to become an anchor and reporter for PGA TOUR where she stayed for five years, hosting PGA TOUR Today amongst other shows. That TV opportunity guided her to become the host & presenter in April 2016 for Callaway Golf.
Balionis another career jump occurred in 2017, after being asked to be part of the CBS Sports Golf Team, one of the biggest sporting broadcast stations in the US.
Balionis has become the central controller of the mobile 72-inch SmartCart screen which CBS has been operating out since 2016, as well as the host of many CBS golf sections during the year.