Entertainment
Brooks Koepka Wife-Like Girlfriend Shares Intimate Moments; Getting Married Soon?
American professional golfer, Brooks Koepka is a pure talent with it comes to golfing for the one who is ranked 4th in the Official World Golf Ranking. The back-to-back U.S. Open champion, Brooks is adding his name to the history with his consecutive wins in 2017 and 2018.
Apart from his rising career as a golfer, he has also won in his love life. He has been romantically involved with former Miss Georgia Teen USA winner. Turns out he shares an intimate relationship with his current girlfriend with whom he shares his wins on the golf court.
Prior to being involved with his current girl Brooks was dating a soccer player. Well, his previous relationship did raise a question in his current relationship with his possible wife.
Ends Relationship With Soccer Player, Intimate Moments With Current Girlfriend
Brooks Koepka, who started his career as a golfer on the European Challenge Tour, previously shared relationship with a sportswoman. Brooks was dating Florida Becky Edwards, who is a pro soccer player in Sweden.
Becky, who is also a member of the United States National Team, shared the love with Brooks. Well, the beginning of their relationship is still a mystery as they did not reveal much about their relationship.
After sharing the love for some time, the pair decided to part ways. Later, in December 2016, Brooks broke off his relationship with Becky as they parted their separate ways.
You May Also Like: Nick Faldo Unlucky With A Wife? Has A Girlfriend Now After Multiple Relationships?
Well, after the end of a relationship with Becky, Brooks gave love another chance. He then fell for former Miss Georgia Teen USA winner, Jena Sims, a model and a talented actress.
Jena has made her appearances in various television shows and movies as "The Vampire Diaries," One Tree Hill," "Sharknado 5" and few more. Well, the actress and the golf player does share some intimate love with each other.
The couple even shares their victory together. Jena has always been beside Brooks supporting him through his victory. Jena even attended both 2017 and 2018 U.S. Open alongside her boyfriend.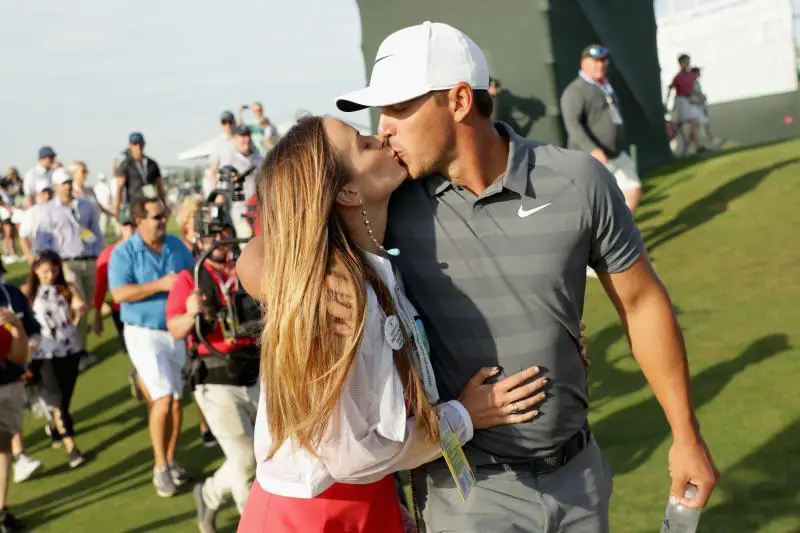 Brooks Koepka with girlfriend-like-wife Jena Sims at 2018 US Open. (Photo: bleacherreport.com)
However, the beginning of their relationship is still unknown and there is no sign of them getting married, but they do seem to share love and support for each other.
Identity Mistake: Girlfriend Mistaken For Ex-Girlfriend
Well, as Brook's relationship with his girlfriend excelling in aspects of life, they previously faced a misunderstanding live on a national television. Previously in 2017, when Brook won the U.S. open, Jena was mistaken for Becky by the television host Joe Buck.
Joe mistook Jena as Brooks's ex-girlfriend, Becky. This wing and miss by Joe raised a hell-fire in the social media. However, Joe was corrected the very moment by his co-anchor Brad Faxon.
Don't Miss: Bernhard Langer Is Accused of Cheating! All About The 59 Years Old-From Career Earnings to Family and Wife
Brad revealed that Brook secretly opened up of his relationship with Jena just a week before. Well, Brad divulged that he lived in close proximity to the couple.
Indeed, this mistaken identity did become the hot topic back then. However, Jena later revealed that she had forgiven Joe and it was not much to really care about. She even expressed that Joe and Brook later met at a baseball game and everything went just fine.
Well, mistakes do happen at times and it's forgivable until one denies of it.