Entertainment
Angel Haze Made Headlines With Girlfriend But Is She Dating Now? Lesbian Relation Still Weird She Says
American Rapper and singer Angel Haze has rapped her way to glory and success. Moreover, regarding her personal life, Angel Haze is openly a gay/lesbian and had a relationship with a lady in the past. However, she also explained why lesbian relationships are weird. So, the question rises, why does Angel think lesbian relationships are weird? Well, the answer lies here.
Angel Haze's Love Life: Dated Once But What Now?
Angel Haze is openly a lesbian/gay and she once dated her girlfriend rather than her boyfriend!
Her girlfriend of the past, Ireland Baldwin is a famous American fashion model and actress. The two first met during New York Fashion Week through Ireland's cousin. Angel and Ireland first made headlines back in 2014 when Ireland posted a photo of them kissing over on her Instagram with a caption-
"Happy Cinco de Mayo."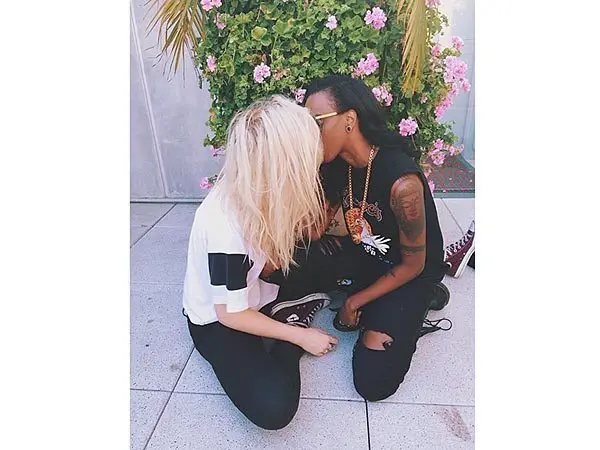 Caption: Angel Haze and Ireland Baldwin kissing.
Photo Credit: people.com
That led people to notice their connection, and since then, they made several appearances together, like in the 2014 VMAs.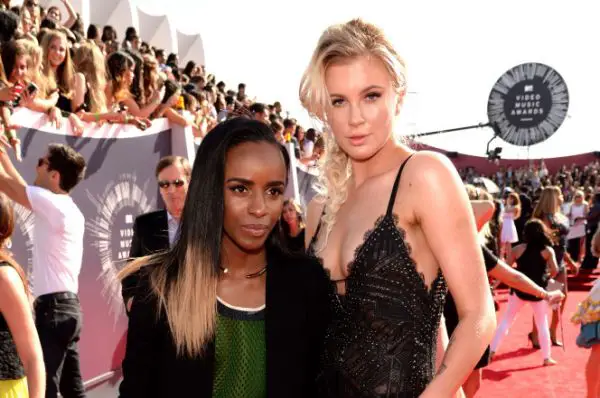 Caption: Ireland and Angel posing together at the 2014 VMAs.
Photo Credit: pagesix.com
The growing closeness further led the people and media speculated them to be best friends, but during June 2014, Angel came forth and admitted that the two were a couple rather than best friends. While doing so, she also admitted the disappointment she had, knowing that lesbian relationships still being termed as weird in the USA.
"There are still certain limitations for women. If we were two guys, it'd be insane, negatively insane with the attention. With us, it's all being very positive. The media are like, 'Oh they're so cute, they're best friends'. An interracial gay couple, I mean that's just weird for America right now.

We f**k and friends don't f**k. I have never f**ked one of my friends. Once I see you in that way, it doesn't happen. But we f**k and it's crazy and that's weird to say because I think about it in terms of an audience reading it and them thinking, 'What the hell?' But it happens."
She is entitled to show how she feels when people who prefer being with someone of their gender is not accepted in the society.
However, that is not all between Ireland and Angel as the two soon broke up. The heartache took place back in 2015 before Ireland checked into a rehab following "emotional trauma," A source, however, shared that the two incidents were not linked with one another. The source explained,
"This was not the reason Ireland entered a multi-treatment facility,"

"She entered due to a variety of pressures in her life. Ireland is being pro-active, doing really well, and being positive about life."
Ireland tweeted and then deleted such words,
'I checked myself into Soba for two weeks to just get away for a little bit. I'm not much a party cat but I am here deal with...

'Some emotional trauma and getting the intensive therapy I needed in order to recover. Someday I'll feel ready to share my story...

'Openly without feeling the way I do. Right now I just need a breather. I needed a chance to work on myself and gather all the tools...

'I need to overcome everything that I had been through and rid myself of all the pain I locked away in unreachable places. (sic)'

'Apparently I'm in rehab for intensive partying soooo I'm just going to lay pretty low for a bit and maybe get some frozen yogurt,' she wrote sarcastically, before revealing the real reason she had admitted herself.
Ireland and Angel do not seem to have reconciled after they broke up as the pictures of them which they had on each other's social sites are now no more to be found. So one might assume that they are now headed separate paths.
Moreover, Angel has not been open about dating anyone lately which suggests that she is occupied with her career in music which has served her the world of good.
Caption: Angel Haze - Resurrection (Official Video) published on May 1, 2017.
Stay with us for any developing news on Angel and Ireland!