Entertainment
Anthony Bourdain: All You Need to Know; Wife, Daughter, Tour and Restaurant
You turn on your television set and flip through Travel Channel, and you see this tall, grey-haired man, who looks like he might be French (but really he is an American, but his grandparents were French, though, which makes total sense), and you hear him talk about food, and I can say this by experience, you can almost taste the food he is eating just by listening to him describe it.
And who is this man? A celebrity chef, an author, a television personality, a food critic, a traveler (so much for one guy to include in his résumé), and he goes by the name Anthony Bourdain.
We know Bourdain as someone who knows his food and knows his wine better. But what we don't know about is, how he as a husband and a father is.
Personal Life: Married, Wife, and Daughter
To all of you wondering what Bourdain like is without food and drinks and conversation about food and drinks, we'd say he is pretty good. He has been married twice in his lifetime. His first marriage with his high-school girlfriend, Nancy Putkoski, a marriage that lasted two decades. But sadly they ended up divorcing due to inevitable changes that the two faced because of the endless traveling.
But you know how they say love find its way, well love found its way to Anthony Bourdain's heart. He got married to Ottavia Busia on April 20, 2007. And his wife, mind you, is no ordinary woman, she can beat a perfectly healthy male in one shot.
Why you'd ask? Because she is a fighter, the type that could whoop your backside without any difficulties. Ottavia Bourdain is a jujitsu player and an MMA fighter, and mind you she doesn't play around. She is the kind of girl that would rather dine on a plate load of steak rather than some fancy meal, ironically, she is a wife of a chef.
Caption: Anthony Bourdain and wife Ottavia Bourdain talk about MMA. (Published on April 9, 2012)
Together Anthony and Ottavia have a daughter, Ariane, who was born in 2007. Following her mother's footsteps, Ariane has also been training jujitsu. Ottavia has even influenced Anthony to take up jujitsu, resulting in Bourdain receiving a blue belt in Brazilian jujitsu in 2015 and winning a gold medal at the IBJJF New York Spring International Open Championship in 2016.
Similar to his previous relationship Anthony's relationship with his wife Ottavia could not survive long, and they suffered a split in mid- 2016.
Anthony opened up about his relationship with his wife, Ottavia and shared the news of his separation with his wife via an email in August 2016 where he wrote,
'It's not much of a change of lifestyle, as we have lived separate lives for many years. More of a change of address.'
Moreover, he jokingly wrote,
'She's an interesting woman. I admire her choices. But I married Sophia Loren. She turned into Jean-Claude Van Damme.'
Has Anthony Bourdain Found Love Again?
Anthony Bourdain(60) met Italian star, Asia Argento(41) when she made an appearance in Chef Bourdain's travel show "Antony Bourdain: Parts Unknown." This meeting initiated the relation of Anthony and Asia.
Taking out time for the busy schedule Anthony, flew to Italy to meet his love, Asia. On February 9, 2017, Anthony and Asia were spotted dining at restaurant Pommidoro, and after the dinner, they walked hand in hand. Further, they were spotted sharing a kiss too. Following which the couple returned to their hotel room.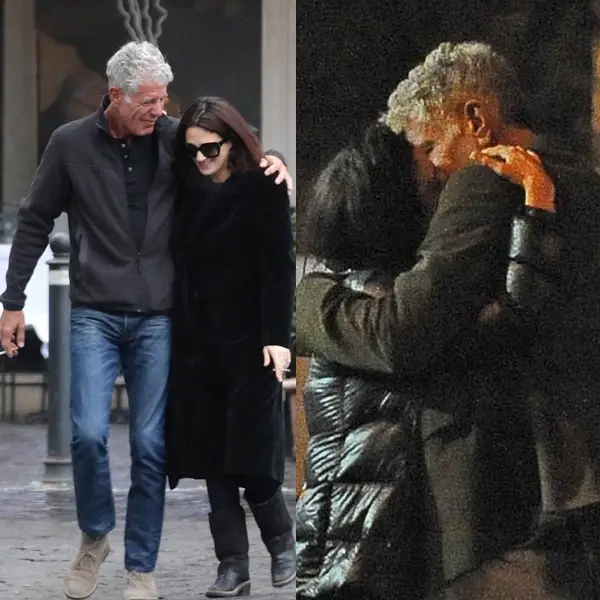 Caption: Anthony Bourdain kisses Asia Argento after a dinner date on February 9, 2017.
Neither Anthony nor Asia has commented on their relationship yet, but talking about Asia in an interview Anthony said,
'The episode would not have been possible — or be anything like it is without the truly magnificent Asia Argento,'
Moreover, Anthony even stated,
'Always honest, completely unsparing. If you ask Asia a question, you are going to get an answer - and she doesn't care if it reflects badly on you - or on herself. She's going to give it to you straight.'
Soon after shooting, the episode of Anthony's travel shows, the news regarding the separation with his wife Ottavia circulated in the media.
Anthony Bourdain's Short Bio:
Now to the more known fact, Anthony Bourdain's life, that is almost an open book. We all know very well that Bourdain is a foodie. He has traveled many places, tasting out food from around the world.
He is a celebrity chef who worked as an executive chef in a restaurant named Brasserie Les Halles, in Manhattan. He is a television personality and an avid traveler, who had the opportunity to tour the different corners of the world, experimenting with the food culture of the world.
His television series include A Cook's Tour, No Reservations, The Layover, and Parts Unknown. He is also an author. He has written four books, all revolving around food. Kitchen Confidential: Adventures in the Culinary Underbelly, Medium Raw: A Bloody Valentine to the World of Food and the People Who Cook (2010), A Cook's Tour (2001) and The Nasty Bits (2006). He has also written articles and essays that have appeared in many magazines and newspapers.
In his early years, the "culinary bad boy" was a drug addict, and he has always been very honest about it. He is known for his sarcasm, use of profanity and sexual references even in his television shows, and has never been apologetic.
Anthony Bourdain was born on June 25, 1956, in New York City, New York. He attended Vassar College but dropped out after two years. He then went on to attend the Culinary Institute of America and graduated in 1978. He is an author, a celebrity chef, and a television personality.
Along with Anthony celebrity chef including Gordon Ramsay, Heston Blumenthal and Adriano Zumbo are inspiring many to follow their dreams and make big in the food industry.