Entertainment
Gordon Ramsay Is Concerned When It Is About Their Kids! Ex-Affair Set To Crumble Down The Happy Family?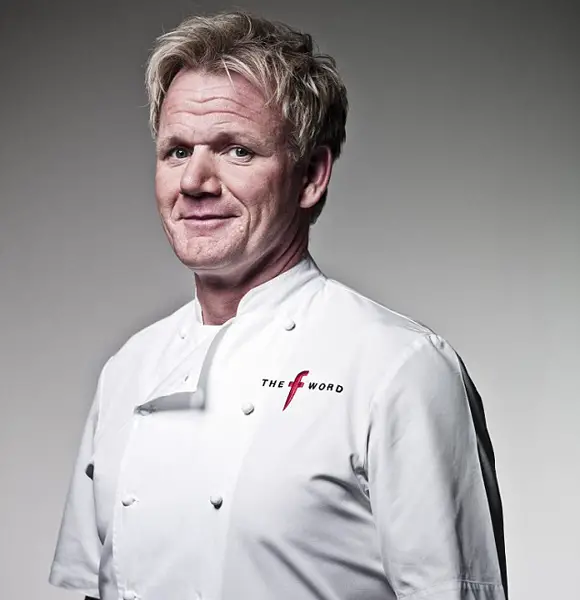 Children are a bundle of joy in parents' lives and the parents' love for their offsprings is unconditional. Most everyone is protective and concerned about his/her children. But if something bad happens to children, misery surrounds the parents' lives.
It may confuse the fans when reports say celebrity chef Gordon Ramsay shares the same story. But why is that so? What happened to his kids? Well, read along!
Wife's Miscarriage; Five Kids In Total
The news of a baby's arrival brings eternal joy to most anyone as parents wait eagerly for the arrival of the child. Gordon Ramsay appeared on a late-night show in May 2016, and when asked about his family, he made a big revelation when he said,
"[I have] three girls and a boy."
Then he smilingly added,
"And one more on the way!"
Moreover, the celebrity chef revealed that he and his beloved wife were expecting a son and the baby was due in September 2016.
But every pregnancy is not successful, and this renowned chef knows the pain of losing an unborn baby as well. Gordon lost his fifth child, a five-month-old fetus due to a miscarriage. Gordon shared the sad news with his fans through a Facebook post on 13 June 2016.
Another Saddening Miscarriage:- Vienna Girardi Reveals Miscarriage of Twins With Husband-To-Be! Tragedy Fall at 18 Weeks
Life moves on, and while dealing the tragic incident, Gordon Ramsay attended with his wife Tana Ramsay and daughter Holly (18) on a dinner at Nobu, a restaurant in Malibu, California, for the first time after the tragic incident, on 21 June 2016.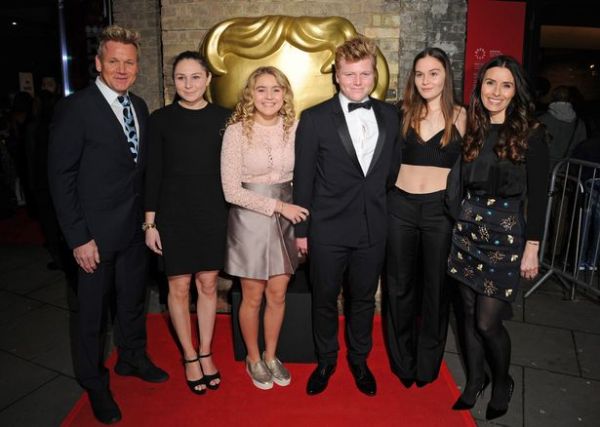 The Ramsay family captured at Bafta Children's Award held at London on 20 November 2016 (Photo: Mirror.co.uk)
Gordon Ramsay got married to wife Tana Ramsay in 1996. They share five kids, namely: Megan (21), twins Jack and Holly (19), Matilda(17), and a newborn Oscar.
Marital Bliss: Welcomes Fifth Child
To Gordon and wife Tana's credit, they never lost hopes. And at the end, the married duo's wish came true. 
More On Gordon's Wife:- Tana Ramsay Bio: Wife Of Gordon Ramsay, Her Age, Children, Height & Facts
On 4 March 2019, the celebrity chef and his author spouse welcomed their fifth child, a baby boy named Oscar. Taking to Instagram, the former broke the news with a photo of the three from the hospital. The witty caption read:-
"After 3 baftas and one Emmy... finally we have won an Oscar, please welcome Oscar James Ramsay... "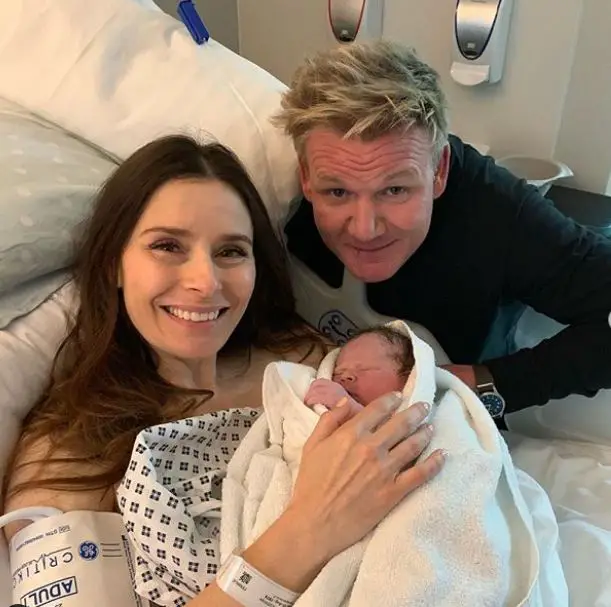 Gordon Ramsay and wife Tana Ramsay smile for a photo with their newborn Oscar on 4 March 2019 (Photo:- Gordon Ramsay's Instagram)
Back in early 2019, Gordon's wife Tana had spun pregnancy rumors after showcasing her baby bump on Instagram.
And days before hitting labor, she celebrated the baby shower in a relaxed manner. Interestingly, Gordon and their daughter Holly were a no-show at the somewhat subdued affair.
Son Oscar Already On Instagram
To commemorate Oscar's arrival, the Ramsay family set-up an Instagram account for its newest addition.
With hours of setting his Instagram handle, baby Oscar managed to amass a thousand followers. Brooklyn Beckham, the son of David and Victoria, was one of the most recognizable celebrities to follow him.
Instagram Famous:- Anllela Sagra Bio: Stunning Model Explicit Details - Age, Boyfriend & Family
In the weeks that followed, Gordon and the rest of the Ramsay family became a constant fixture in Oscar's Instagram. Ahead of the London Marathon in April 2019, the celebrated chef posted an adorable snap of Oscar and Ryan.
Days earlier, baby Oscar enjoyed his first outing to the beach with mama Ramsay. An image from the said outing recieved love from fans worldwide.
Ex-Affair Crumbles Down Happy Family?
The reports in November 2008 claimed that Gordon Ramsay was involved in adultery and even stated that he was having a fling with Sarah Symonds.
As per reports, Gordon met Sarah in November 2008 at the Marriott Hotel in London. Moreover, Sarah reportedly purchased three bottles of legal sex drugs- amyl nitrate branded Rave and Rush.
The news further claimed that the illicit affair was going on since 2001 when Gordon met Sarah at Chinawhite nightclub in London. They met secretly in London as well as Los Angels in 2003.
The affair halted after 2004, but it started again when Gordon took a holiday back in August 2007 and promised to stay in touch properly.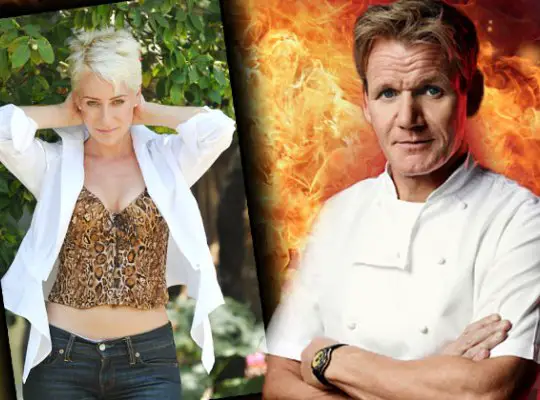 Sarah Symonds is the accused mistress of Gordon Ramsay (Photo: radaronline.com)
Gordon Ramsay got elected as Celebrity Father Of The Year in 2006, and the Ramsay family was awarded Celebrity Family of the Year in 2007. 
High Profile Cheating Scandal:- Lisa Nicole Cloud Background: Cheating Husband, Married Life Shaken, Divorced?
The claims of adultery shocked everyone, and it was a big blow in the married life of Gordon Ramsay and Tana Ramsay. Many relationships would have crumbled down but the relationship between Gordon and Tana survived against all the odds, and they emerged strongly as a couple.
In an interview on April 2010, Tana opened up on her husband's accused extramarital affair and also stated that some frank comment by schoolmates hurt their children. She quipped:-
We certainly had many long chats into the night. But no, I didn't doubt him. I only had to look at him. I know what it's like when we're in a club and you see how girls act even when I am there. Gordon is a very chatty, friendly person to anyone and everyone.'
Moreover, she added:-
'We have an amazingly close relationship, amazing trust, and loyalty, and that hasn't changed in any way, shape or form.' 
Tana admitted that they were hurt and stated:-
"It hurt both of us hugely. We wanted to be together a lot. We both felt completely battered and bruised. The only ones we wanted to talk to were each other,"
Furthermore, Gordon Ramsay's accused mistress, Sarah Symonds questioned the pregnancy and miscarriage of Tana Ramsay during an interview in July 2016. She said:-
"I feel he was motivated to talk about his wife Tana's 'phantom' pregnancy, and then losing the child, for its public relations value and to engender sympathy from his adoring fans,"
Moreover, she added:-
"I also find it curious that his wife never showed a baby bump up through the fifth month, when he alleged she lost the child. Furthermore, she never once talked publicly about being in a pregnant way, leaving that for Gordon to do on a late night talk show [The Late Show with James Corden]. Then, when she miscarried, he once again took control, posting an official statement about it on Facebook"
Recipes, Restaurants & TV Shows
Very few people can achieve the height of success that Gordon Ramsay has attained. And a brilliant chef is distinguished among many chefs through his unique recipes and knowledge of ingredients. Food lovers can enjoy the recipes by Gordon Ramsay in his restaurants.
Gordon opened his first restaurant in Chelsea, London in 1998. Then he established a long chain of restaurants in London including Maze, Savory, York and Albany, and many others.
Fellow Celebrity Chef:- Mario Batali Won't Be Charged For Sexual Assault, Find Out Why
He even expanded his restaurants in North America, namely Maze by Gordon Ramsay, Gordon Ramsay Pub & Grill, Gordon Ramsay Fish & Chips and much more. He also has restaurants in countries including France, Italy, Singapore, Dubai, and Hong Kong.
The celebrated chef Gordon Ramsay has been part of shows including Ramsay's Kitchen Nightmares, Hell's Kitchen, US version of Kitchen Nightmares, The F Word, Master Chef USA, Gordon's Great Escape and Hotel Hell.
Net Worth & Houses
The hard work, passion, and dedication of Gordon Ramsay have paid him off with an impressive net worth of $190 Million.
As per a report on 19th March 2017, Gordon paid £4 million for a house which would serve as a stop-gap holiday home, until rebuilding in the Cornwall village of Rock was complete.
By 2019, the stated mansion in the seaside village of Rock in Cornwall underwent tremendous changes but not without neighbors objections. But despite the debacle with next door homeowners, Gordon got the green light to turn the traditional beachfront home into a Grand Designs lair.
Now boasting two kitchens, a swimming pool, a wine cellar, and four en suite bathrooms, the stated house cost Gordon and the company approximately £4.4 million.
Spending Big In Real Estate:- Porsha Williams Update: Net Worth In 2018 After Buying Lavish House
Also, the world-famous celebrity chef owns a gorgeous townhouse in London, where most of his famous restaurants operate.