Entertainment
Anthony Michael Hall Having A Hard Time Getting Married or Even Dating Cause Of His Aggressive Nature?
A list of things can ruin a relationship. One of the important things that can be added to the list would be the aggressive nature. The dynamic nature makes the person unpleasant and distressing, which can be the reason that can spoil a good relationship. In a nutshell, short-tempered people can have a hard time finding their ideal partner.
So, let's dig deeper into the life of Brat Packer, Anthony Michael. The actor who got arrested once for some felony battery charges is also speculated to be gay, but how factual is the point? If it's a hoax, who's he married to? Let's dig in to find out!.
Brat's Legal Issues & Relationship
Anthony, till date, has been in a series of legal issues he had to deal with.
Back in 2009, the actor's then-girlfriend Diana Falzone, a radio personality and also a writer of How Not to Date a Loser, filed for a restraining order claiming he stalked and kinked the apartment door.
Obtained Restraining Order:- Find Out Why Corey Bohan & Audrina Of The Hills Finalized Their Divorced
After two years of the incident, he got the arrest warrant again in 2011, a misdemeanor charge for breaking the harmony of the apartment.
Moreover, the Massachusetts native got arrested in November last year, after he allegedly got physical altercation with his neighbor, Richard Samson. The actor, on 1st December 2016, pleaded not guilty when the judge warned him not to contact the victim.
Apart from all the dark past that Anthony had, there was someone who was there to have his back. According to sources, he was dating the film actress Fiona Forbes.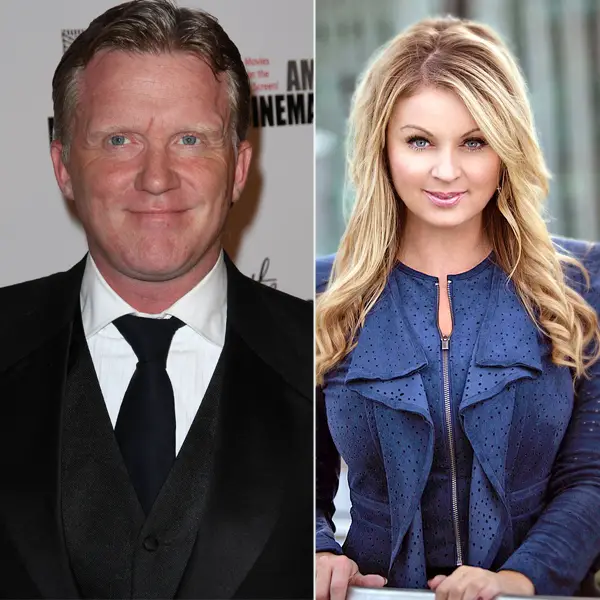 Anthony Michael Hall dated film actress Fiona Forbes (Photo: liverampup.com)
The Sixteen Candles actor, who has a mild case of bipolar disorder, didn't disclose much about his longtime girlfriend.
But was he planning to turn his girlfriend into a wife? Well, not much was heard on that very matter. And their relationship showed no signs of development, and they split soon.
Shockingly, despite public dating affairs, speculations had also been made that Anthony is of gay orientation. However, there is no evidence to support it.
Engaged With Fiancee'
In recent years, Anthony has kept his dating life low-key. Thus, it shocked everyone when it turned out that he was dating a renowned actress all along with a significant step up in the relationship.
On 4th September 2019, the actor proposed his girlfriend, Lucia Oskerova in Taormina, a city in Italy. The actor even disclosed the picture of the engagement ring alongside several snapshots of his fiancee' via Instagram.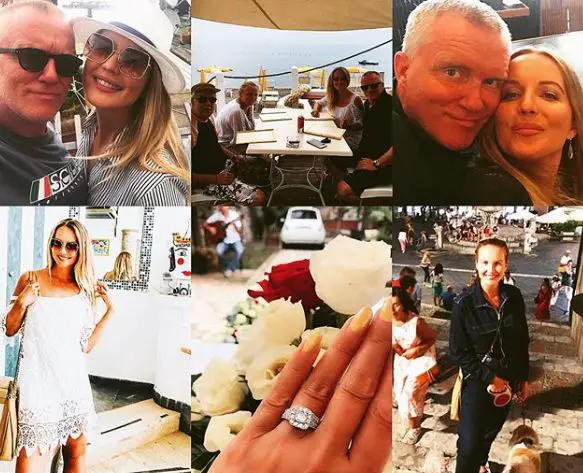 Pictures from Anthony Michael's engagement including his fiancee' Lucia Oskerova and her engagement ring (Photo: Anthony Michael's Instgaram)
With no previous sign of their relationship, he did succeed in keeping his relationship low-key until the auspicious announcement. So, fans are eager to see the two walking down the aisle soon.
For those unaware, his partner is a Hollywood actress with notable movies such as Once Upon A Time In Hollywood and Spiderman.
Birthday, Career
Born on 14th April 1968, Anthony Michael Hall started in commercial, at the very young age of seven. He made his acting debut in 1980 with St. Joan of the Microphone.
But he rose to fame after he appeared in The Sixteen Candles in 1984. From then and there he landed in several roles which took him to the way of stardom. He has worked in The Breakfast Club, Weird Science and was also cast member of Saturday Night Live. More recently in 2017, he has worked in War Machine.
Cast Of Saturday Night Live :- Kristen Wiig Husband, Boyfriend, Family
All his work as actor and producer in several movies and television helped him a lot to accumulate sizeable figure of a net worth which tends to be $8 million.