Entertainment
Is Ashley Olsen Married? Dating History Full Of Senior Dudes 'Boyfriends' - Literally!
American fashion designer and former actress, Ashley Oslen has long retired from acting. However, she always manages to get in the spotlight especially due to her relationships.
Ashley is famous for dating older guys and has a long list of ex-boyfriends. Also, she has been linked to some high-profile celebrities. Her marital status has also garnered curiosity of the fans, who want to if Ashley is married or single.
Dating History With Older Men
Ashley started dating early in her high school years. She dated her classmate Matt Kaplan for three years before finally breaking up in May 2004.
After her split with Matt, Ashley began dating nightclub owner Scott Sartiano, who is nearly 12 years older than her. The couple met in late 2004 through their mutual friend, actor John Stamos. The romance lasted for nine months after which the lovers went their separate ways.
In September 2005, the 32-year-old commenced her relationship with Tsubi jeans CEO Greg Chait. The pair remained a couple for more than a year and called it quits in January 2007 due to commitment issues.
The sister of actress Elizabeth Olsen also romanced with cyclist Lance Armstrong for a few months in 2007. Reportedly, Lance dumped her due to a difference of 15 years in age.
Four years after her split with former boyfriend Matt, Ashley commenced a romantic relationship with actor Justin Bartha in May 2008. The pair was first spotted in the sets of the 2008 movie Hangover. While they were dating, rumors grew that the couple was planning a $1 million wedding ceremony to be held in the South of France. However, the marriage never took place. A source revealed that although Ashley wanted to tie the knot, Justin was not ready to make a long-term commitment.
Ashley and Justin remained together for nearly three years and parted their ways in March 2011. An insider mentioned the reason for their separation as the hard-partying lifestyle of Justin, however, the rumor hasn't been confirmed by both the parties. Justin later married fitness trainer Lia Smith in January 2014.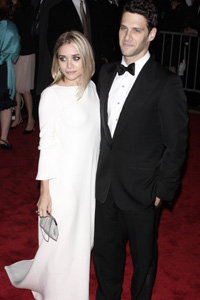 Ashley and Justin attend an event back while they were in a relationship (Photo: Pinterest.com)
Post her breakup with Justin, Ashley started dating David Schulte, the CEO of Oliver Peoples, in 2013. Although the couple romanced for less than a year, they remained friends. David was also made the president of Ashley and her twin-sister Mary-Kate's fashion brand, The Row.
Ashley began her relationship with director Bennett Miller, 19 years her senior, in January 2014. They remained a couple for a year after which Bennett started dating actress Sienna Miller.
After her affair with the successful director turned unsuccessful, Ashley was linked with 58-year-old art dealer Richard Sachs in October 2016. Although their romance started off as rumors, the couple confirmed it by showing PDA at a New York Knicks game. Unfortunately, the love didn't last long and the duo split in March 2017. An insider revealed that Ashley wanted to focus on her clothing line and didn't want to be tied up in a serious relationship.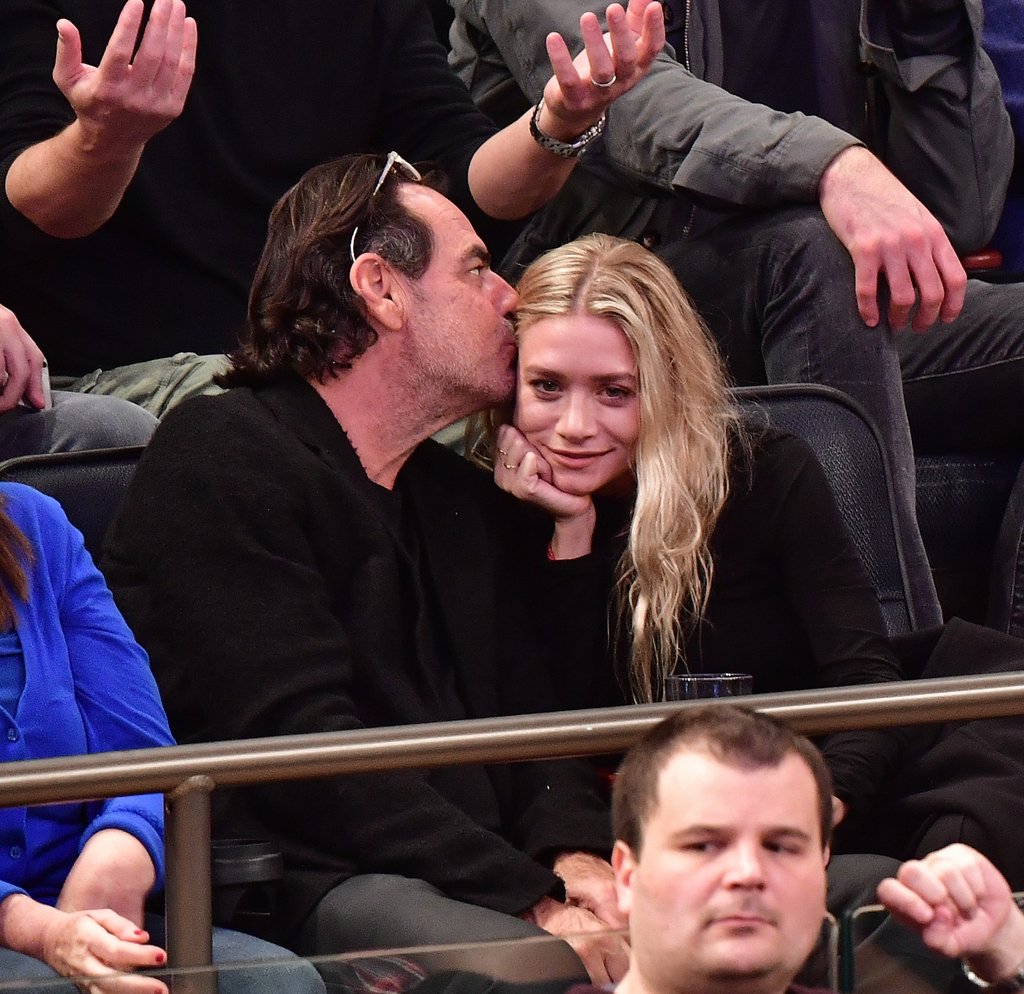 Ashley and Richard Sachs attend the New York Knicks game in 2016 (Photo: Popsugar.com)
Apart from her confirmed relationships, Ashley has also been linked to a couple of men older than her. The rumors of Ashley dating 14 years older Jared Leto spread in 2005 after the pair were spotted dining in LA. In 2008, the two were captured again, this time holding hands and making out in LA. However, an insider dismissed the dating claims by saying they were just friends.
The 5' 3" (1.6 m) designer has also been rumored to have dated Johnny Depp, but their alleged affair never turned out to be true. Moreover, she has also been linked with artist George Condo in 2016. Allegedly, they broke up after a few months.
Marital Status
As of 2018, Ashley remains unmarried and hasn't talked much about starting a family in the recent time. Although she was spotted with a mystery man while taking a walk in LA in November 2017, no further reports have surfaced in the media. Further, many claimed that the mystery man was none other than Ashley's good friend and the founder of Pressed Juicery, Hayden Slater.
Moreover, Ashley is on a tight schedule focussing on her professional career. So, settling down with a husband could be the least of her concern.