Entertainment
Austin McBroom, 26, And Stunning Model Girlfriend Dating To Get Married
Enjoying fame along with family by the side, Austin McBroom, member of a collaborative family YouTube channel, The ACE Family, is set to take marriage vows with his phenomenal girlfriend.
Austin, a parenting web star, lives family life in joy with his girl. Wondering how things turned up for Austin? Keep reading!
Austin McBroom's Family Life
At the age of 26, Austin McBroom lives a blissful family life. He got engaged with his long-time girlfriend Catherine Paiz, a fitness model in August of 2017.
He proposed his girl in most dreamy way possible. Austin surprised his fiancee on her birthday with an engagement ring along with Skydiving reservations.
Recommended:- Bekah Martinez Married, Boyfriend, Baby Daughter
The couple had been dating since the summer of 2015 and had been sharing the bond of understanding and love since then. After a year of their dating, Catherine gave birth to their first daughter Elle on 28 May 2016. Elle turned two in May of 2018.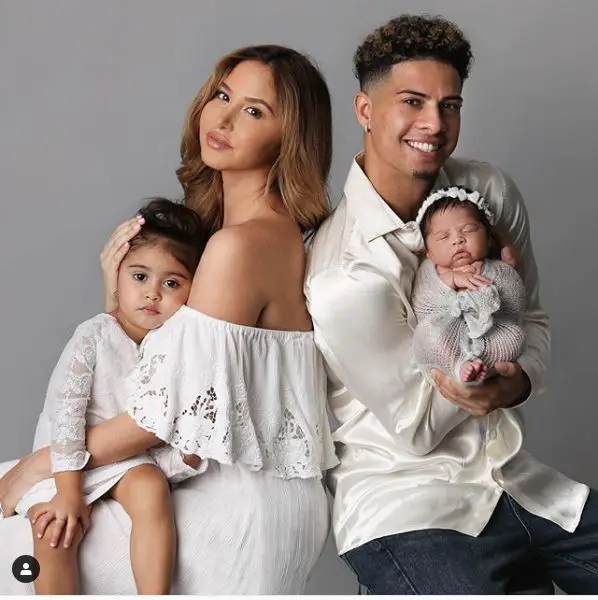 Austin McBroom and Catherine Paiz with daughters Elle and Alaia on 22nd November 2018 (Photo: Catherine's Instagram)
In a span of more than two years, the lovely couple was blessed with another daughter Alaia on 17th October 2018. The news of the pregnancy was first announced to their fans through a Twitter post in February of 2018. In the post, Austin posted a video holding the pregnancy test kit and announced the news to his followers.
Along with their social media star parents, Elle and Alaia are also stars in their own right.
Elle and Alaia amass 4.7 million and 2 million followers on Instagram respectively. The family of four has been living a life of delight which they share with the world through their regular Instagram posts.
Austin McBroom's Life In Brief
The YouTube star, Austin McBroom was born on 20 May 1992 in Los Angeles California. Born with American ethnicity, Austin was raised by his parents along with his brother Landon McBroom. His brother also gets starred in his daily vlogs along with his father, Allen McBroom.
Austin is pitchman and a former point guard. He is a former NCAA basketball guard who was committed to the Saint Louis University men's basketball program for the 2011-2012 season. He led the St. Louis Billikens in 3-point shooting in makes and percentage during the 2013-2014 season.
However, Austin was transferred from St. Louis to Eastern in the summer of 2015.
Furthermore, Austin was the third-ranked 3-point shooter in the nation in his only season at Eastern. After all, he had 21.5 points per game on his stats chart.
Besides basketball, Austin also played football and baseball at Campbell Hall School. He had average 25 points per game his senior year while carrying him on the way to being named first-team All-CIF Division 3AA.
In 2016 he was expected to return with thought to carry on with his basketball career, but that is not what his close ones got to see. After his college basketball career, Austin, a communication major started his dabbling in social media in 2016.
Austin became a social media star, with more than 2.1 million followers on Instagram. He along with his now-fiancee started a collaborative YouTube channel back on 10 January 2016 named The ACE Family.
Don't Miss:- Jess Conte Blissful Wedding Day Revisit; Age, Wedding Pictures - All Facts
The ACE Family thrives with 5.5 Million Subscribers and 789,525,937 views. Adding to it, Austin and Catherine have more two million followers on Instagram and another 100,000 each on Twitter.
Furthermore, fame is not only the reward Austin gains but he also gets annual revenue of at least $250,000. Also, the earnings from product placement in their videos enrich their net worth.
But, with such a large audience, the pressure to deliver high content took a toll in Austin and Catherine's creativity in January 2019. They realized their sense of responsibility to provide high content. So,m The ACE Family announced their break from YouTube. Well, they plan to rejuvenate and evaluate how they can do their best.
Meanwhile, their fans do not need to panic as they keep posting regularly on their social media. Additionally, they are working on their merch, app and a documentary about how their videos are made.