Entertainment
Azzy Land, 26, Boyfriend: The Weirdest Couple Sheds Their Chemistry
Love helps people find their soulmate even though they dwell from a world apart. Canadian YouTuber Azzy Land can explain that to you better, as she too found love with her Dutch boyfriend, who was born and raised in a different environment from her.
Wondering how these two people ended up falling in love with each other? Well, they did happen to share a common ground!
Dive in if you're curious to know their affair in detail!
Azzy Land's Relationship With Boyfriend:
Azzy Land, an Instagram star, is romantically involved with a man raised in a different family background. She is dating a fellow YouTuber Jordi van den Bussche, who is best known as Kwebbelkop.
The duo met at the after-party of 'E3,' an annually held large gaming conference, and was introduced to each other by a common friend. Initially, the couple did not disclose anything about their relationship and kept their romance hush-hush.
However, the news of their relationship was leaked by a fellow YouTuber, John Scarce and as of now, the couple openly shares their images on their respective social media accounts.
The couple started dating back in 2016 and is sharing the strong bond till today. They celebrated their anniversary back in June, and Azzy posed a picture of her sitting on her boyfriend's lap while he had his hands wrapped around her.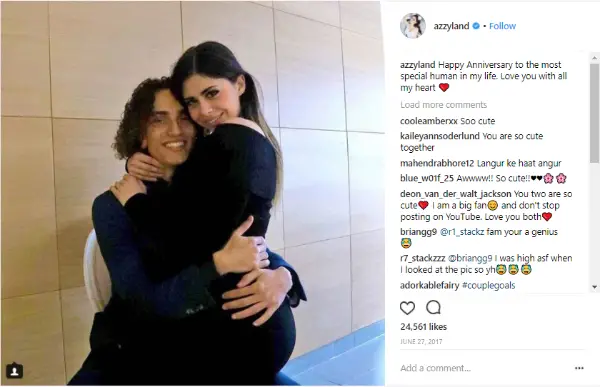 Photo: Azzyland's Instagram
The couple evidently loves sharing moments together; they even took part in collecting donations for Early Life which helps out Children's Miracle Network Hospitals. They collected $5 or more from their fans who were willing to meet them and others interested in donating to the cause.
Azzy Land's Wiki-Like Bio
Born on 23 February 1991, Azzy Land's real name is Azra Bajrami. A Canadian by birth, Azzy grew up in a very different world than a normal girl does. Apart from girls who are interested in cutting off Barbie's hair, Azzy was much more amused by the graphics in the video games which seems realistic to her.
Azzy, the gaming YouTuber, first got to know games from her family. She grew up watching her uncle and father play video games on NES which fascinated her. She was bewitched by her first video game 'Metroid.' Azzy owned her first game 'Legend of Zelda – Ocarina of Time' on her seventh birthday.
However, being a tomboy during her young age, Azzy got exposed to various games as she started hanging out with boys. On the other hand, her mother often discouraged her interest in playing games, trying to refocus her to the world where girls played with dolls. Nevertheless, a mother is always a mother, and Azzy has got an overprotective one.
Despite that, she does appreciate all the hardships of her mom. On the occasion of Mother's Day in 2016, Azzy posted a picture with her mom on her Instagram wishing Happy Mother's day. The caption of the image read:
"Happy Mother's Day to the strongest, most stubborn, and loving woman I know. I always give you a hard time for being so overprotective of me but to be honest, if you weren't, I don't know where I would be ? I love you! #happymothersday "
Azzy graduated from Wilfrid Laurier University, majoring in chemistry and biology. She was set to study medicine as her parents wanted; nevertheless, she focused more on her gaming and YouTube career.
However, Azzy first gained international recognization as cosplayer while traveling around the world as an official cosplay guest to the conventions. She gained a lot of attention which landed her job as the co-host of "Before They Were Famous," a popular celebrity biography channel.
Later, she created YouTube channel of her own where her career hit the jumpstart. She joined YouTube on 7 May 2015. Being pushed back and forth from studying medicine to traveling for her cosplays, she posted on her channel irregularly.
But now she posts regularly and has garnered 3 million subscribers with 647,992,000 views as of now.
Think we're missing something? Do let us know in the comment section below!