Entertainment
Beautiful Actress Daniella Monet Enjoys Dating With Her Boyfriend, Who's The Lucky Guy?
Being blessed with a happy relationship is undoubtedly a boon for everybody and we are sure you have one like that too.
American actress Daniella Monet found the love of her life seven years ago when she was still young to make the decision. And now, she is proud of her decision and thinks she is the luckiest girl in the world.
She feels luckier after her 29-year-old boyfriend popped the question in the most romantic way.
Dating Gafton Creator; Boyfriend Knew, "She Was Special"
The 28 years old Victorious actress seems to have already found her soul lover. She has been dating the creator of Gafton, Andrew Gardner since 2011.
The young love bird first met in May 2011 through Daniella's best friend. And the strong going couple conversed via Facebook before meeting in person on August of the same year. Since their first meeting, the couple has been inseparable.
Dive In:- Leighton Vander Esch Age 22 & Girlfriend, Dating To Engaged Details
On their first date, she stated that she was too nervous to meet him in person and claimed him to be the smart, witty and perfect amount of persistent person. And now, she thinks she is lucky that she didn't blow the relationship.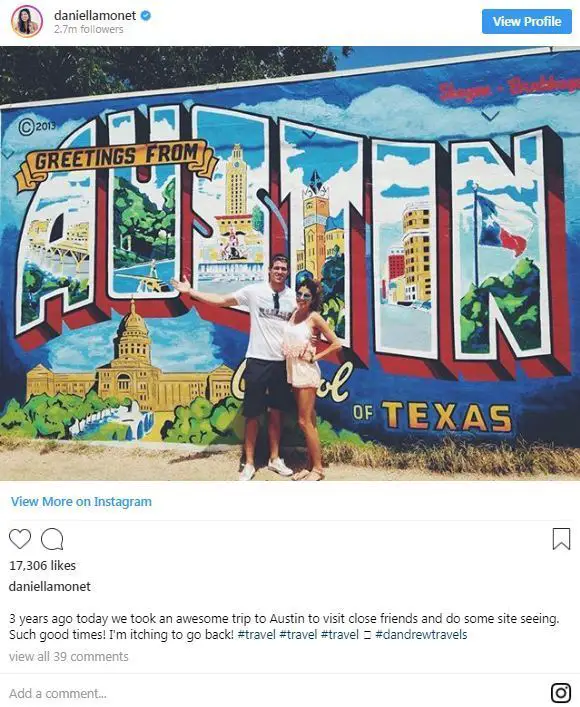 Daniella Monet, boyfriend Andrew in Austin in 2013 (Photo: Daniella Monet's Instagram)
Similarly, the Paradise Run host disclosed that after dating for a while, Andrew confessed to her that he liked her when he first saw her picture and knew "she was special."
She further gushed that he is the most "strongest" and most level-headed men she has known.
Discover:- Will War Machine Ever Get Married Given These Terrible Dating Record?
Boyfriend-turned-Fiance, Engaged; Seven Years Of Dating!
After more than six years of sharing romantic dating life, Daniella and Andrew are engaged!
The Nickelodeon star said "Yes" after her boyfriend popped the question on 2017's Christmas day by carving "Marry Me?" on a tress outside the home.
She Instagrammed the picture of the tree captioning the day to be the "Best day" of her life.
Don't Miss:- Scott Grimes Is Getting Married! Engaged With Girlfriend, Movies Star In Glee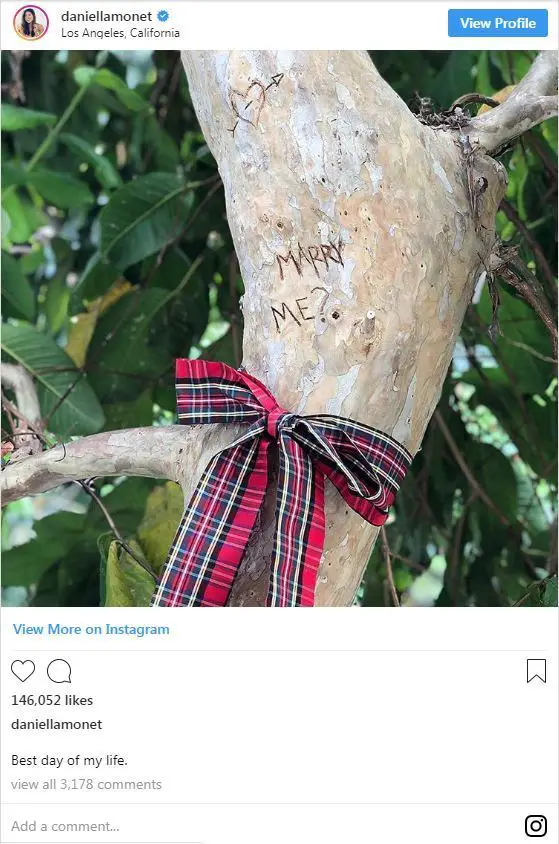 Daniella Monet engaged to boyfriend Andrew Gardner (Photo: Daniella Monet's Instagram)
Explaining the best moment of her life to People in December 2017, she stated that after opening their Christmas presents, her fiance proposed her. At first, he blindfolded her and walked her over to the kitchen sink and asked her to look out of the window.
She recalled that when she looked at the window her "stomach shrunk" and "tears rolled down" on her cheek as she saw a bow on the tree and the magical words engraved on it.
Recommended:- Crystal Leigh Is Engaged, Meet Her Fiance 5SOS'S Guitarist Michael Clifford
And when she turned around, he was on his knee with the wooden box and she says the ring is stunning.
While the couple has already celebrated their one year of getting engaged, they are yet to plan for their wedding. Also, they are on their seventh years of dating life and this time, they celebrated their dating anniversary as the soon-to-be-married couple.
On 26 September 2018, she Instagrammed the picture with her soon-to-be husband recalling their seven years of the journey together. On the post, she states that Andrew is her first love and was unsure to start the relationship as she was young at that time.
Daniella Monet's Short Bio:
Born on 1 March 1981 in West Hills, California, Daniella Monet started working since 1997. She has played a role in many TV series and movies like Pacific Blue, Fairly Odd Christmas, Victorious. Currently, she has appeared in TV series like Baby Daddy and Paradise Run.
With all the work she has done, Daniella has successfully gathered herself a massive net worth of $3 million and stands beautifully at the height of 5'5".