Entertainment
Former CBS Broadcaster Bob Schieffer Talks On Trump Even After Retirement!
Bob Schieffer is relatively popular for his achievement of covering all four of the national assignments and dealing exclusively with domestic politics as a CBS Broadcaster.
Moreover, this man has a superfluous capability in moderating presidential debates, and he never stops making comments on the U.S. politics.
While the former CBS Broadcaster Bob has interviewed every United States President since Richard Nixon, he recently disclosed his interests on current U.S. politics' head with his talk on President Donald Trump. And surprisingly, that came after his retirement.
Bob Schieffer's View On President Trump:
Bob Schieffer, who currently works as a CBS contributor, appeared on CNN's Reliable Sources confronting the host of the show, John Berman on May 21, 2017.
Caption: Bob talks on President Trump (Published on May 21, 2017)
The former CBS News anchor praised President Trump's speech in Saudi Arabia, calling it a dignified speech. He said that he was a very different President Trump that moment, as he sounded presidential for staying on script.
However, the words of Bob only prompted accusation that he was trying to normalize the president and in response to the charge of normalizing, he told that he was only trying to emphasize what he thought was important.
Well, this talk further gave rise to a story with the headline "CNN guest normalizes Trump for reading Saudi speech without 'popping off.' " on the website's RawStory.
A criticizing tweet from Dan Gillmor, who teaches at Arizona State University's Walter Cronkite School of Journalism and Mass Communication, also got socialized in response to Bob's view.
How journalists normalize Trump: "This went well because he stayed on script," says Bob Schieffer.

— Dan Gillmor (@dangillmor) May 21, 2017
Must Know Facts About Bob Including His Family Details:
Bob Schieffer has been a reporter for more than half a century, and 2015's retirement marked 46th year at CBS News and 24th anchoring "Face the Nation" for the reporter.
Bob, who is now at his age of 80, lives together with his longtime wife, Patrica Penrose, along with their two daughters.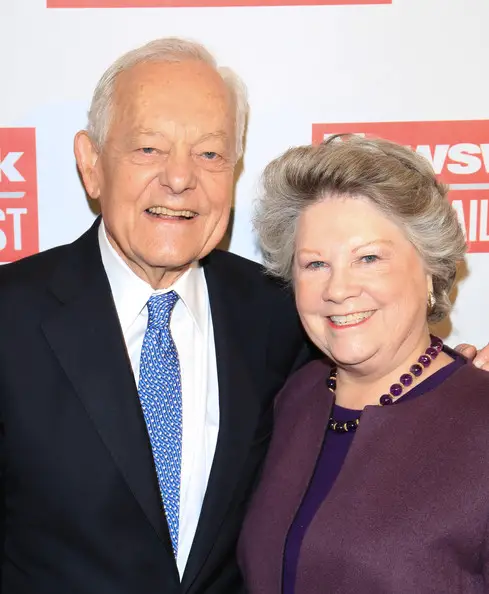 Caption: Bob along with his wife attending The Daily Beast Bi-Partisan Inauguration Brunch at Cafe Milano in Washington, D.C. on January 20, 2013.
Photo Credit: zimbio.com
The parents of Bob, John E. Schieffer and Gladys Payne have two other children beside him. He is the older brother of Tom Schieffer, who served as United States Ambassador to Australia from 2001 to 2005 and Ambassador to Japan from 2005 to 2009.
The other sibling of Bob is Sharon Schieffer Mayes, who is a retired teacher and a school administrator.
Bob quotes him as one of the luckiest people in the world as:
"I'm one of the luckiest people in the world because as a little boy, as a young reporter, I always wanted to be a journalist, and I got to do that. And not many people get to do that, and I couldn't have asked for a better life or something that was more fun and more fulfilling."
Well, Bob is lucky in another way as well, since he is the survivor of grade III bladder cancer. He was diagnosed with cancer back in 2003 and has been cancer-free since 2004.
Talking about his earnings, he enjoys a net worth of $10 million from his career as a journalist.
Think we missed something? Do let us know in the comment section below!