Entertainment
Camille Chen And Husband Gracefully Married! It's Family Now
Taiwanese actress Camille Chen, best known for her role as April Mayfield in the American TV series, American horror story, got married to the love of her life last year.
Want to take a look at their married life followed by the ever-growing love between the two? Vest your few minutes down below!
Camille Chen Embracing Family After Marriage
Hasty judgments are usually dangerous, but then there's always an exception!
Well, Taiwanese actress, Camille Chen possess a quick, decisive quality in her, as she was quick to get married to her boyfriend, Christian Anderson; which is showering her with nothing but happiness.
Camille first met Christian when she was in New York about two years back. Henceforth, they fell in love and started dating each other. After a year of their dating, they got married back on 4th March 2017.
With her marriage, Camille not just got a loving husband but was blessed with a family too, since, Christian has two beautiful daughters named Ruby and Avery from his previous relationship.
Camille as well provided the glimpse of her big day via Instagram sharing a picture with her husband and two step-daughters through Instagram on 19th June 2017.
Anderson family all smiles on the wedding day (Photo: Camille's Instagram)
Besides two daughters, the duo has two cats named Pickle, Gilbert and two dogs, Ollie and Freddy in the family.
More About Camille Chen
Camille Chen was born on 1st September 1979 in Taipei, Taiwan but later shifted to Houston, Texas when she was three years old. She graduated with a Bachelor of Fine Arts in Theater from the University of Texas in Austin.
Camille, who possesses Taiwanese ethnicity, shares a close bond with her mother flaunted through her post back on 20th June 2016. She shared a major throwback picture of her childhood, with her mother via Instagram in the occasion of father's day. Through the caption, she quoted her mother to be 'father, business owner, entrepreneur, friend, and general badass,' in short, all in one.
Similarly, Camille again expressed her love for her beautiful mother on mother's day, last year.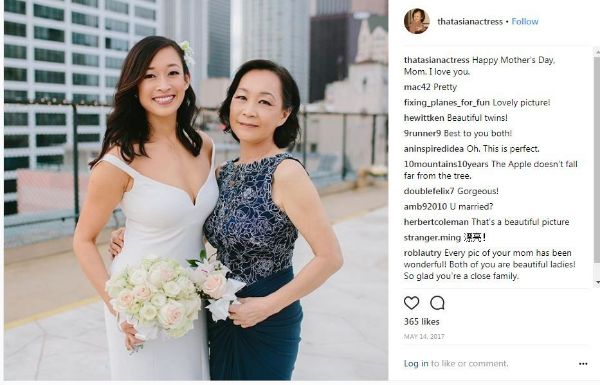 (Photo: Camille Chen's Instagram)
Moreover, throughout her acting career, she is widely known for work in work on 2 Broke Girls (2011), American Horror Story (2011) and Law & Order (1990).
As of now, Camille is pursuing her career working for TV shows like The Art of War, Take Your Best Shot and The Mack.
Think we're missing something? Do let us know in the comment section below!