Entertainment
Carole Radziwill's, Both Husband and Boyfriend, Plane Crash Irony, Not Married Yet?
The biggest fear one has is losing your loved ones as the pain which inflicts on losing a close person goes beyond words. And if we were Carole Radziwill, we would suggest our loved ones stay far away from airplanes. Well, the reason being, she lost her husband due to cancer, lost her close friend, Carolyn Bassette-Kennedy in a plane crash, and her boyfriend also got into a plane crash. Isn't it ironic to see something like this happening?
Carole Radziwill's Married Life, Husband, and Children?
Carole married to Anthony Stanislas Radziwill, who was apparently the son of Prince Stanislas Radziwill of Poland, on August 27, 1994. They were married for four years before the tragedy took away the life of Anthony. Anthony was diagnosed with testicular cancer in 1989 and before his wedding, new tumors emerged, and he had to battle with cancer (which was said to be in remission) all his married life. And finally, after fighting for five straight years, Anthony left the world on August 10, 1999, a few weeks after the tragic plane crash that took the life of Carole's good friends, John F. Kennedy Jr. and Carolyn Bassette-Kennedy.
Carole never had a divorce but was the widow of her deceased husband, Anthony Radziwill. But this fact never made Carole stop exploring her love interest. She has in fact dated some big names in Hollywood like George Clooney and Ralph Fiennes.
But currently, she is in a relationship with a man 23 years younger than herself, the self-taught cook, Adam Kenworthy.
Ironically, plane crashes and Carole might have some sort of relationship. Because she lost her good friends in a plane crash while they were about to visit her and her late husband, and her young boyfriend too got into a plane crash in May 2016. Fortunately, nothing serious happened to both Adam and his father, David Kenworthy, who was also involved in the crash. She shared the news of them being fit and fine via Twitter on May 25, 2016.
Thank you for all your kind thoughts and prayers for Adam and his dad. Everyone is doing well! Love.

— Carole Radziwill (@CaroleRadziwill) May 25, 2016
Latest update on Carole Radziwill's Romance With Adam Kenworthy:
As per reports on May 29, 2017, Carole was spotted romancing wth her boyfriend Adam Kenworthy at El San Juan Resort in Puerto Rico.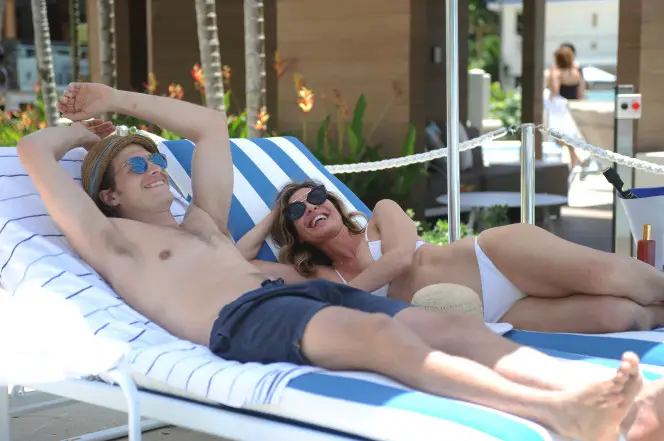 Caption: Carole Radziwill and Adam Kenworthy spending quality time with each other in Puerto Rico.
Photo Credit: Page Six
On May 26, 2017, Carole and Adam were spotted attending a birthday party of businessman Michael Capponi, and a spy said,
"They danced all night,"
Moreover, talking about the opening of the beach club the source said,
"They were very loving,"
The source added,
"They were playing in the pool and enjoying some PDA."
Furthermore, the couple kissed during a walk on the beach during the sunset and headed to the couples massage.
Carole Radziwill's Career and Net Worth:
Carole Radziwill might be famous as one of the Real Housewives of New York, but she apparently began her career in television as an intern at ABC. She has produced a lot of ABC shows including 20/20, Close Up, Profiles from the Frontline, etc. Carole eventually left ABC News after the demise of her husband, who was also one of the reporters of ABC News.
She later went on to become a writer. She wrote two books, "What Remains: A Memoir of Fate, Friendship, and Love," and "The Widow's Guide to Sex and Dating." On 2006, she signed a contract with Glamour magazine to write a monthly column named "Lunch Date."
And now she is one of the cast members of the Real Housewives of New York.
Because of all her work and effort, she has been able to earn hefty net worth of $50 million, which she earned as from her book deals and her television show. That's what you call a real businesswoman.
Carole's Short Bio:
Carole Ann DiFalco Radziwill, better known as Carole Radziwill is a native of New York, born on August 20, 1963. Growing up in Suffern, New York, she got her BA degree from Hunter College and her MA degree from New York University. She is a journalist, an author and also a reality television star.