Entertainment
Chandie Yawn-Nelson Wiki: A Bio More About Her Life With Husband Joey Lawrence
As a teenager, one would have dreamed of getting married and spending the rest of the life with the special one you met at that age.
But what are the odds of the dream turning into reality?
Some association are destined and do become a lifelong association. Well, talking about Chandie Yawn-Nelson, she found ways back to the person she met while she was a teenager and is now happily settled down with husband, Joey Lawrence.
So, let's take a short trip to explore more about Chandie's wonderful marital life along with her wiki-bio.
Chandie Yawn-Nelson And Her Married Life With Husband Joey Lawrence!
Many public figures prefer to keep their personal life confidential, and Chandie Yawn-Nelson is surely one of them. Also, she has distanced herself from the social networking sites following which the curiosity regarding her personal life has increased.
Chandie, who is 42 years of age, worked for InterCall, a well-known service provider in the world for collaboration and conference. Chandie graduated from the Auburn University in Alabama.
Well, besides that, she also enjoys a beautiful married life with her husband, Joey Lawrence!
Chandie and her husband Joey first met each other on vacation in Disney during their teen years and went for an ice-cream date. But they went on separate ways and meanwhile Joey even got married to his previous wife Michelle Vella in the year 2002 only to get a divorce in on April 10, 2005.
Love found it's way in the life of Chandie, and their relationship soon escalated, and the couple got married on July 3, 2005, in the same place they first met.
In an interview with YourTango, back on December 11, 2013, Chandie's husband, Joey shared the beautiful details of how he proposed the love of his life,
" Basically, the proposal was after I found her again and we got back together. We were driving in a car. We hadn't seen each other in four and a half years and I flew into San Antonio to meet her, to see if the feelings were still there, and they were. When we were sitting in the car, literally, I didn't even plan it, so it's not some magical moment but to us it was. We looked at each other in the car, and she started crying. I said, 'Let's just do this,' and she said, 'OK.' We set a date, and a year later we got married. "
Almost a year after officially becoming a husband and wife, the couple was blessed with their bundle of joy on May 10, 2006, daughter, Charleston "Charli" Lawrence. The couple became happy parents to another daughter, Liberty Grace Lawrence on March 4, 2010. Chandie's husband, Joey shared that the first month of Liberty's birth was 'brutal,' as Liberty was born with RH disease.
"[Libby] was born 6½ weeks early with Rh disease. It happens when the mother is Rh-negative and the baby's Rh-positive. It's a very serious thing, and we were in and out of specialists' offices every other day. Libby came out needing a partial [blood] transfusion and was in an incubator for 2½ weeks — we couldn't touch her, nothing. That first month was brutal."
On the bright side, there is endless love between the two sisters. Joey further shared that their first daughter, Charli takes good care of her little sister by getting diapers and singing,
"Charli's getting used to being a big sister. She'll go get diapers, and she'll make faces, smile and sing to Libby. Libby wakes up in the morning and Charli runs in and wakes us up."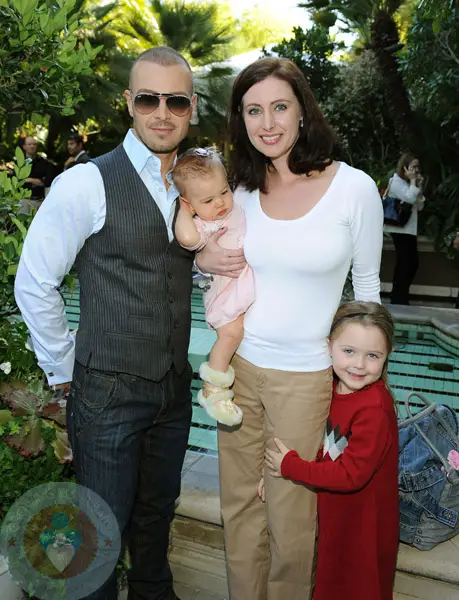 Caption: Chandie Yawn-Nelson with husband, Joey Lawrence, and kids, Charli and Liberty.
Photo Credit: GrowingYourBaby.com
However, on February of this year, he revealed to ETonline that he doesn't want his daughters to get into the entertainment industry at a young age. Joey, who became a part of Hollywood since the age of mere seven years old, doesn't want his children to be child actor and he shared his reasons as,
"I told [Charleston], 'I don't want you to do this, because you know what happens to 9 out of 10 of these young ladies? They get used and they get spit out and no one remembers them. I told her [to] take the example of Ron Howard's daughter. She started a little later. Jennifer Lawrence started a little later. If you're really meant to do this -- and she is amazing -- I'd rather that you enter a little later where you can jump right into the stuff, and people respect you for what you do and not just because you're 11 and you're cute."
The advice comes from a loving father who has spent a significant number of years in the entertainment industry!