Entertainment
Lydia McLaughlin Age 37 Wiki Reveals Parents & Hefty Net Worth In Detail
Reality star Lydia McLaughlin, age 37, had already made a name for herself as a fashion & jewelry designer and magazine editor in Hollywood before appearing on BravoTV's Real Housewives of Orange County in 2013.
An heiress to her parents' multi-million business alongside her brother, the Canadian born socialite doesn't want her mom & dad's success to eclipse her achievements. 
To her credit, she is as "self-made" as they come. Looking at Lydia's net worth today, it is understandable why she would want that.
Delve into the former housewife's wiki to learn more including her blissful marriage to her husband!
Inside Lydia McLaughlin's Net Worth At Age 37; Daughter To Millionaire Parents
Lydia, whose maiden name is Stirling, along with her brother, Jesse is next in line to take over their parents' stake at Stirling Communications International(SCI) -- Canada's largest communications conglomerate.
RHOC Star In Our Vault:- Lauri Peterson Wiki: All About The RHOC Star, Her Husband - Including Details On Her Son and Daughter
Following the death of her grandfather, Geoff - the founder of SCI - the former RHOC star opened about how her learning experience from her granddad. In 2013 interview with Orange County Register, she quipped:-
"I learned a lot from my grandfather. He's an entrepreneur. He passed it on to my dad [Scott]."
Much like how her granddad had groomed her, Lydia's dad Scott - more so than her mom Judy, a former Playboy star - seemed to be doing the same with his grandkids. In her 2017 blog post, she revealed:-
"My dad goes back and forth from Canada to Orange County a lot. He is very involved in my and my boys' lives, but sometimes he has to be at work, even when we know his heart is with us. I grew up with him working a lot, so this is something I'm used to. He is a great husband, father, and grandfather to my boys."
Although her lineage might peg her as a spoiled brat, she's far from being one. Lydia, having being raised in California, found her right foothold in fashion in Tinseltown and eventually went to become a millionaire. According to numerous wiki sites, the 37-year-old has a reported net worth of $15 million.
In addition to creating high-end ornaments under the tag Lydia M Jewelry, her company Puppy Bling also manufactures necklaces for dogs. Continuing with her business ventures: the University of San Diego Alum is the present Managing Director of Beverly Hills Lifestyle Magazine as well.
Discover:- Who Are Erinn Westbrook Age 27, Parents & Siblings? Explicit Details
Wiki Unveils Blissful Married Life With Husband & Kids
Besides her magazine gig and life as a fashionista, Lydia is also a familiar name in "the art world."
Along with her husband Doug McLaughlin, she co-owns an art gallery named SKYLAB Modern Art, located in Laguna Beach. The husband-wife duo also runs a digital marketing and web design company called SKYLAB Media.
The pair's wiki suggests that they are in their 12th year as a married couple, having tied the knot on 30th April 2006. For their 10th wedding anniversary, the parents of three kids - Stirling, age 9, Maverick, age 7, and Roman, age 4 - renewed their wedding vows in Laguna Beach, California.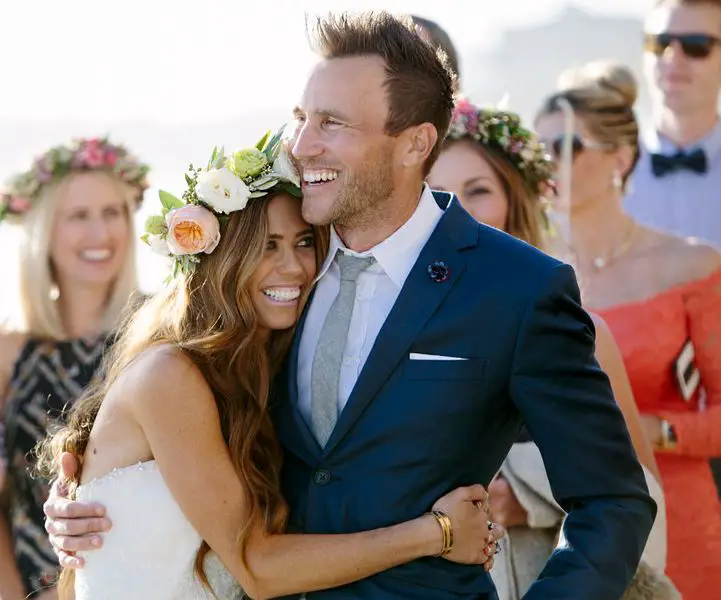 Lydia & her husband celebrate a decade-long marriage (Photo:- bravotv.com)
Other Interesting Article:- Lady Leshurr Dating; Plenty Partner Talks Suggests Boyfriend, Revealed?
Speaking briefly to BravoTV following the ceremony, Lydia let out secrets behind the successful marriage with her husband, who has a reported net worth of $15 million. The former RHOC star said:-
"For me, it's just making him my priority, making marriage a priority."
Lydia would stay true to those words as she announced she was taking "a break" from her duties at RHOC on the eve of season 13 premiere of the same. On Facebook, she wrote:-
"After a family vote, it was unanimous that I should take a break. Sometimes the people who love us the most see things even we don't see."
Family before everything else, right?