Entertainment
Currently Single Chris Zylka: No Girlfriend After Ending Engagement
How long will it take to bounce back after a nasty public breakup? We don't know about you guys but The Leftover's star Chris Zylka is in no hurry to get back in the dating game, even after more than a year after breaking a 10-month old engagement.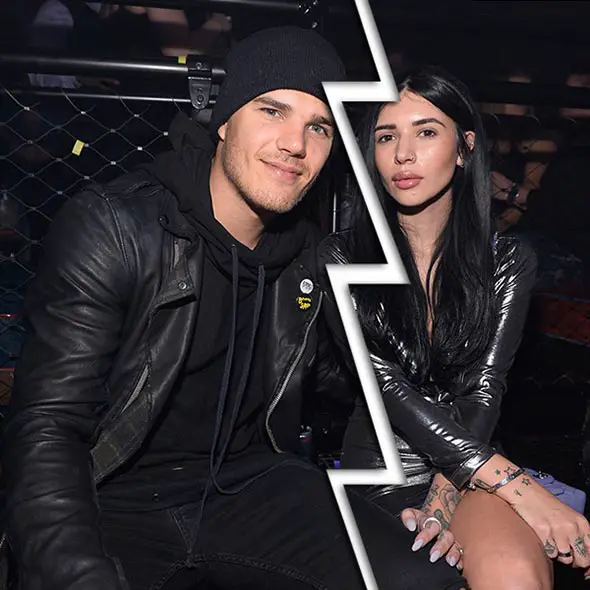 Caption: Chris Zylka with ex-fiance Hanna Beth.
Source: justjaredjr.com
The 31-year-old actor was engaged to model/fashion blogger Hanna Beth in April 2014. They'd been dating for four months when they decided to pop the question.
Hanna had previously announced their engagement through her Twitter. However, She deleted the tweet post their breakup.
But unfortunately, the 10-month old engagement ended bitterly in March 2015 after Chris publically slammed Hanna accusing her of cheating. Chris took to his Twitter and Instagram accounts to publically bash his fiancé. Chris as well has deleted such posts since the breakup.
Before dating Hanna, Chris was romantically involved with Pretty Little Liars star Lucy Hale. Chris broke up with then-girlfriend Hale after dating for six months.
Caption: ClevverTv announcing the break up of Pretty Little Liars star Lucy Hale, and The Amazing Spider-Man star Chris Zylka.
Now that Chris is single, the Amazing Spiderman star will probably be focusing in his professional life more than personal. In an interview with the Interview Magazine in 2014, before his break-up, he has mentioned that his medium-term goals would be to keep working. From this interview, we can assume that he is serious when it comes to taking forward his career,
"I just want to keep working. Longevity is really important. I am extremely passionate about what I do and the happiest I am is when I'm on set working. I suppose longevity and respect. It takes longevity to earn respect."
Zylka started his acting career appearing on 90210 portraying a guest role. He has also made guest appearances on TV shows like Everybody Hates Chris, Cougar Town, Hannah Montana, etc.
Chris Zylka In Relationship With Paris Hilton, Hilton Plans To Start Family With Him:
News about Chris and Paris Hilton being together spread in early 2017 when Hilton revealed their relationship on her Instagram around Valentine's day.
Zylka was also spotted celebrating Paris' birthday together with friends and fellow celebrities and he was the star of the show when he presented Paris with a massive cake while the rest of the party crew sang 'Happy Birthday' to Paris.
It is obvious that both Zylka and Paris suit each other perfectly and it seems that Paris holds Chris quite dear to her. Her Instagram and social media is littered with pictures of herself with Chris with some emotional caption and texts to accompany them.
Moreover, In recent news, Paris came out and confessed that just after a few months of dating, Paris wants to start a family with Chris already. The 'Paris' album singer revealed that she wants to have children with Chris and eventually settle down.
"It's like the meaning of life to have your own family. And I'm happy that I waited to find the right person. I'm so in love. He's the man of my life. We're best friends." says Hilton.
She previously affirmed her relationship with Extra stating,
'I found my soul mate, my better half. I'm happy as I've ever been.
'I get to wake up next to the person that I love more than anything, every single day, and fall asleep with them every single night, so it's a constant smile on my face. I couldn't ask for anything more.'
Glad to see her so euphoric and we congratulate her on finding her true love!
Chris Zylka, @chriszylka, was born on May 9, 1985, in Warren, Ohio. His real name is Christopher Michael Settlemire. He attended the University of Toledo majoring in Arts. He began his career in 2008, making a guest appearance in the TV series 90210. He has also appeared in some major Hollywood films like the Amazing Spider-Man 1 and 2, Shark Night, Piranha 3DD, Dixieland, etc. He is currently starring in the Death and Life of John F. Donovan as the character Will Jefford Jr.
Caption: Thomas Dekker & Chris Zzylka (gay scene).
Source: Isla Mari, Youtube