Entertainment
Danielle Brooks Does Not Consider Weight Loss! The Famous TV Show Actress Loves Her Body Too Much For It
Body shaming, in this century, is a huge problem. Though it may not be considered as a much severe issue, it makes a significant impact on people who deal with it. But, amid such chaos, some heroes try and save the day.
One of such heroes is Danielle Brooks, who has all the luscious curves of which she is proud of. Something like Megan Trainor's mama said, 'Don't worry about your size.' (All About That Bass.)
Danielle Brooks is an actress that people are familiar with from the TV show Orange is the New Black. In addition to being an actress, she is an advocate for her own body and for everyone who feels their body isn't right?
Well, one might just be missing out on a lot of things. So stay put into getting acquainted!
Weight Loss For Danielle Brooks Is Big 'No-No'
Weight loss for Danielle Brooks? Don't even think about it; the actress loves her body too much for that!
In an Instagram video, she shared her experience in the gym when she saw a woman who looked fabulous without a shirt. But the actress recollected herself in an instant.
"I just left the gym, and as most people know I take my shirt off when I go to the gym. I had my shirt off and this lady walks in and she […] looked great with her shirt off. So immediately I'm like, 'Oh no.' I started to lose my confidence."
She was on the verge of putting back her shirt on when she realized that it was wrong; what she was doing was wrong!
"I realized I'm comparing myself to this woman, and I was like, 'Why just two minutes ago I was feeling great and now I'm not?' And I realized the reason I was feeling so great was because I was comparing myself to yesterday's Danielle. And today's Danielle is better than yesterday's. That's why I felt so good. Ladies, don't compare yourself to nobody. Just be a better you."
She also uploads other pictures on Instagram with motivational captions, that will change the way to think of one's body.
In an interview in early 2017, Danielle said that she does not want her body to be the reason for accomplishing things in her career, and added that she is working on downing any barriers created by size.
Danielle said while expressing her wish of having females of different size and color,
"I don't want to be limited because of my size,I want to be the love interest. I want to wear makeup, I want to put on heels and put on my Spanx and look fabulous and have some man be doting over me. I want to be in a thriller movie. I want to be in an action movie. I can run up, stuff! I don't want people to feel that I can't do things or I'm not attractive because of that — that's what I want to see."
Family Was Against Nude Scene
In 2014, Danielle shared a funny story related to her family and her role in the show 'Orange is the New Black.' She revealed that her parents were totally against her taking part because it supposedly had nude scenes.
"From day one! I had to be topless in a scene with Taylor [Schilling] in the shower, and I didn't know how much they were gonna show of my ta-tas. So when that happened, that was the first thing, I was like, 'Parents, look, Mom, Dad, yo, I think I might have to do this. I told them, and they were like, 'No! No!' They're going to hate me for saying that, but they did."
That time, she even thought of dropping the role,
"To be honest I didn't know Orange was going to be one of those dream jobs, I almost turned it down in the beginning because there was possibility for nudity."
However, she did not; a decision that has made herself, her family, and her fans happy ever since.
Check Out:- 5 Best Foods For Weight Loss: Natural Weight Loss Diet Foods
She feels blessed to have taken the role as the show gave Danielle a lot of things, like tremendous acting career and a lot of close friends, who she can now count as family.
Mystery Boyfriend; Dating Life
Danielle indeed takes her position as a minority actor seriously. She dropped her new single titled Black Women in Feb 2019. According to her, it is a raw, unfiltered anthem for black women.
The actress is not a newcomer in the singing gig as she already has a Grammy. She won it for her performance in 2016 Broadway production of "The Color Purple."The talented actress sure knows how to keep serving her audience; maybe she has something new coming audiences' way. Who knows?
As for fans who are concerned about her dating life, here's some news, she is taken. That's right; the actress has shared about her beau on Instagram flaunting their love. She became "Insta official" with her mystery man in February 2018. She has been sharing her loved up photos with her man on her Instagram as she is glowing in love with her handsome man.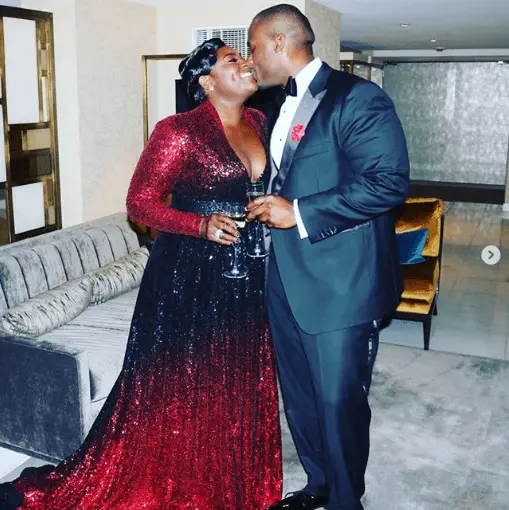 Danielle Brooks kisses her mystery boyfriend on 15 February 2018 ( Photo: Danielle Brooks' Instagram)
It has been quite a new step for the Orange Is The New Black star, making her relationship public. Before, she had kept her relationships entirely under wraps. Even though there were rumors about her dating producer, director and dancer Nneka for a while in the past, this is the first time she has been open about her relationship.
Baby On Way
2nd July 2019 was a joyous day for Danielle and her fans. Well, the TV actress, via Instagram, announced that her first ever baby was on the way.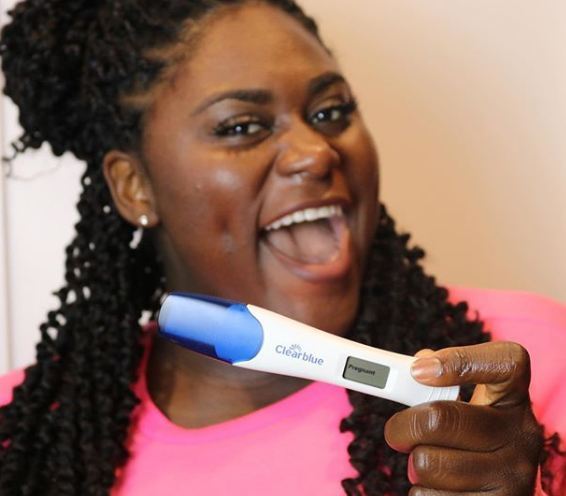 Danielle Brooks smiles as she holds a positive pregnancy kit on 2nd July 2019 (Photo: Danielle Brooks' Instagram)
She captioned the picture,
So elated to finally share this news with you all. I'm happily pregnant!
Danielle was on cloud nine as she shared the same photo on her Instagram story and wrote captions in the line that after an old chapter ended a new chapter was beginning in her life. The Tony nominee's ardent fans speculated that she was referring to her breakout show, Orange Is The New Black, ending in 2019. The closing and seventh season will be the last outing for Netflix's global hit show.
Well, the actress' pregnancy news reveal wasn't over as she also posted a picture holding a positive pregnancy kit and announced via an Instagram story that she was 20 weeks pregnant on 2nd July 2019. The smart lady even monetized the joyous event as she partnered with Clear Blue to bring the news to the world.
For You:- Free Pregnancy Test
Interestingly, she hasn't revealed the father of her incoming child. Fans speculate that he may be her mysterious boyfriend as she hasn't deleted their love-dovey pictures from Instagram.