Entertainment
Former Miss Universe Demi-Leigh Nel-Peters & Tim Tebow Engaged, Details
Former Miss Universe Demi-Leigh Nel-Peters lives her dream while striving to be the best version of herself. Learning to take responsibility for the future at an early age, she knew exactly what she wanted out of life. So, she worked for it and made her dreams come true.
Having success under her feet, Demi-Leigh, the South African model, is also equally blessed when it comes to love. She has been thriving in her love life sharing the romance with her boyfriend.
Well, they are not only a girlfriend and boyfriend now; they have new commitments after being engaged for a soon-to-be wedding. Here are the insights on their love life and their big day!
Engaged To Get Married, Details
2019 welcomed bliss in Demi-Leigh's love life. No sooner had the first month started, she got the biggest new year's gift; an engagement proposal from her loving boyfriend, Tim Tebow.
Don't Miss: Jennifer Hawkins & Husband Keeping Wedding Vows Strong! Plastic Surgery Talks
Tim planned the surprise proposal and worked on every minute details to make it perfect for his lady.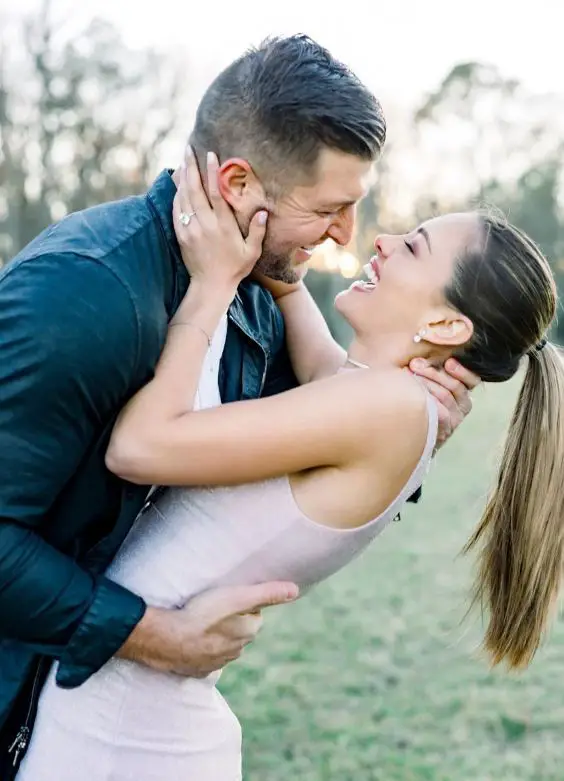 Demi-Leigh Nel-Peters got engaged to boyfriend, Tim Tebow at Jacksonville on 10 January 2019 (Photo: people.com)
He set the surprise in his family's farm outside of Jacksonville and made Demi-Leigh stroll with him around the property on 10 January 2019. As soon as they reached a small lake - decorated beautifully with installed arbor and a bench that had the date the duo first met engraved on it - they started talking about their relationship and future plans.
Meanwhile, Tim got down to one knee and presented 7.25-carat solitaire engagement ring for Demi-Leigh; asking her to marry him. Without any hesitation, Demi said "Yes" to the proposal just to find out South African singer, Matthew Mole stepping out and playing, The Wedding Song.
Another Engaged Couple: Garrett Clayton & Long-Term Boyfriend Are Engaged, Getting Married Soo
Right then, both their parents and family members also joined in and congratulated the engaged couple. In the evening, the pair celebrated their big day with a nice party.
Talking about the special day, Tim expressed his excitement to PEOPLE saying,
"I actually wasn't really nervous. I was excited. I wanted everything to be perfect and to go smoothly. But I wasn't nervous to actually ask her."
Demi-Leigh, who has a height of 5 feet and 7 inches with mixed ethnicity, also opened up about how she felt about the proposal and their upcoming wedding. She quipped,
"I'm so excited for the wedding, and I can't wait to spend forever with Tim."
With the excitement of the duo. it can be expected that their wedding bells are no far away to ring.
Longtime Relationship With Tim Tebow
Demi-Leigh Nel-Peters has learned to find happiness in her life even in the most distressing situations. Having a disabled sister has been her utmost inspiration in life to reach the prominent height of success amid difficulties.
Apart from it all, she has been cherishing her life with her boyfriend-turned-fiance Tim Tebow, a footballer who made headlines with his talent as a quarterback player of Denver Broncos. He is now with New York Jets.
Demi-Leigh and Tim began dating back in the summer of 2018 after they crossed each other's path in February 2018 at a Superbowl Party that was organized by Direct TV.
Similar: Dayanara Torres Goes Candid On Husband, Kids & Boyfriend; All There Is
Back then, Tim had recently fallen out of love with former Miss USA Olivia Culpo while Demi-Leigh was in a relationship with her longtime boyfriend. In the spring, Demi-Leigh parted ways with her then-boyfriend and by summer, she started a relationship with Tim.