Entertainment
Details On How On-Screen Gay Man Ted Reilly Kissed A Girl; A Possible Girlfriend?
Meet the twenty-five-years-old actor Ted Reilly, who is popular for playing an openly gay character Johnny Carter in EastEnders. The aspiring actor, who is always open to his characters and profession, is a private man. Active in the film industry since 2013, Ted has always maintained privacy in his personal life. Does Ted have a girlfriend to attend while he is moving towards success? Let's find out!
Kissing a mysterious woman!
Ted Reilly has always managed to keep his personal life under the wraps. However, he was spotted getting cozy and kissing a mysterious woman in January this year at the National Television Awards.
According to The Sun, Ted sparked an essence of romance in the corridor of London's O2 arena.
"Actor, who plays Danny's on-screen son Johnny Carter in the soap, led lady into corridor of London's O2 Arena for 45-minute snogging session"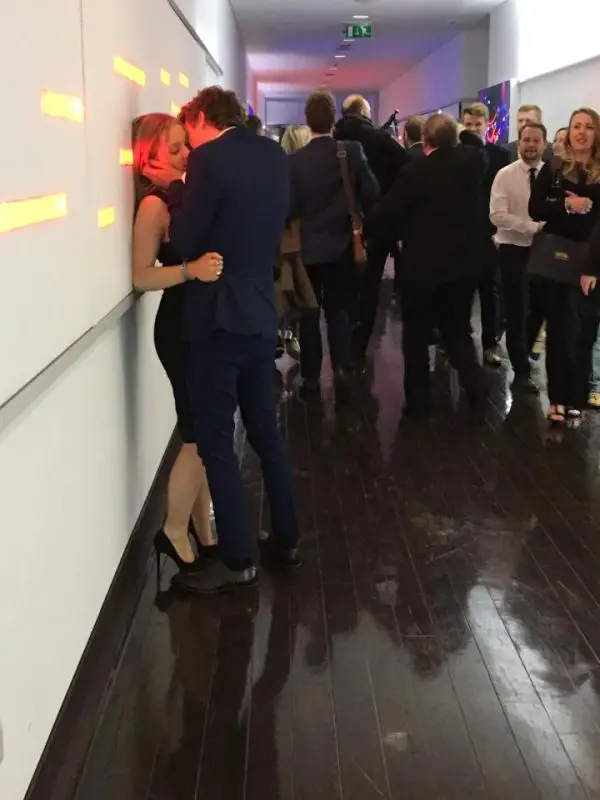 Caption: Ted Reilly spotted kissing a mystery woman at the NTAs on January 25, 2017.
Photo Credit: The Sun
A source stated-
"The after- party finished at 1am but Ted wasn't ready for it to end. He moved into a corridor near the exit with the woman where they got very passionate against a wall. They were kissing for absolutely ages and it got a little awkward when fans kept disrupting them for selfies."
"Ted didn't look too bothered though — they continued for almost an hour. But just before 2am staff asked them to leave because they were blocking a doorway."
After the smooch, Ted has again pulled the curtains, confining the identity of the mysterious woman.
Moreover, Ted is yet to reveal whether she was his girlfriend, and if yes, how long have they been dating. Let's just wait to find the answers to this question.
Stay connected with us to find the truth behind Ted's romance!
Short bio of Ted Reilly:
British actor Ted was born on 14 September 1991 in Lambeth, Central London, England. Ted began his acting career in 2013 with an episode of Casualty. Later in 2014, he appeared in Suspects, Law & Order: UK, Playhouse Presents, and Grantchester.
A year later, Ted landed a role of Jem Cotton in Hetty Feather from 2015 to 2016. However, he gained popularity by appearing as Johnny Carter in EastEnders from 2016 to present.
Well, there is no more information about Ted's personal life including his parents. However, it is believed that he has one sister and a brother as he regularly features them on his social feeds.
The young and talented actor Ted has an ability to achieve more in the days to come. If Ted keeps on working on his acting skills, he will surely attain a new height of success.