Entertainment
'Hell On Wheels' Eddie Spears Married Or With Furtive Girlfriend? Family Status
Native American actor, Eddie Spears has been gaining extensive appraisals for his performance of Joseph Black Moon on the AMC's hit show Hell on Wheels. Known as an inspirational figure to other Native American actors, Eddie has also performed in several other movies including Black Cloud, Slaughter Rule and more. He is also credited in shows like Bury My Heart at Wounded Knee, Into The West, Edge of America and Comanche Moon.
Brother of a famous actor, Eddie is close to his family who has supported him in his professional career. The actor has kept his love life under wraps and insists on not talking about his romances publicly.
Family Tragedies: "MamaBear" To Mother While Father Dies Of Natural Causes
The 6 feet 1 inch (1.85 m) tall actor was born as one of the seven children of Patrick Spears. His father died while he was shooting for an episode of Hell on Wheels in which he killed his onscreen foster father, Reverend Cole played by Tom Noonan. The 35-year-old actor shares a loving relationship with his mother and has featured her on several of his Instagram posts.
See Also:- Who Are Rashida Jones Parents? Ethnicity She Shares & More Family Insight
Further, Eddie's close-knit family consists of a sister and five brothers. His family was a member of the Lakota Sioux Lower Brule Tribe before moving to Aberdeen, South Dakota.
Eddie had a ready-made role model to follow, as his elder brother, Michael Spears was also a renowned actor. The siblings share an affectionate relationship with their mother as evidenced by the Instagram posts they share.
For the occasion of Mother's Day 2016, Eddie's brother Michael shared a picture alongside his mother calling her hiblas "Mamabear."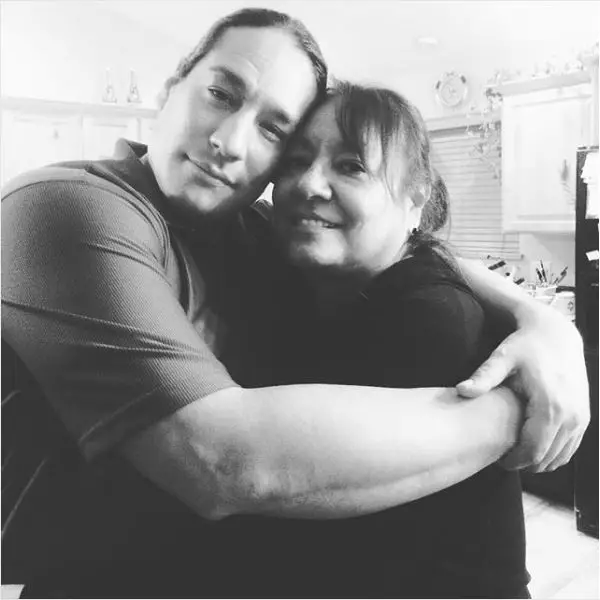 Eddie's elder sibling Michael displays his love for mother on 9 May 2016 (Photo: Michael Spears' Instagram)
Eddie's family has always been supportive of his acting career. Whats more, his family members were the biggest fan of his show Hell on Wheels and didn't miss a single episode of the whole series.
The Chamberlain, South Dakota native explained in an interview that he had a hard time showing his love-making scene to his family members. His folks were even terrified when his onscreen lover Ruth rejected him in the show.
With such a cheerful and dashing personality, Eddie has made fans curious about his dating life. While his onscreen love failed terribly, viewers want to know if he has maintained a successful relationship in real life.
Brother Is Happily Married, What About Him?
Whenever the issue came about Eddie's romantic life, the 35-year-old actor has successfully dodged and diverted the questions. With no known history of a girlfriend, fans are left wondering if he even intends on settling down and starting a family.
Don't Miss:- YouTuber KSI To Fight Logan Paul, Brother Deji Alongside; Net Worth, Dating Status & More
One of his siblings, Ryan got married in a lavish wedding on 1 September 2017. The closed event was joined by Ryan's close friends and family including Eddie. Michael even shared a picture along with his two grandmothers on the wedding day.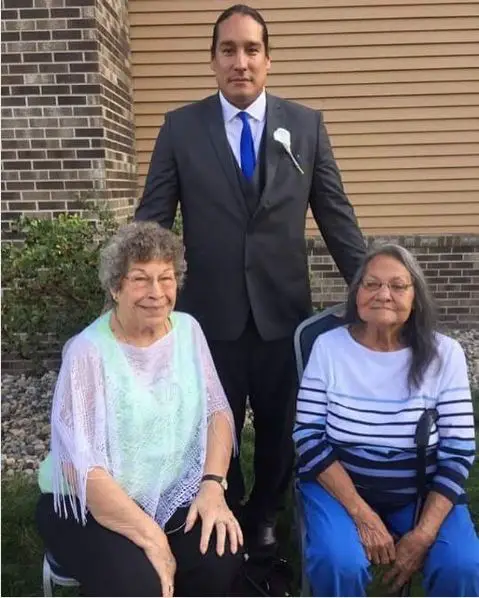 Michael Spears poses with his grandmothers on his brother Ryan's wedding day on 1 September 2017 (Photo: Michael Spears' Instagram)
Eddie's brother's marriage became an excuse to fans for asking questions about his plans on getting married. However, Eddie seems to be unaffected by the paparazzi as he has shown no interest in finding a suitable wife.
Career And Net Worth
Born in Chamberlin, Edward a.k.a Eddie Spears made his acting debut appearing in the 1993 movie Geronimo. The film, which was shot in Arizona, brought substantial fame to Eddie and also established him as a child actor. He commenced working as an adult actor appearing in a minor role in the 2003 critically hit TV movie, Dreamkeeper.
In 2004, Eddie landed his first lead role in the movie, Black Cloud. For his part in the film, Eddie learned boxing for three months, and his effort didn't go to waste as he earned a Phoenix Film Festival Best Actor Award for his performance in the movie.
Most recently in 2018, Eddie appeared in the film, White Fang directed by Alexandre Espigares. In the animated movie which follows the unlikely friendship that develops between a kid and a half-breed wolf as the boy goes on a quest to find his missing father, Eddie voiced for the character of Grey Beaver. The movie became a box-office hit and even won the praises of critics.
Further, Eddie has also earned considerable revenue from his acting career. Although the exact amount of his net worth is not disclosed, experts assume the value to range from hundred thousand to a couple of million.