Entertainment
Fans Concerned When Constance Wu Started Dating White Boyfriend; What If She Married And Made Him Her Husband?
Racism is one of the prominent issues in the world currently, and people have had various feuds and matters because of the color they have and the race they represent.
Similar scenario surrounds Fresh of the Boat actress Constance Wu, who has been making a name for herself as someone vocal about the issues of Asian American representation, and while she has been doing so, she has a dating partner, her boyfriend, who is white in race.
So, let's take a peep at the backlash she coped with her fans!
Constance Wu's Boyfriend Is White Considering Her Strong Advocacy On Asian Americans.
Constance Wu has been making her voiced heard when she is advocating on the part of Asian Americans, and she made people raise some major eyebrows when she criticized the whitewashing of the great Chinese history with the casting of actor Matt Damon in 2017's action epic "The Great Wall "
"We have to stop perpetuating the racist myth that only a white man can save the world. It's not based in actual fact. Our heroes don't look like Matt Damon. They look like Malala. (Gandhi). Mandela. Your big sister when she stood up for you to those bullies that one time."
She also added,
"If white actors are forgiven for having a box office failure once in a while, why can't a POC sometimes have one? And how COOL would it be if you were the movie that took the 'risk' to make a POC as your hero, and you sold the (expletive) out of it?! The whole community would be celebrating! If nothing else, you'd get some mad respect (which is WAY more valuable than money) so MAKE that choice."
Here is the trailer for the very movie.
Caption: The Great Wall Trailer Published on Jul 28, 2016.
But while she has been criticizing things like these, she has a boyfriend who is white, and that has got people lashing at her.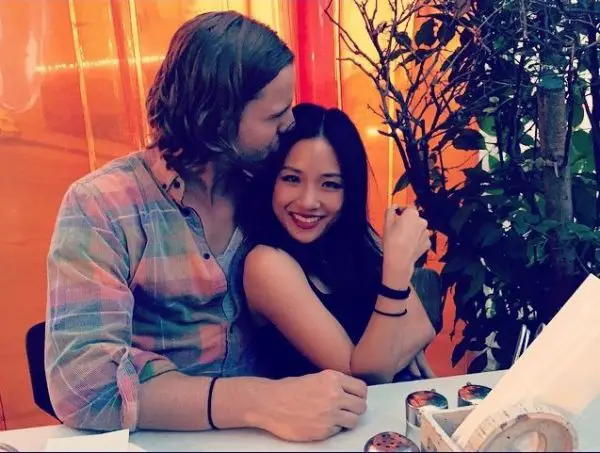 Caption: Constance Wu has a while boyfriend whose identity is yet to be revealed.
Photo Credit: yomyomf.com
She loves flaunting her love, which is evident in her tweet about her boyfriend back on Valentine day in 2015:
People have been expressing their thoughts on this very regard.
Sean Wong, MS Electrical Engineering & Economics, California Polytechnic State University, San Luis Obispo said,
No, people can date whomever they want as long as they are not racist about it.

However, what is inconsistent is that She is complaining a white person is in a Chinese movie (Great Wall) and would like a Chinese person playing that part, when in fact there are tons of movies made in China (you have scoll down many pages to find the 07/28/2016 post on the great wall) while sometimes are released in the US with good reviews, and yet she made zero noise about them… Had the movie being made with a Chinese actor in it, will she even knows that movie exists? Does she actually care about Chinese movies at all? Additionally, she is projecting the role will be that of a savior when there is no indication of him being one. It shows that she is protesting in a subject that she does not really understand and even if she had more
Jacky Ye, Your everyday Chinese-American fellow said,
Am I surprised? No

Am I offended? No

Am I threatened? No

Does she have every right to date whoever she likes without our judgement? Yes

Revised answer:

Yup.

Pretty surprised in light of the remarks she's made. I suggest reading Collin Anthony Spears' comments on this answer for more clarity.
Also, C. Michel de Wilde, Chinese Indonesian, with a Dutch and Sri Lankan ancestry said,
I don't know this person at all.

but surprised because of what? she dates a generic decent-looking white guy that is only attractive because of his whiteness?

from what I know, it's quite stereotypical. so I am not surprised at all. I will be surprised if she dates another non-asian/non-whites people. that's not stereotypical.
All of this lashing only for dating a white man makes us hard to imagine what will happen if she ends up getting married to the man and makes him her husband. Whoosh!!!
Caption: Randall Park and Constance Wu talk ABC's "Fresh Off The Boat" in an exclusive interview Published on Feb 10, 2015.
Regardless of her claims, she has been doing good with her career, and we wish her the very best of luck!