Entertainment
Fox News' Ed Henry Kicked From Clinton Campaign, Reason?: Producer Wife at Home, Husband at Club!
Ed Henry, the Chief of the White House Correspondent for the Fox News Network, was not seen fit to cover the Clinton Campaign. Was he deprived of the opportunity because of his affair scandal? Learn about his extra-marital affair and his personal life.
Married Life, Wife or Girlfriend?
Ed Henry will not be the one who is going to be covering campaign run by Hilary Clinton, Fox News announced in June. He was benched from the assignment in May after his mistress exposed his extra-marital affair. Ed was replaced by national security correspondent, Jennifer Griffin, who previously worked as FNC's national security correspondent based out of Washington DC.
Fox News rep then said:
"Ed Henry is continuing to take some time to work out his issues."
Likewise, then Fox News Chairman/ Ceo Roger Ailes blamed "his lack of judgment" issuing a statement. Sadly for Roger, he has also been accused of sexual harassments by former Fox News persona Gretchen Carlson and Fox News Political commentator Andrea Tantaros. Both of the personas has filed lawsuits against him.
Recently, Fox News, who is Ailes insurer in any settlement, agreed to issue an apology and pay 20 million US dollars to Gretchen to settle the case.
Caption: Ed Henry's affair and punishment reported by 'The Young Turks' on May, 2016
The question of whether Ed's inappropriate actions will also affect his career remains unanswered.
His Cheating Scandal: Affair with whom?
So, Ed's professional career may be hanging in the balance and his present relationship with wife; Shirley Hung may be at stake too.
Shirley Hung, 46, the NPR's Deputy Washington Editor, met Ed Henry while they were both working at CNN. They got married in 2010. They have no children of their own. However, Washington Post has claimed that he has two children from previous marriage. However, the information about his ex-wife has not been revealed yet.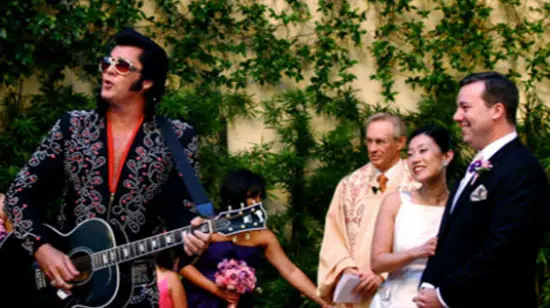 Caption: Ed Henry and Shirley Hung in their wedding that is being officiated by an Elvis Paisley look alike in 2010.
Source: twitchy.com
Even if Shirley finds it in her heart to forgive him, a 10-month long affair with husband is still not something you usually overlook. While friends claimed that he had known his mistress, Natalia Lima, 42, from 5 years ago after an innocent Twitter exchange, Natalia is confirmed as a veteran stripper employed at the 'Sapphires Las Vegas Strip Club' at the Sin City and Ed was one of her clients.
Caption: Ed Henry and his mistress, Natalia Lima
Source: wordpress.com (blog)
Natalie Albrandt (her real name) expressed a lot of intimate information about the relationship between her and Ed Henry. As per her interview with 'In Touch' this May, she has explained that they were just friends for a few years, and it was only in 2015 that their friendship turned into a sexual relationship.
'Whenever he was in town, we would pretty much just have sex. He has a really high sex drive', said Lima.
She also shared some the explicit and racy exchange of messages. Some of Henry's text messages read '[You are] so beautiful,' 'love that pic of you!!,' those eyes,' 'are u thinking right there about us making love?' 'cause I am...,' 'i will make love to you over and over so that we can wear u out and sleep:),' 'now that i saw that old photo shoot of you...'
One of the messages even contained Ed Henry's junk which could cause him even to be fired from the channel for morality cause.
Ed Henry's Short Bio:
Edward "Ed" Henry was born on July 20, 1971, in Queens, New York, US. He graduated with a Bachelors Degree in English from Siena College in Loudonville, New York in 1995. As a well-known journalist, he must have an amazing salary and net worth, but it has not been estimated until now.
Speaking of the present, he is the Chief White House Correspondent for the Fox News and appears on multiple shows in that position like 'The O'Reiley Factor' and 'The Kelly File' since 2013 and on 'Fox News Sunday' since 2012.