Entertainment
Fox News' Stuart Varney Faced Risque Divorce Complaint From Wife of 21 Years: Family Life, Children
It's really depressing to see the couple sharing a wonderful relation for years and separating. And it's more depressing if it happens because of one partner deceiving the other. In this regard, today we are talking about a veteran TV personality who was slammed with a divorce case two decades after the marriage for a deceiving wife with a mistress.
Stuart Varney married a wife, Deborah Varney in 1993. The couple spent 21 years together until Deborah claimed for the end of relation. In 2014, Deborah slammed divorce case accusing Stuart of staying in a relationship with another woman, Jennifer F. Shibley. Deborah claimed that he was wasting thousands of dollars on her. She also shared that he took her various places including Hawaii, Hong Kong, Singapore, and Macau. According to Deborah Stuart, when she probed questions to Stuart about his extramarital affair he said,
"When I was with you, I did not think about her, and when I was with her, I did not think about you,"
Deborah filed the complaint in the Bergen County alleging him of staying in an extramarital affair with Jennifer Shibley. But Stuart confessed that he was not in love with the women but cheated on her. The couple isn't staying together anymore. We are not sure if the couple is divorced or not. However, it is tragic to see them split, isn't it?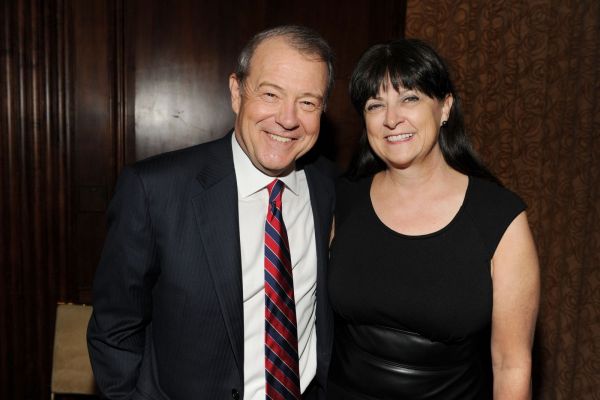 Caption: Stuart Varney with wife Deborah Varney
Source: wordpress.com
The Couple's Children:
Stuart is a proud father of six beautiful children. Excluding one, all his children are grown up and ready to live on their own. His daughter, Jill Varney Meyer recently earned the sum of $25,000 in Travel Channel's Hotel Showcase. Jill is married and is blessed with five beautiful children in the family. Including Jill's five children, Stuart is a grandfather of seven children.
Well, looking at Jill's achievement, we can predict about other children, can't we? We assume all her kids are self-reliant and well to do. We have a video of 2012 in which Stuart has shared his sadness after his fifth child enrolls in college. He tells that the house which used to be full of teenagers' noise once, seems silent nowadays.
Caption: Stuart talks about his youngest daughter enrollment in college in 2012.
His Professional Life:
The veteran journalist, Stuart Varney joined Fox Business Network with the launch of the network in October 2007 as an anchor. Later from January, he started hosting "Varney & company which broadcasts ever weekdays at 9:20 a.m. The show falls among the popular shows in the country. Stuart told about the show with NorthJersey.com,
"It's a relatively fast-paced program with lots of personality.We're not shy of a point of view. We'll take a position and discuss it in a fair and balanced way, and we steer clear of what I'm going to call jargon. We talk much more in down-to-earth terms that everybody can relate to."
Undoubtedly, the 65 years old anchor is highly dedicated towards his work. He has interviewed the personalities from various professions including politics, Hollywood, sports and much more. Let's watch a video and some photos related to his professional work.
Stuart Varney's Short Bio:
Born on July 7, 1948, Stuart Varney is a British-American economic journalist who works for the Fox Business Network and Fox News Channel. He is a graduate of London School of Economics. He was awarded the Peabody Award in 1987 for his excellent reporting and analysis of the stock market.
Stuart took the American citizenship only in November 2015. Stuart Varney is known for having taken the stand in the favor for Republican Electoral Victories. He enjoys a net worth of $10 million.