Entertainment
Charlie Gasparino; Married Man With Wife! A Look Inside His Life
Charlie Gasparino; Married Man With Wife! A Look Inside His Life.As a journalist, Charles Gasparino has attracted a lot of attention by voicing his opinion on the various burning issues and breaking several significant news. Following which, many people have become curious about his personal life too. wife,family,salary,net worth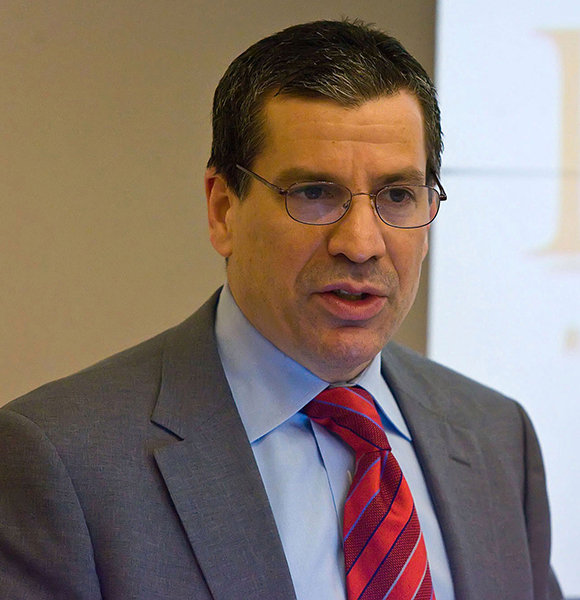 As a journalist, Charles Gasparino has attracted a lot of attention by voicing his opinion on the various burning issues and breaking several significant news. Following which, many people have become curious about his personal life too.
So, for all the enthusiasts we have brought you some information on his private life that sheds light on his married life, wife, and family too.
Let's get it started!
Talks About Married Life And Wife
Charles has maintained a tight guard over his personal life thus least information has surfaced the media. However, on a few occasions, he has spilled details which gives an insight into his married life.
Charles married his wife, a woman named Virginia Juliano in 1999 and the two have been together since. Charles describes his wife as a fitness freak but maintains that the pair is not into working out together as he loves to destress in solitary. 
While talking to Business Insider, he mentioned in 2015 that him being active on Twitter makes his wife say,
"Oh my God, what are you doing?"
Further, in a Twitter conversation, while talking about the amazing food served at Green point in NYC, Charles mentioned about his wife and even shared that his wife grew up in Green point before it became famous as great polish and Italian restaurant.
See Also:- Jocko Sims Married & Wife | Family Insight Of 'The Last Ship' Actor
Also, one of his tweets regarding his wife reflects the kind of relationship he shares with his wife in a light-hearted way.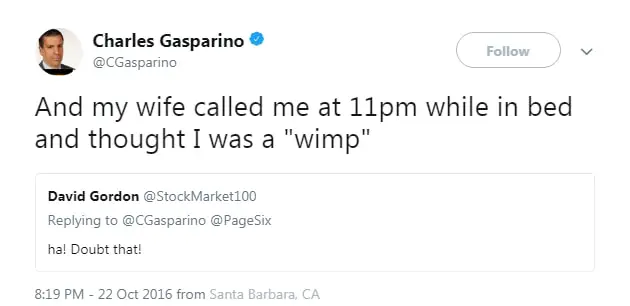 Charles Gasparino mentions his wife Virginia in a tweet (Photo: Charles Gasparino's Twitter)
Virginia, who occasionally uses Facebook, has shared glimpses of the partners' married life. On 25 August 2017, Charles' wife shared a picture of the two at the Madison Beach Hotel in Connecticut where the couple had traveled to spend some quality time together. 
You May Like:- Sam Role & Fiance Welcome Baby; Post Pregnant Bliss Of New Parents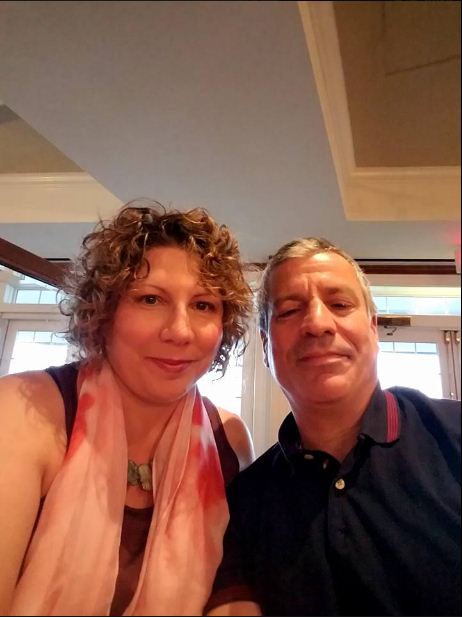 Charlie Gasparino with wife Virginia in Connecticut (Photo: Virginia Juliano's Facebook)
The couple has mentioned parenting any children, which might hint that Charlie and his wife are still waiting for the right time to start a family.
First From Family To Go College; Salary, Net Worth, More
Charles, who happens to be the son of an ironworker/bartender father, revealed that he is the first individual from his family to attend college as his parents are only vocational high school graduates.
Like Charles worked his way through coming from a working-class family, his brother has done the same and happens to be an emergency room doctor.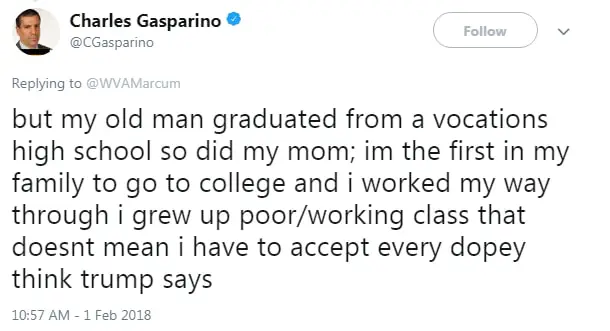 Charles Gasparino mentions his family in a tweet (Photo: Charles Gasparino's Twitter)
Furthermore, Charles earned a bachelor's degree in arts from the Pace University and also, has received a Masters degree in Journalism from the University of Missouri in Columbia, Missouri, making him one of the most educated members of his family.
Apart from his education, Charles has also worked as a senior writer for Newsweek and has written for the Wall Street Journal too. He is a former CNBC journalist who later joined Fox Business Network in 2010. 
As of now, Charles is working as a senior correspondent at the Fox Business Network, and even appears as a guest panelist in the network's program titled The Cost of Freedom.
He contributes to the news program regarding the stocks/business called, Cahsin'In. The passion, hard work, and dedication of the journalist towards the network must have gotten reciprocated with an attractive salary, but it is yet to get disclosed in figures.
More From LiveRamp Up:- CNN's Elizabeth Cohen In Low-Key Married Life, Family Behind Camera
Charlie, who generally presents business news and updates about the financial market, has presented some hot topics around the world.
He has conferred some issue including the new policy which Twitter is following after losing after losing a significant number of users, the aftermath of the 2008 market crash and the possibility of its repetition due to President Trump's anti-regulation policies.
Further, Charles is also a vocal critic of President Trump and he recently criticized the President after he made false claims that US' GDP had crossed the national unemployment rate for the first time in the last 100 years.
ver, Charles is also an author of books including King of the Club, Bought and Paid For: The Unholy Alliance Between Barack Obama and Wall Street, Blood on the Street, and The Sellout: How Wall Street Greed and Government Mismanagement Destroyed America's Global Financial System. With his contribution in various fields, he has accumulated a net worth of $ 5 million.