Entertainment
Froy Gutierrez Personal Life: Addressing Gay Rumors, Giving Out Parent Details
American actor Froy Gutierrez has made a name for himself in his short acting career and is best known as the love interest of Brec Bassinger in Bella and the Bulldogs.
But the actor is yet to reveal his romantic persona in real life, and due to the absence of an existing girlfriend, he is often perceived as hiding his sexual identity behind the closet.
But, is there any weight to those rumors? Let's take a moment to find out!
Gay Rumors: Truth or a Hoax?
Froy became the heartthrob of teenage fans after appearing on MTV's Teen Wolf last, but his own love life has always remained a mystery. Moreover, Froy, who is also a musician, is spotted only with his male friends, which has raised the speculations about his sexual preferences.
Froy with his friends on 9 March 2018 (Photo: Froy Gutierrez's Instagram)
Froy is active on Instagram and shares plenty of pictures with his friends. But, he mostly keeps the identity of his pals hidden, which further raised the mystery about his sexual orientation.
One of Froy's closest friends is Baseball pitcher Alex Lange, and the two have been spotted on several occasions. On 12 November 2017, Alex shared a Carpool karaoke video, where the two were seen singing together along with a third friend. The intimate friendship between the folks raised curiosity if Froy and Alex were in a romantic relationship.
He must have become aware of this fact, so the next day Froy came forward through his Instagram to disprove the gay rumors. Froy shared a picture to reveal that the two were not related and there was nothing romantic going on between them.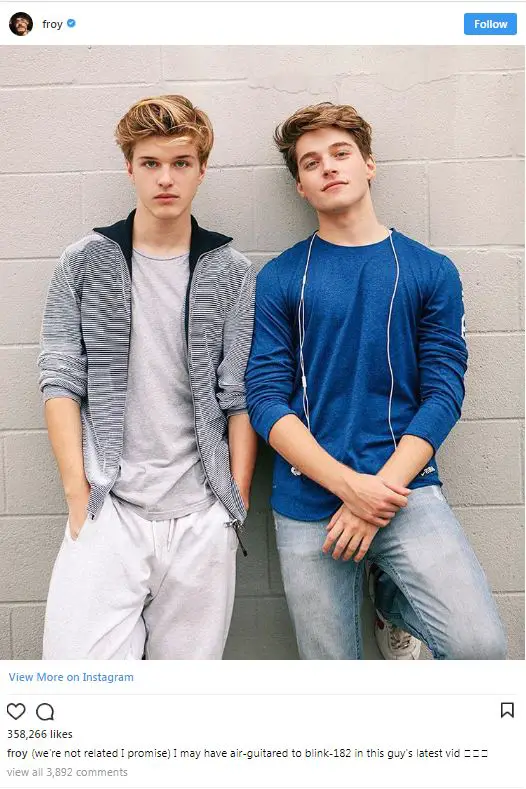 Froy disproves gay rumors with Alex Lange on 13 November 2017 (Photo: Froy Gutierrez's Instagram)
As of now, the 19-year old actor is busy taking care of his family and building his budding acting career, which resolves the mystery of his non-existent love life.
Details About Parents And Siblings
Froy, the eldest of three siblings, usually spends his private time with his family and posts several pictures about his day-to-day life. Although Froy has not revealed much info about his family, the actor, who is of half-Mexican ethnicity, disclosed that he travels to Mexico along with his parents on occasions.
Likewise, Froy also shared that he is a mama's boy and appreciated his mother's effort for taking caring of him and his younger brother and sister. Last year on the occasion of Mother's Day, he shared a post thanking his mother for doing a great job while raising her children.
Furthermore, Froy also thanked his father via an Instagram post for putting up with him during his childhood.
Froy is also a loving brother to his younger siblings; and it seems like, amidst all his responsibilities, he's got little to no time for a romantic relationship.
But we're on a constant follow up, so stay with us to be the first to know when something regarding Froy's relationship comes forward!