Entertainment
Gemma Whelan Is Not Married But Has A Partner! Fans Get Excited For Her GOT Character Sharing A Lesbian/Gay Sexuality
The actor should be one who could fit in any character and can bring out any emotion needed in the act. Gemma Whelan who is an actress, comedian and a professional dancer also showed her intense acting side in 'Game of Thrones.'
Let's find out the real fact that as the lady who is playing a lesbian/gay role in GOT has a boyfriend in her real life or not?
Gemma Whelan's Love Life:
Gemma Whelan had always been very keen on her acting career, but she was never so open about her personal life. But on her Instagram, we can see that she's been posting pictures and sharing a good time with a guy named Gerry, and she also mentioned him as her boyfriend.
From her Instagram post with her partner, we can evaluate that they were enjoying each other's company.
Gemma and Gerry also went to a charity ball together.
Gemma also captured the picture of her boyfriend sleeping soundlessly.
Furthermore, the couple took the picture in rock when they went to France.
But besides that, there were no records of her dating any guy in the past and neither it has been known about her present love condition. Also, she seems to be a very introvert kind of person who doesn't like her personal life to be out in media.
So, it's hard to know that if the couple is still dating, or are they are going to be married or have already taken a split. Let's hope her to share more about her love life in public soon.
Gemma Whelan in Game of Thrones:
In the famous and renowned drama series, Game of Thrones, Gemma Whelan has played a character of Yara Greyjoy as a bisexual warrior woman.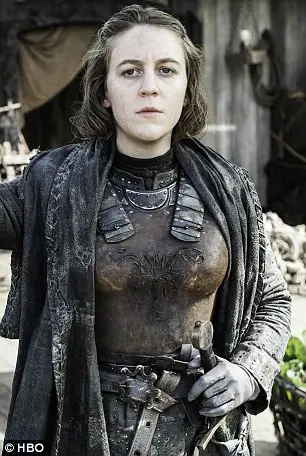 Caption: Gemma Whelan as Yara Greyjoy in Game of Thrones.
Photo Credit: dailymail.co.uk
Gemma talks about her favorite part of Game of Thrones and she said
"Probably the ones with very beautiful, majestic coastlines, because it's just so extraordinary to behold. The Antrim coast is phenomenally beautiful. To think you're at work and then be on this beautiful coastline is quite pinch-worthy sometimes – it's a real privilege. I think we all realise how lucky we are when we're doing it. Every day is enjoyable on Game of Thrones for me, but when you get a nice view as well it's a bonus!
She also spoke of the character she played as Yara,
"She's just a glorious character to play. She's strong, and front-footed, and knows her mind, is apologetic but sensitive, family-oriented but not saccharine. She's just brilliant! I think she speaks for herself really. She's very, very likeable for all sorts of good feminist reasons."
The other characters such as Hannah Murray, Ellie Kendrick, Kit Harington also played a great and significant role in Game of Thrones.
Gemma Whelan, a bold actress, was born on 23rd April 1981. Talking about her career she has played a great role not only in movies but also in television shows, stage shows and was able to win some title as well.
So, it can be seen from her career line that people can achieve what they want with their hard work and determination, and Gemma is an example as she has done great by playing both the roles as a comedian and an intense character.