Chuck Norris established himself as a nightmare for all the villains through the roles he played as an actor. An expert in the martial art, Chuck's legacy has continued despite his retirement from acting, and he is still glorified as an undefeatable man and a force to be reckoned.
What most people don't know about the actor is that he is also a loyal husband to his wife, Gena O'Kelley. He even gave up his career when his partner's health deteriorated.
But, why did Gena deserve the sacrifice from her husband? Well, it turns out she has not only been a faithful wife but also has given Chuck all the happiness including a lovely family with kids!
Married: Parents Two Children With Chuck Norris
Gena, who ages 56 as per her birth year 1963, is 22 years younger than her husband. Her wiki reveals that she previously worked as a model, but retired after getting married to the Hollywood hunk, Chuck Norris.
Recommended:- Steve DiSchiavi Bio: Married Life Turmoil, Real Age & New Girlfriend?
Also, according to her bio, the couple first met in 1996 when Chuck was an established actor while Gena was still young and struggling to get a steady modeling job. A romance soon pursued between the two, and they eventually got married in an intimate wedding ceremony on 28 November 1998.
At the time, Chuck was at the peak of his career performing the role of a Texas Ranger named Cordell Walker on the CBS' long-running show - Walker, Texas Ranger.
Nearly three years after their wedding in September 2001, Gena and her husband became parents to twin babies: a son named Dakota Alan and a daughter named Danilee Kelley.
Chuck also has two other kids namely Mike and Eric from his previous married life with ex-wife, Dianne Holechek.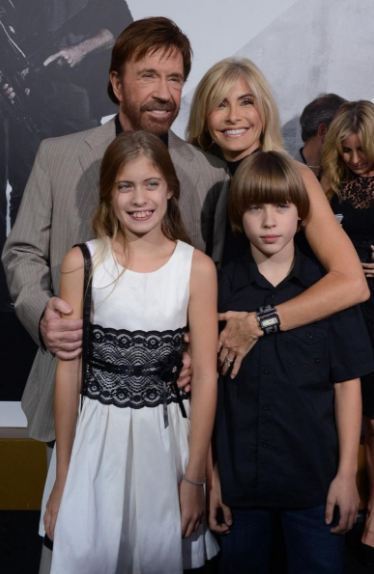 Gena O'Kelley with husband Chuck Norris and kids at the premiere of 2012 movie, The Expendables 2 (Photo: Pinterest.com)
Gena and her husband are not only life-partners but also business associates as they own and manage a company together named CForce since 2015. The business specializes in the manufacture of bottles.
Further, Gena also enjoys a share of her husband's net worth, which amounts to $70 million. While the couple is not worried about finances, it's Gena's health that is troubling the family.
MRI Goes Wrong; Husband Gives Up Career For Her
Gena and her husband Chuck have in the news lately for suing several drug companies for injecting their patients with a metal named Gadolinium.
Gadolinium, which is used by radiologists to detect tumors and other internal body conditions, was pumped to Gena back in 2013 while going through an MRI procedure; however, the complications soon followed including kidney problems and pain in the nerves.
Amother Celebrity With Challenging Health Condition:- Jenelle Evans Is Hospitalized, What Happened & What's Her Health Status?
Gena described the experience as a burning sensation: as if acid was running through her blood. After her health deteriorated, Chuck gave up his acting career to take care of his wife, proving himself as an ideal husband.